Nandamuri Balakrishna fondly called by his fans as bAlayya needs no introduction. He entered the film Industry at the age of 14 through his home production tAtammakala, in which he had the opportuinty to work with the two legends of Tollywood, Late Sri NTR and Dr. Bhanumati Ramakrishna. For 10 successive years he acted off and on in movies mostly produced under his home production. 1984 is the year when his first movie as a solo hero was released and interestingly he acted in very less number of movies made under his home productions after that.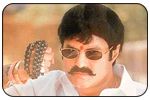 Even though entered the film industry because of his father, later his hard work, discipline, talent and dedication made him stand in the industry. He had been acting in movies for the past 27 years but unlike some of his peers, he never cared to celebrate the 10th or the 25th anniversaries of his movie career. He is a simple person and likes to stay away from publicity, which is one of the factors that didn't get him the due recognition. He believes in astrology and numerology and doesn't want to do things in "rahu kalam".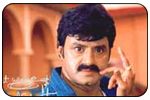 He acted in a movie called annadammula anubandham, a remake of Dharmendra's hindi hit yadonki barat at the age of 16. Upon watching this movie, the other legend of the Telugu film industry Sri. ANR's comment was "simham kaDupuna simham puTTindi". Interestingly he acted in a brother's role to his real life father in that movie as well as in "rouDI rAmuDU konTe kRshNuDu", and in a son's role to his real life brother Hari Krishna in the movie "dAna vIra Sura karNa". He won the hearts of many people for his role of "aBimanyuDu" in that movie, which also had his legendary father dominating most of the scenes in a triple role. In the year 1984, he acted in 3 blockbusters, "mangamma gAri manavaDu", "kathAnAyakuDu" and his home production "SrI madvirAT pOtulUri vIrabrahmEndra svAmi caritra".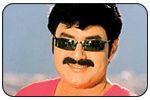 In the year 1986, he had delivered 6 hits in a row. During the year of 1993 only two of his movies were released and surprisingly both of them were released on the same day. This is one of the unique feats that none of his contemporaries would ever dare to try. He bid farewell to the previous millennium in style by giving the biggest hit of the previous millennium with "smmara simhA reDDi". The one thing his fans are eagerly looking from him is a superduper hit in the combination of ace director Sri. K.Raghavendra Rao, who had given such blockbusters like aDavi rAmuDu, vETagADu etc. This combination was able to deliver only a mediocre hit (apUrva sahOdarulu) and an average hit (paTTABishEkam) out of the 5 movies they did so far.
BAlayya is famous for his roles in the movies made with village backdrop. The undeniable factor is that, among his contemporaries, he is the only hero who is best suitable for playing the mythological and folklore roles in movies, for which his legendary father was famous. He worked as an associate director for his father's last directional venture (samrAT aSOka).An ardent fan and admirer of his father, he had equal if not more respect for his father's contemporaries. His dream projects are gOna gannA reDDI and Chenghis Khan and want to direct these movies under his own banner. He needs to improve in the areas of proper planning and needs to adapt quickly to the changing trends in the industry. We at idlebrain.com, wish him on the occasion of his 44thd Birthday and wish him all success in his future projects and life.
The following are some details about this Box Office Bonanza.
Some of his Firsts and Bests:
1. First movie : tatamma kala
2. First movie he acted with his father: tatamma kala
3. First movie he acted with Sri. ANR: Bharyabhartala Bandham
4. First Dual role movie: Apoorva Sahodarulu
5. First Mythological movie: Dana Veera Soora Karna
6. First Historical Movie: Akbar-Salim-Anarkali
7. First 100 days movie: Mangammagari Manavadu (after started acting full time)
8. First Silver Jubilee: Mangammagari Manavadu
9. First Golden Jubilee: Mangammagari Manavadu
10. First Director: Sri. D. Yoganand (tatamma kala)
11. First 100 days movie in Karnataka: Mangammagari Manavadu
12. First movie based on a novel: Bhargava Ramudu
13: First Heroine: Ms. Jayamalini (annadammula anubandham)
14: First black and white movie: Ram-Rahim
15: First movie with Sri. Harikrishna: Ram-Rahim
16: Heroine he acted mostly with: Ms. VijayaSanthi
17: Director he acted mostly under: Sri. A. Kodandarami Reddy
He had acted in 4 Golden Jubilee movies produced under the Bhargav Arts (producer Sri. S. Gopala Reddy) banner. 8 of his movies collected a gross of more than 1 crore in the first week (his movie dharmakshEtram collected a gross of 2+ crores in the first week).He had 6 golden Jubilee movies to his credit so-far. His last year's blockbuster SamaraSimha Reddy ran for 175 days in 32 centers(all-time India record beating maine pyar kiya's 27 theatres, and interestingly the previous state record during slab time also belonged to him which is Muddula Krishnayya in 21 theatres). His latest sensational hit 'Narasimha Naidu' turned out to be biggest hit of Telugu cinema Industry and it is collected a staggering amount of 30 crores in the total run.
The following are some of the historical and mythological roles he appeared in:
Lord SrI rAma: mangamma gAri manavaDu, sItA rAma kaLyANam, SrI kRshNArjuna vijayam
Lord SrI kRshNa: mangamma gAri manavaDu, SrI kRshnArjuna vijayam
AbhimanyuDu: dAna vIra Sura karNa
BAlacandruDu: muddula kRshNayya
NAraduDu: SrI tirupati vEnkaTEsvara kaLyANam
Chatrapati SivAJi: dESOddhArakuDu RArAju
suyOdhanuDU: dESOddhArakuDu
Lord Siva: sItA rAma kaLyANam
BRhannala: tAp hIrO
PravarAKyuDU: Bargava rAmuDu
BimasEnuDU: rAmudu-BimuDu
HariSchandruDu: brahmarshi viSvAmitra
DushyantuDu: brahmarshi viSvAmitra
BhImakavi: vEmulavADa Bimakavi
SalIm: skbar salim anArkali
Arjuna: SrI kRshNArjuna vijayam
SrI kRshNa dEvarAyalu: Aditay 369