22 March 2012
A Beautiful Mind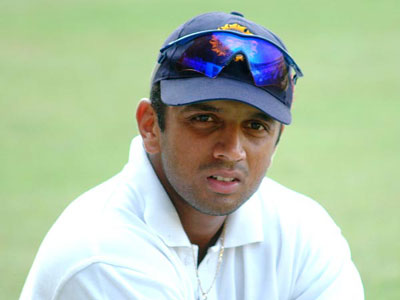 The one standout feature in Dravid's batting that separates him from other legends of his era is how intensely personal all his battles are, in that, he plays against himself and the opposition is his own weaknesses and his war is against himself in trying to curb and conquer them. And the concentration, the sweat, the intense focus and the unwavering discipline are his army that he summons without fail for every battle, regardless of the quality of the opposition. Need further proof? Check out the way he reacts when he falls, not for those miracle deliveries that one can do nothing about, but to the regular ones, wayward ones, the 'gimme's, the ones that had no business being rewarded. His reaction is one of furious anger which is nothing but a serious disappointment in himself - how could he had fallen prey to such cheapness after working so hard to master his licentious senses? And that itself is a great indication of how much he demanded from himself as to not allow even a single aberration, given his meticulous and legendary preparation. On the field, while batting, he lives in that single moment of the ball striking the bat, that single delivery that deserves his complete and undivided attention. He is the true son of the soil having internalized the essence of karma theory where the means matter more than the ends. There is never any disdain nor disrespect for even substandard bowling, no casualness nor carefree approach even when on a song. Respect is what he has and shows, towards his method, his preparation, and importantly, the opposition, to mould his method and keep him hungry. And absolute perfection was what he was ultimately aiming for. This end goal fit nicely into his obsession for constant improvement and reinvention to ultimately develop a technique that was complete and self-containing, with just enough room left to evolve further.
His temperament resembles the style of an orthodox spinner, whose chief weapon is one of attrition - no aggression, no talking down, no brow beating, just simple wearing down the opposition into submission. And just as a classical spinner lays his trap carefully slipping in the surprise guiling it among ordinariness, Dravid's flourishes are surrounded by what would seem to an untrained eye as sheer tedium. Just as fast bowlers hunt in pairs, Dravid unleashes his twin weapons - attrition, which more often than not ensu(r)es, frustration - to grind the opposition out. Attrition, however, demands a great price in patience and concentration, like a sniper who spends more time in watching through the scope than squeezing the trigger. It is unexiciting and uneventful for most part, but when the target walks into the cross hairs, the action is swift and ruthless. Being aggressive is easy, being patient takes time and work. This attitude of constantly pushing himself to get out the best in himself reflects in all the challenges he had taken up in his career - muscling his way into the shorter format after being deemed incomptent first, standing up behind the stumps, moving up and down the order to become the ultimate utility player the country ever produced. When cited his slow scoring rate was why he was overlooked from getting picked in the shorter format, he adapted his technique and became more creative, showing his critics that it wasn't his inability why he score slow, rather it was his choice, and when the need arose, switching to a different gear was as easy transferring the liquid contents from one container to the next. And during that 5-6 year period in 2000's, he was virtually unstoppable in either formats.
That he got the shorter end of the stick when his form dipped just once in ODIs and he was immediately set aside in favor of 'youth', was just one of the many injustices meted out to him. When his captain gave him the impossible choice that he can retain a place in the team only if he also doubled the duties as a keeper, he answered the call of duty without any complaint. When other senior players were grumbling and groaning about the positions they were batting at (read, Sachin and Laxman) even when it was felt necessary to spread out the talent from becoming a top-heavy or a bottom-heavy unit, Dravid quietly offered himself to serve as a ballast at any position in any order. And when a certain captain, of all people, pulled himself out of the lineup feigning injury at the sight of the green top, Draivd bravely led the team even when fighting for a lost cause. All these examples illustrate not of some great grit seeped in nobility, ala the Christ figure, who mutely took on the weight of the cross on his shoulders. Rather he reveled at those impossible situations, at the opportunities of being pushed more and more in unanticipated ways in unknown directions. Keep for an entire innings and then pad up to face the first ball? His hand went up in an instant. Drop down in the order, even in his prime, for giving that one final push in the final overs? The man waited his turn. This is not, as is often mistaken, as selflessness, sacrifice or 'taking one for the team'. At the peak of his prowess, he could have had his terms met without any dissent. But betterment was paramount in Dravid's mind, and a keeper-batsman was better than being just a batsman, and if he could shoulder the responsibility of both ends and shepherd his team to safety with the tailenders than playing it safe among his top order peers, even better!
His poker face gave nothing away. His battles were in the space between the two ears than on that 22 yard strip. He motto was 'better than the last'. His modus operandi - pratice maketh the man perfect. Rarely does one come across a cricket who finds the opposition as an enabler to his ascension. Quite a rare breed, this Dravid is!
checkout http://kanchib.blogspot.com for Srinivas's Blog
Tell Srinivas Kanchibhotla how you liked the article
Other cricket related articles by Srinivasa Kanchibhotla
Business as usual
Vote of Thanx
Bittersweet story
The I's and The T's
Means and extremes
Fair Play
Game Changing Game
What's in a win?
The shining silver lining
Winds of change
Battle of the Bamboozler
Less is more
Hit and run
Tales from down under
The three sides of a coin
Blast from the past
The other side of a win
Finding Neverland
Hail The Weaklings
Bringing down the house
Every (under)dog had it's day!
Lord of the ring: Return of the King
Lord of the ring - the departed part - 2
Lord of the ring - the departed part - 1
Lord of the ring - twin towers
Game is on
What's in a number?
Roll out the carpet... the green variety that is
Garland the ground staff
How the west was won
A time for Reversal
The sands that blotted sweat and blood
Let the good times roll
The curse of success
It's Official....
Win some, lose....nah....win some more
All is well
Expect the unexpected
From the Ashes, it rose!
It is progress ... DAMN IT!!!
Ghosts of Chinnaswamy
Congratulation Message to Indian Cricket Team
Resumption of ties
Rock, rock, rock it again!
Tour full of negatives