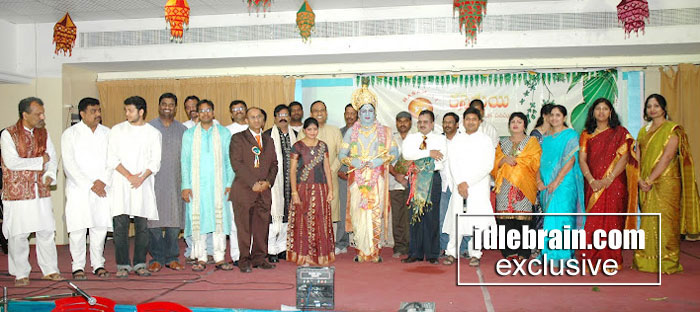 I would like to take this opportunity to introduce Rasamayi, a 25 year old Telugu cultural organisation based at Dubai. I am Manohar Kolapudi serving as the General Secretary for 2012/13 term. Rasamayi had the distinction of inviting various celebreties and leaders to grace thier celebrations over last 25 years.

Personally I am a frequent browser of your site and like it for neutral approach with unbiased coverage for all film related news. Whilst I am aware that Idlebrain.com has the best hit rate among UAE Telugu residents, i would like to propose a working relationship where Idlebrain.com provides coverage for Rasamayi events which are celebrated on medium to grand scale for various festive occassions of Andhra tradition and culture.

We have recently celebrated UGADI in Dubai with a few external artists performing DRAMA and excellent local talent performances by Dubai/Sharjah based children. Attached are the pictures of the event through a picasa link.
Appreciate your support and help to give us a platform for our events to be promoted through your web site which not only helps Rasamayi to reach global viewers but also increases hit rate among UAE & GCC based Telugu residents. We would like to continue this for all our future events and also like to take the opportunity of meeting you in person when I am in Hyderabad.