01 February, 2011
Hyderabad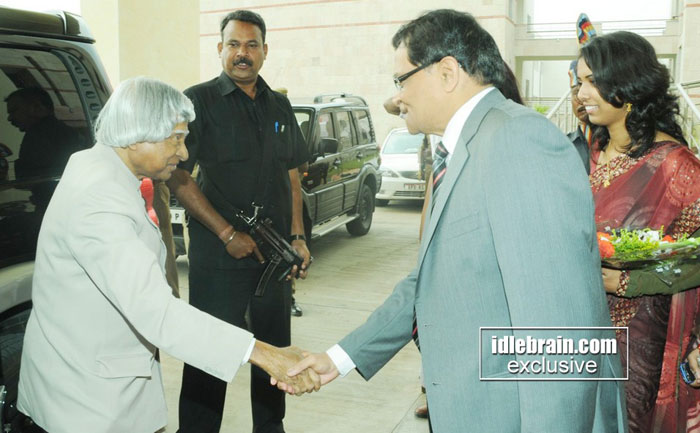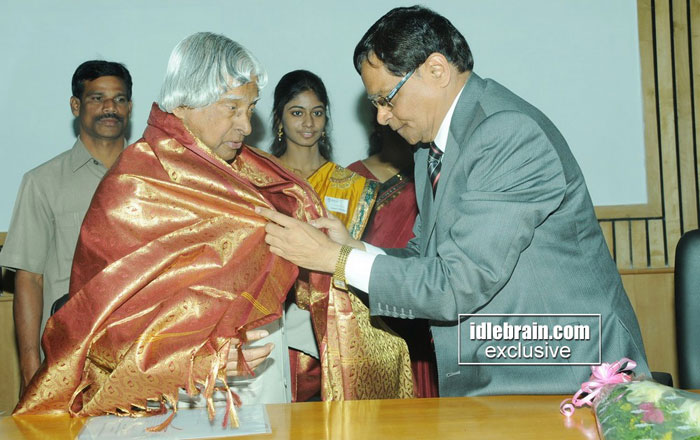 Dr AP J Abdul Kalam addressed a gathering of students and teachers of BITS Hyderabad campus on Feb 01, 2012.
Prof V S Rao, Director, BITS Pilani Hyderabad campus started with welcoming Dr Kalam, the dignitaries, staff and the students. He focused on genesis of the Hyderabad campus and the vision K M Birla. The 200 acres campus currently houses 2500+ students with 100 postgraduates and 96 Ph.D students. The campus places great emphasis on research and entrepreneurship.
Dr Kalam started his speech with an anecdote about how he designed a hovercraft that only he could fly. He motivated students by saying that every person who is in the pursuit of a goal will face problems and that it is important to captain and defeat these problems.
He focused on the importance of the symbiotic relationship between research and teaching. He stressed on the importance of an academic environment modeled on research as good teaching motivates excellent research and research begets teaching of the highest quality.
He also presented vision of India by 2020 painting a picture of a utopian land - a land devoid of hunger, poverty and the destitute. He also emphasized on how a generation of new innovative thinkers, entrepreneurs, and academicians will usher in an age of technological progress and economic prosperity. He has identified five thrust areas, agriculture, education, health, communication and infrastructure. Though development was necessary it should be sustainable which will require a marriage of a plethora of sciences and technology. He mentioned about nanobots and how it will usher in a revolution in medical sciences, several such examples followed describing a fantastic range of new sciences the he envisioned.
He pointed out that the amalgamation of different branches of sciences and technology would be possible only if the curtain separating teachers, students and researchers fall off leading to unrestrained communication and cooperation. He emphasized on the importance of rural and urban connectivity, otherwise we would leave behind the majority from the march of progress.
He also spoke of his vision of how he wished to see Indian universities in 21st century, where students would be trained to compete at the international level . They must nurture an environment of scientific progress, learning and high philosophical thought.
He made the students and faculty to take an oath that they would work towards betterment of India. He ended his speech with a mention of the qualities of great minds and how the younger generation of students must strive to cultivate these qualities and contribute to the progress of India.
The speech was followed by a round of questions by an enthusiastic crowd of student.