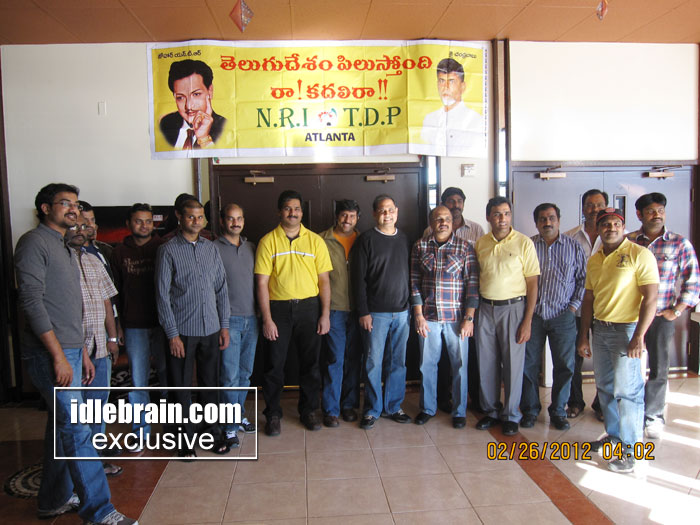 ATLANTA NRI TDP Team organizes TDP Online Membership Drive in Atlanta.
Sunday, Feb 26 th ,2012 was a momentous day for all the supporters of Telugudesam party and Nandamuri family supporters in ATLANTA as we had the first ever overseas online membership drive for TDP followed by 100 day celebrations for "SRIRAMARAJYAM" held at Navarang Theaters in Roswell, Georgia, USA.
The membership drive was a high-tech affair with volunteers armed with laptops, tablets and IPADs for the enrollment process. The photos were also taken onsite instantly and uploaded in the enrollment application. Even on a dull Sunday afternoon, there were enthusiastic supporters who came by to signup for the party membership and enjoy the free showing of SRIRAMARAJYAM movie. This was followed by the screening of a video message specially addressing Atlanta audience from the president Sri. Chandra Babu Naidu garu, who talked about the fact that Telugudesam party has introduced the first of its kind in India online enrollment of membership and the plan was to integrate the people all over the world by matching "from you came" to "where you are" which will help for the coordination and coming together of people from the same area in order to collaborate and work for the upliftment of the underprivileged folks in their native areas. He also talked about the huge potential of the NRI Telugu population and how they could help not only on a monetary basis, but also with the knowledge they have acquired.

The event concluded with the cake cutting ceremony to celebrate the 100 days screening of "SRIRAMARAJYAM" movie followed by media interview for TV9 conducted by local reporter Arun Vuyyuru.

ATLANTA NRI TDP would like to thank everyone who came by and signed up for the party membership. We also thank Mr. Harish Sajja for providing the space at Navarang Theater to coordinate this event and
Satish Vemana for coordinating the video message from CBN garu.
The event was organized and led by Mallik Medarametla and team which include Anjaiah Chowdary Lavu, Sunil Shavele, Satish Musunuri, Srinivas Lavu, Vinay Maddineni, Anil Yelamanchili, Upendra Narra,
Rajesh Jampala, Varaprasad Yadana, Srikanth Vallabhaneni, Poorna Veerapaneni, Suresh Sajja, Vasu Nalla, Vijay Kothapalli, Sandeep Mandarapu, Chandu and Gopalakrishna.