Karunya needs support of Andhra Pradesh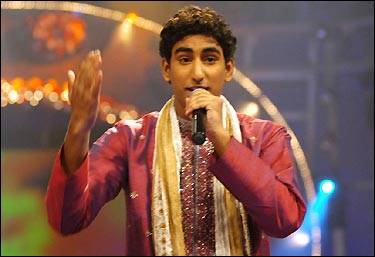 Click here to read the response of Sandeep Chowta for this article
Local boy, NC Karunya, has reached the finals of the second season of Indian Idol. From the first song he sang – a Manna Dey classic Kaun Aaya Mere Mann – he has received rave comments from Anu Malik, Sonu Nigam and Farha Khan. Sonu Nigam is so impressed by the powerful singing of Karunya that he said in spite of a possible result not going Karunya's way, Karunya will be his Indian Idol. Anu Malik, who usually has a shaayari at the end of each performance, was speechless after his latest performance (being aired today). Farah Khan went on record saying she is rooting for Karunya. Guest judges in the previous episodes like Vishal Shekar, Salim Sulaiman, Kareena Kapoor, Priyanka Chopra, Karan Johar, etc showered praises on the effortless singing of Karunya. In fact, in the latest episode featuring Suneil Sheety, the star broke down to tears after Karunya's performance. There is also a huge response for Karunya from all unexpected quarters. Chiranjeevi, Nagarjuna, Abhishek Bachan, YS Rajasekhar Reddy (Hon CM, Andhra Pradesh) and host of other celebrities have promised support to this child prodigy.
Karunya cut an album of his own in his childhood called Chiru Sarigamalu which was launched by Chiranjeevi. He later also went on to win ETV's Paaduta Teeyaga hosted by SP Balasubrahmanyam. He has sung in many of the stage shows at Hyderabad and at various other places. He was in Hyderabad last week to gather all the support he needs in his journey to win the coveted title. Being a state where the Hindi channels are not so popular, it is responsibility of all of us to spread the word asking people to watch the program. The last thing that we want is promoting and initiating region based voting. Therefore, it is a request to all of you to watch the program, communicate to others to watch the program and vote for the best contestant. May the best man win !!!
Don't Miss !!! Watch Karunya on Indian Idol 2 aired on Sony at 9:00 PM this Tuesday (April 18th). The final episodes will be telecast live on 22nd April . The voting lines are now OPEN. If you like to vote for Karunya please send an SMS to 2525 with the word KARUNYA or call 1904424252502.