16 December 2010
Vusirikayee: Anaganaga O Dheerudu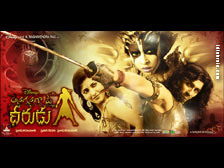 Ragavendra rao garu is one person who knows very well about what the audience like to see in his films. We know that he has used all the fruits in a proportional way in his previous films. Now, the traditioncontinues with his son Prakash. I really wish Prakash called the movie"Vusirikayee" - a mass title - instead of "AOD" (watch the movie and you will agree with me, that it's all about Vusirikayee". AOD is both class and mass film. Prakash has got amazing grip on the tempo of the film, which is very dynamic and nowhere it makes audience feel bored. It has all the elements of classic Disney movies - Epic journeys with colorful characters and Amazing computer animations.
I will readily admit that I went into this movie with some trepidation. It's based on a blind-hero. For God's sakes, I mean, the other time Telugu film has a blind hero- I don't remember. The second strike this film had going against it was - it will be "class" movie and I may not enjoy the way I enjoyed - "Mirapakayee". So, going into the movie, I had mixed expectations. The film could either be god-awful or it might be at least passable. I did not expect it to be as much of a rollicking good time as it turned out to be. Telugu film industry is just waiting for someone to come along and add a dash of spice. In this case, that someone was Prakash. In his hands, the character of Yoddha, will be a memorable creation, and a simple story that is handled with just the right touches of humor is even more exhilarating.
Many classic films fared poorly at the box office initially and then achieved cult-film status, developing an enduring loyalty and following among fans over time, often through word-of-mouth recommendations., and AOD will fall into this, without regard for standard newspaper or movie reviews from critics. The whole feature film is one giant ride and cast holds the audience's interest though out. Siddarth has given his loosest performance yet - and it is spectacular. He is matched in intensity by Lakshmi Manchu as Irendri and along with Sruhiti Hasan (as Yoddha lover) makes the whole film an enjoyable romp.
Finally, we start 2011 with a complete family entertainer. I liked AOD so much that I promised myself to watch it a second time. Disney really has the pulse of what works. They picked a great cast, and employed the best technicians and musicians. While computer animation/graphics looks cool, the reason they are a hit is the talent of the actors who bought life to those animations, so go ahead and take your little guppies to this one and you'll have a good time!
King Koduru
kingkoduru at gmail dot com
More My Movie experiences:
Rakta Charitra 2 by Sreekanth
Rakta Charitra 2 by Mahesh
Orange by Dayakar
Rakta Charitra 1 by Sreekanth
Robo by Sreekanth
Maryada Ramanna by Kumar
Inception by Kumar
Bheemili by Nani's sister
Raavan by Lalitha Spoorthi
Vedam by Praveen
Vedam by Ratnakar
Vedam by Laya
Vedam by Naveen Soma
Vedam by Pavan
Vedam by Deepak
Vedam by Manohar
Vedam by Sridhar A
Vedam by Sarath Chandra
Vedam by Murthy
Vedam by Kumar
Vedam by Santosh
Vedam by Sreekanth D
Prasthanam by Ravi
Prasthanam by Suresh
Prasthanam by Amarnath
Prasthanam by Krishna Chaitanya
Prasthanam by Che
Prasthanam by Purnesh
Prasthanam by Kumar
YMC by Kumar
YMC by Mallik
YMC by Satya
YMC by Anurag Reddy
YMC by Ramskott
YMC by Dellcom
YMC by Ashok
YMC by Ramya
YMC by Sudheer
YMC by Laya
YMC by Survi
YMC by Rajeev
YMC by Pavan
YMC by Rohit
Inkosaari by Avanthi
Inkosaari by Sneha
YMC by Praveen
YMC by Rajani
YMC by Sujith
Inkosaari by Ganesh
Leader by Sreekanth D
Maya Bazar by Gopal
Mahatma by Kishore
Baanam by Stanley
Josh by Nathan
Magadheera by Ashok
Magadheera by Wannabe Director
Magadheera by Shanti
Magadheera by Anitha
Magadheera by SS
Oy by Prathna
99 by Bala Thirumalasetty
Veedokkade by Srinivas
Delhi 6 by Vamsi
KIKK by Sweta
Luck by Chance by Srini
KIKK by Lalitha Spoorthi
Arundhati by Naveen
Arundhati by Srini
Arundhati by Bharat
Sasirekha Parinayam by Santhi Venkat
Sasirekha Parinayam by Vamshi Muthapu
Sasirekha Parinayam by Niharika Reddy
Nachavule by Vamsi Krishna
Neninthe by movie lover
Avakai Biryani by Vamsi Krishna
Kotha Bangaru Lokam by Vamsi Krishna
Kotha Bangaru Lokam by S
Ashta Chemma by Deepthi
Ashta Chemma by Lalitha Spoorthi
Sarkar Raj by Pradeep
Jalsa by Lalitha Spoorthi
Gamyam by Sridhar
Gamyam by Sreekanth D
Gamyam by Sanjay
Halla Bol by Purnesh
Taare Zameen Par by Ashok Varma
Taare Zameen Par by Raja Simha
Happy Days by Krishna Sastry
Chirutha by Phani Kumar
Chak De India by Ravi
Yamadonga by Lalitha
Chak De India by Shyam
AMAV by Darsakudu
5 in March by Sashidhar
Okkadunnadu by Anand
Black Friday by Ratnakar
Desamuduru by Krishna Prasad
Guru by It's opinion
Dhoom 2 by Lalitha Spoorthi
Dhoom 2 by ASK
Don - Syam
Boss - Anand
Boss - Hrithik
Stalin - Bala
Bommarillu - Nandini
Bommarillu - Darsakudu
Bommarillu - Vasu
Bommarillu - Harsha Prakash
Bommarillu - Lalitha Spoorthi
LRMB - Shravan
Bommarillu - Anirudh
LRMB - Srinivas
LRMB - Darsakudu
LRMB - S Sridhar
Bommarillu - Shridevi
Bommarillu - Vasudev
Bommarillu - Roopa
Sriram - Godavari
Sarath - Bangaram
Bala - Pokiri
Srinadh - Allari Pidugu
Sudheer Allari Pidugu
Anu - Athadu
Shyam Krishna - Iqbal
Purnesh - Grahanam
Sudhindra - Super
Vijay - Aparichitudu
Madhav - Aparichitudu
Hazaraon Kwaishein Aisi
Swades
Shyam - Black
Sai - Anand
Rohit - Anand & Veer Zaara
Jaya Prakash - 7GBC
Raj - Anand
Purnesh - Anand
Purnesh - The Village
Sriram - Gudumba Shankar
Purnesh - Gharshana
Purnesh - Lakshya
Purnesh - Yuva
Leenesh - Yuva
Kis - Lakshmi Narasimha
Indian Pride - Tagore
Raj - Boys
Phani - Gangotri
Phani - Khadgam
Vikram - CKR
BKR - Indra (Singapore)
Ram - Indra (Dubai)
Ranjeet - Idiot
Rahul - Indra
King Koduri - Indra
Srilakshmi Katragadda - Mitr: My Friend