12 July 2012
Eega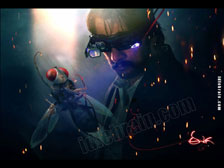 There used to be a golden era's of Telugu cinema, where people waited for the movies irrespective of who the hero of the film is. Thank God, we still have some directors who enjoy that status…and SS Rajamouli who made "Success" and "Standard" as his surnames, stands first among them in current times. And after churning out blockbusters, Rajamouli had decided to take a huge break from regular pot-boilers to give us an un-expected revenge saga of "EEGA".
Let's see till how far this EEGA…sorry our Rajamouli's EEGA flies….
Plot: Naanee, the boy next door loves the girl next door Bindu (Samantha) for 2 years. And rightly at the moment when Bindu reciprocates his love, he is brutally killed by Sudeep. And Nani reborn as EEGA and now it is EEGA's turn to take a revenge for his death and at same time protect his love.
EEGA…an SS Rajamouli's child
This tiny thought of EEGA taking a revenge on human being seems funny and simpler on paper. But it takes real guts for one to bring that one line idea to a 2 hour movie, that too for a movie bound to have expectations since it is Rajamouli's film. So firstly Kudos to the Rajamouli's team for that entirety and for that miniature perfection.
Rajamouli lately has gained some ease in telling a love story as part of his revengeful plots. And the result is we have that initial cute love episode between Nani and Bindu. It's a different one surely that has its share of humor and of course loads of love.
His real litmus test begins once EEGA comes on screen. Definitely it takes some time to register in our mind, a very unfamiliar and unsung hero. And so the director starts at reality showing the capabilities and traits of EEGA. EEGA soon becomes lovable and you start feeling for it, once you connect with its emotions. It works harder on its revenge and cleverly safeguards her love….and all that is made in believable way…A big standing ovation to Rajamouli Sir….
VFX and Sudeep…
Hero here is EEGA… and not to forget, the hands behind it are VFX team for providing near to the real graphics work. They are really above the par for the audience easily connected with the EEGA on-screen. There is one-hour of Graphic work which comprises half the screen time. SenthilKumar cinematography is perfect. Keeravani's back ground score infuses life into all the scenes. The Title song "EEGA...EEGA" and "Nene Naani ne" are good as back ground songs. Other melody…"Konchem konchem" is nicely pictured.
Then Kannada star Sudeep is such a brilliant actor…He is excellent as dreadful Villain. Then he superbly acts in all the scenes with EEGA, remember he should actually imagine and deliver on screen, as EEGA is later substituted at post-production time.
Samantha is cute…But should have been better if she get rids of same old chinmayi's voice. Nani leaves real good mark in the time he has. Of course you will see his naughtiness in EEGA's tantrums.
Tagubotu Ramesh scores small and good cameo. Rajamouli's regular aide acts as Tantra.
So what to look for!!
One should look for …how the small EEGA could (un)control huge traffic. How it managed to warn Sudeep saying "I WILL KILL YOU"? How it re-expressed its love to Bindu? It's home work to kill Sudeep. How it managed to win Tantric? And you should all those "N" number of tricks it plays to torture Sudeep. Climax is really superb, where an equal tug war takes place. Don't walk out till the end titles scroll completely as EEGA has surprises till then.
Finally…
EEGA's verdict and outcome should not be compared with high voltage entertainers from Rajamouli. Being EEGA, it has its drawbacks in form of few dull moments here and there. Though EEGA is targeted for kids…Adults and Mass audience are immensely enjoying the flick. With great response in all languages, it released, EEGA is bound to earn profits.
EEGA screen meeda sandadi chestunte…Booking counter lo "EEGA"lu tolukune avasaram raadu..!!
Rajamouli Sir…you have done it again….And this time with EEGA!!
kumarchakravarthy at gmail dot com
More My Movie experiences:
Eega by Sai Sridhar
Eega by Ajay
Eega by Sreekanth
Gabbar Singh by Sreekanth
Love Failure by Lalitha
Sri Ramarajyam by Santosh
Sri Ramarajyam by Sandeep
Sri Ramarajyam by Srini C
Sri Ramarajyam by Sreekanth
Sri Ramarajyam by Kumar
Sri Ramarajyam by Sarada
Sri Ramarajyam by Sarath
Sri Ramarajyam by Kiran
Gaganam by fan
Ala Modalaindi by Lalli
Ala Modalaindi by Deepthi
AOD by King Koduru
Rakta Charitra 2 by Sreekanth
Rakta Charitra 2 by Mahesh
Orange by Dayakar
Rakta Charitra 1 by Sreekanth
Robo by Sreekanth
Maryada Ramanna by Kumar
Inception by Kumar
Bheemili by Nani's sister
Raavan by Lalitha Spoorthi
Vedam by Praveen
Vedam by Ratnakar
Vedam by Laya
Vedam by Naveen Soma
Vedam by Pavan
Vedam by Deepak
Vedam by Manohar
Vedam by Sridhar A
Vedam by Sarath Chandra
Vedam by Murthy
Vedam by Kumar
Vedam by Santosh
Vedam by Sreekanth D
Prasthanam by Ravi
Prasthanam by Suresh
Prasthanam by Amarnath
Prasthanam by Krishna Chaitanya
Prasthanam by Che
Prasthanam by Purnesh
Prasthanam by Kumar
YMC by Kumar
YMC by Mallik
YMC by Satya
YMC by Anurag Reddy
YMC by Ramskott
YMC by Dellcom
YMC by Ashok
YMC by Ramya
YMC by Sudheer
YMC by Laya
YMC by Survi
YMC by Rajeev
YMC by Pavan
YMC by Rohit
Inkosaari by Avanthi
Inkosaari by Sneha
YMC by Praveen
YMC by Rajani
YMC by Sujith
Inkosaari by Ganesh
Leader by Sreekanth D
Maya Bazar by Gopal
Mahatma by Kishore
Baanam by Stanley
Josh by Nathan
Magadheera by Ashok
Magadheera by Wannabe Director
Magadheera by Shanti
Magadheera by Anitha
Magadheera by SS
Oy by Prathna
99 by Bala Thirumalasetty
Veedokkade by Srinivas
Delhi 6 by Vamsi
KIKK by Sweta
Luck by Chance by Srini
KIKK by Lalitha Spoorthi
Arundhati by Naveen
Arundhati by Srini
Arundhati by Bharat
Sasirekha Parinayam by Santhi Venkat
Sasirekha Parinayam by Vamshi Muthapu
Sasirekha Parinayam by Niharika Reddy
Nachavule by Vamsi Krishna
Neninthe by movie lover
Avakai Biryani by Vamsi Krishna
Kotha Bangaru Lokam by Vamsi Krishna
Kotha Bangaru Lokam by S
Ashta Chemma by Deepthi
Ashta Chemma by Lalitha Spoorthi
Sarkar Raj by Pradeep
Jalsa by Lalitha Spoorthi
Gamyam by Sridhar
Gamyam by Sreekanth D
Gamyam by Sanjay
Halla Bol by Purnesh
Taare Zameen Par by Ashok Varma
Taare Zameen Par by Raja Simha
Happy Days by Krishna Sastry
Chirutha by Phani Kumar
Chak De India by Ravi
Yamadonga by Lalitha
Chak De India by Shyam
AMAV by Darsakudu
5 in March by Sashidhar
Okkadunnadu by Anand
Black Friday by Ratnakar
Desamuduru by Krishna Prasad
Guru by It's opinion
Dhoom 2 by Lalitha Spoorthi
Dhoom 2 by ASK
Don - Syam
Boss - Anand
Boss - Hrithik
Stalin - Bala
Bommarillu - Nandini
Bommarillu - Darsakudu
Bommarillu - Vasu
Bommarillu - Harsha Prakash
Bommarillu - Lalitha Spoorthi
LRMB - Shravan
Bommarillu - Anirudh
LRMB - Srinivas
LRMB - Darsakudu
LRMB - S Sridhar
Bommarillu - Shridevi
Bommarillu - Vasudev
Bommarillu - Roopa
Sriram - Godavari
Sarath - Bangaram
Bala - Pokiri
Srinadh - Allari Pidugu
Sudheer Allari Pidugu
Anu - Athadu
Shyam Krishna - Iqbal
Purnesh - Grahanam
Sudhindra - Super
Vijay - Aparichitudu
Madhav - Aparichitudu
Hazaraon Kwaishein Aisi
Swades
Shyam - Black
Sai - Anand
Rohit - Anand & Veer Zaara
Jaya Prakash - 7GBC
Raj - Anand
Purnesh - Anand
Purnesh - The Village
Sriram - Gudumba Shankar
Purnesh - Gharshana
Purnesh - Lakshya
Purnesh - Yuva
Leenesh - Yuva
Kis - Lakshmi Narasimha
Indian Pride - Tagore
Raj - Boys
Phani - Gangotri
Phani - Khadgam
Vikram - CKR
BKR - Indra (Singapore)
Ram - Indra (Dubai)
Ranjeet - Idiot
Rahul - Indra
King Koduri - Indra
Srilakshmi Katragadda - Mitr: My Friend