12 July 2012
Eega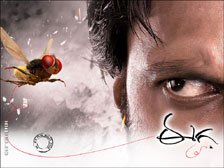 Foreword: I am not trying to be super critical or show off that I want to go against the flow. I am speaking my mind out.
Firstly Eega is definitely miles ahead of any Telugu cinema technically. Hats off to Rajamouli and Thanks for making us proud.What Avatar is for Hollywood , Eega is for Telugu cinema and in many ways. Technically both are few notches above their contemporary cinema. Major drawbacks of Avatar and Eega are their scripts and screenplay. They are no work of genius like the concept or idea or direction in those movies.
Eega story is like most of the Rajamouli movies that have two lives, revenge, powerful villian etc. Just to name a few Simhadri, Vikramarkudu, Magadheera etc. Story almost is similar to Magadheera along with the villain characterization and then the Aghora thread. Too much indulgence into the technical aspects blind folded these makers scripting abilities. Of course the technical brilliance in itself makes sure they have a winner at hand.
Technically it's brilliant and Content wise movie is a semi-enjoyable ride with fun, action, violence and little and/or superficial romance, comedy and sentiment. Nani's presence though short is mesmerizing thanks to his energy. Sudeep is a nice pick for the role. Of course why would not Rajamouli like a person who can act like Raghuvaran, Prakash Raj and Shahrukh Khan(negative roles). Samantha needs some more acting classes, she cannot survive on Chinmayi's dubbing forever. Aghora episode, Eega birth, Interval scene and Climax are the highlights in same order first being the best. Like the 100 count fight in Magadheera had it's influence from 300, the fly entering the car through AC vents and sticking to Tennis ball are straight lift from Bee-Movie.
On a whole, Eega is definitely enjoyable for one time for its novelty as far as Indian cinema is concerned. Coming to kids perspective, this movie is as much kid friendly as any of Rajamouli movies except Yama Donga. Yama Donga is more kid friendly than Eega.
Nelloreodimaata

Rohit Posina
wantrohit at yahoo dot com
More My Movie experiences:
Eega by Srikar
Eega by Kumar
Eega by Sai Sridhar
Eega by Ajay
Eega by Sreekanth
Gabbar Singh by Sreekanth
Love Failure by Lalitha
Sri Ramarajyam by Santosh
Sri Ramarajyam by Sandeep
Sri Ramarajyam by Srini C
Sri Ramarajyam by Sreekanth
Sri Ramarajyam by Kumar
Sri Ramarajyam by Sarada
Sri Ramarajyam by Sarath
Sri Ramarajyam by Kiran
Gaganam by fan
Ala Modalaindi by Lalli
Ala Modalaindi by Deepthi
AOD by King Koduru
Rakta Charitra 2 by Sreekanth
Rakta Charitra 2 by Mahesh
Orange by Dayakar
Rakta Charitra 1 by Sreekanth
Robo by Sreekanth
Maryada Ramanna by Kumar
Inception by Kumar
Bheemili by Nani's sister
Raavan by Lalitha Spoorthi
Vedam by Praveen
Vedam by Ratnakar
Vedam by Laya
Vedam by Naveen Soma
Vedam by Pavan
Vedam by Deepak
Vedam by Manohar
Vedam by Sridhar A
Vedam by Sarath Chandra
Vedam by Murthy
Vedam by Kumar
Vedam by Santosh
Vedam by Sreekanth D
Prasthanam by Ravi
Prasthanam by Suresh
Prasthanam by Amarnath
Prasthanam by Krishna Chaitanya
Prasthanam by Che
Prasthanam by Purnesh
Prasthanam by Kumar
YMC by Kumar
YMC by Mallik
YMC by Satya
YMC by Anurag Reddy
YMC by Ramskott
YMC by Dellcom
YMC by Ashok
YMC by Ramya
YMC by Sudheer
YMC by Laya
YMC by Survi
YMC by Rajeev
YMC by Pavan
YMC by Rohit
Inkosaari by Avanthi
Inkosaari by Sneha
YMC by Praveen
YMC by Rajani
YMC by Sujith
Inkosaari by Ganesh
Leader by Sreekanth D
Maya Bazar by Gopal
Mahatma by Kishore
Baanam by Stanley
Josh by Nathan
Magadheera by Ashok
Magadheera by Wannabe Director
Magadheera by Shanti
Magadheera by Anitha
Magadheera by SS
Oy by Prathna
99 by Bala Thirumalasetty
Veedokkade by Srinivas
Delhi 6 by Vamsi
KIKK by Sweta
Luck by Chance by Srini
KIKK by Lalitha Spoorthi
Arundhati by Naveen
Arundhati by Srini
Arundhati by Bharat
Sasirekha Parinayam by Santhi Venkat
Sasirekha Parinayam by Vamshi Muthapu
Sasirekha Parinayam by Niharika Reddy
Nachavule by Vamsi Krishna
Neninthe by movie lover
Avakai Biryani by Vamsi Krishna
Kotha Bangaru Lokam by Vamsi Krishna
Kotha Bangaru Lokam by S
Ashta Chemma by Deepthi
Ashta Chemma by Lalitha Spoorthi
Sarkar Raj by Pradeep
Jalsa by Lalitha Spoorthi
Gamyam by Sridhar
Gamyam by Sreekanth D
Gamyam by Sanjay
Halla Bol by Purnesh
Taare Zameen Par by Ashok Varma
Taare Zameen Par by Raja Simha
Happy Days by Krishna Sastry
Chirutha by Phani Kumar
Chak De India by Ravi
Yamadonga by Lalitha
Chak De India by Shyam
AMAV by Darsakudu
5 in March by Sashidhar
Okkadunnadu by Anand
Black Friday by Ratnakar
Desamuduru by Krishna Prasad
Guru by It's opinion
Dhoom 2 by Lalitha Spoorthi
Dhoom 2 by ASK
Don - Syam
Boss - Anand
Boss - Hrithik
Stalin - Bala
Bommarillu - Nandini
Bommarillu - Darsakudu
Bommarillu - Vasu
Bommarillu - Harsha Prakash
Bommarillu - Lalitha Spoorthi
LRMB - Shravan
Bommarillu - Anirudh
LRMB - Srinivas
LRMB - Darsakudu
LRMB - S Sridhar
Bommarillu - Shridevi
Bommarillu - Vasudev
Bommarillu - Roopa
Sriram - Godavari
Sarath - Bangaram
Bala - Pokiri
Srinadh - Allari Pidugu
Sudheer Allari Pidugu
Anu - Athadu
Shyam Krishna - Iqbal
Purnesh - Grahanam
Sudhindra - Super
Vijay - Aparichitudu
Madhav - Aparichitudu
Hazaraon Kwaishein Aisi
Swades
Shyam - Black
Sai - Anand
Rohit - Anand & Veer Zaara
Jaya Prakash - 7GBC
Raj - Anand
Purnesh - Anand
Purnesh - The Village
Sriram - Gudumba Shankar
Purnesh - Gharshana
Purnesh - Lakshya
Purnesh - Yuva
Leenesh - Yuva
Kis - Lakshmi Narasimha
Indian Pride - Tagore
Raj - Boys
Phani - Gangotri
Phani - Khadgam
Vikram - CKR
BKR - Indra (Singapore)
Ram - Indra (Dubai)
Ranjeet - Idiot
Rahul - Indra
King Koduri - Indra
Srilakshmi Katragadda - Mitr: My Friend