17 Feb 2011
My Movie - Gaganam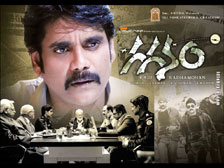 Gaganam (Sky) is a very apt name for this masterpiece. Radha Mohan has set the bar very high for Tollywood with this thriller. Gaganam is one of those once in a very long time trailblazers which reset the direction of the genre. It has redefined the way we watch cinema in Tollywood and will reset our expectations of three fights and six songs in a movie and does away with the clichéd duets where the hero and heroine run around trees and for that matter does away with any and all songs as this movie does not require a song to move the story along.
The movie is a fast paced thriller which keeps the audience on the edge of their seats and never lets us down. The story keeps us glued to the screen and performances by the artists were crisp and apt. The taut screenplay of the movie again reinforces that the biggest star of a movie is the script. A special mention to Guhan for the amazing visuals in the movie and the movie is no less than a summer Hollywood blockbuster.
Some of the noteworthy episodes in the movie are the relationship of the media and their rating race, our obsession with making actors superstars and following them mindlessly and also finally the inability of a democracy to be agile in times of emergency and succumb to the slightest pressure.
A special round of applause needs to be given to Nagarjuna and Dil Raju for risking their image and finances in bringing this movie to life. Nagarjuna has matured as an actor from a superstar with this movie and that says a lot about this role because he has left behind his star power to perform this role. (Disclaimer: I am actually a very big Nag fan). Dil Raju should be appreciated for his nerve in undertaking this venture. Radha Mohan is a terrific find for Telugu Cinema. His first movie was a heart touching movie called "Akasamantha " and this is an amazing follow up to that movie. He is what I would consider to be an asset to the industry and hope he along with our new breed of directors continue to experiment with different and meaningful cinema…
I would also like to thank Idlebrain for giving me this opportunity to convey my thoughts and feelings about this movie to my fellow Telugu film industry buffs across the world.
Just believe me and watch this movie if you consider yourself a fan of good cinema…..
sincerely,
Gaganam.Fan at gmail dot com
More My Movie experiences:
Ala Modalaindi by Lalli
Ala Modalaindi by Deepthi
AOD by King Koduru
Rakta Charitra 2 by Sreekanth
Rakta Charitra 2 by Mahesh
Orange by Dayakar
Rakta Charitra 1 by Sreekanth
Robo by Sreekanth
Maryada Ramanna by Kumar
Inception by Kumar
Bheemili by Nani's sister
Raavan by Lalitha Spoorthi
Vedam by Praveen
Vedam by Ratnakar
Vedam by Laya
Vedam by Naveen Soma
Vedam by Pavan
Vedam by Deepak
Vedam by Manohar
Vedam by Sridhar A
Vedam by Sarath Chandra
Vedam by Murthy
Vedam by Kumar
Vedam by Santosh
Vedam by Sreekanth D
Prasthanam by Ravi
Prasthanam by Suresh
Prasthanam by Amarnath
Prasthanam by Krishna Chaitanya
Prasthanam by Che
Prasthanam by Purnesh
Prasthanam by Kumar
YMC by Kumar
YMC by Mallik
YMC by Satya
YMC by Anurag Reddy
YMC by Ramskott
YMC by Dellcom
YMC by Ashok
YMC by Ramya
YMC by Sudheer
YMC by Laya
YMC by Survi
YMC by Rajeev
YMC by Pavan
YMC by Rohit
Inkosaari by Avanthi
Inkosaari by Sneha
YMC by Praveen
YMC by Rajani
YMC by Sujith
Inkosaari by Ganesh
Leader by Sreekanth D
Maya Bazar by Gopal
Mahatma by Kishore
Baanam by Stanley
Josh by Nathan
Magadheera by Ashok
Magadheera by Wannabe Director
Magadheera by Shanti
Magadheera by Anitha
Magadheera by SS
Oy by Prathna
99 by Bala Thirumalasetty
Veedokkade by Srinivas
Delhi 6 by Vamsi
KIKK by Sweta
Luck by Chance by Srini
KIKK by Lalitha Spoorthi
Arundhati by Naveen
Arundhati by Srini
Arundhati by Bharat
Sasirekha Parinayam by Santhi Venkat
Sasirekha Parinayam by Vamshi Muthapu
Sasirekha Parinayam by Niharika Reddy
Nachavule by Vamsi Krishna
Neninthe by movie lover
Avakai Biryani by Vamsi Krishna
Kotha Bangaru Lokam by Vamsi Krishna
Kotha Bangaru Lokam by S
Ashta Chemma by Deepthi
Ashta Chemma by Lalitha Spoorthi
Sarkar Raj by Pradeep
Jalsa by Lalitha Spoorthi
Gamyam by Sridhar
Gamyam by Sreekanth D
Gamyam by Sanjay
Halla Bol by Purnesh
Taare Zameen Par by Ashok Varma
Taare Zameen Par by Raja Simha
Happy Days by Krishna Sastry
Chirutha by Phani Kumar
Chak De India by Ravi
Yamadonga by Lalitha
Chak De India by Shyam
AMAV by Darsakudu
5 in March by Sashidhar
Okkadunnadu by Anand
Black Friday by Ratnakar
Desamuduru by Krishna Prasad
Guru by It's opinion
Dhoom 2 by Lalitha Spoorthi
Dhoom 2 by ASK
Don - Syam
Boss - Anand
Boss - Hrithik
Stalin - Bala
Bommarillu - Nandini
Bommarillu - Darsakudu
Bommarillu - Vasu
Bommarillu - Harsha Prakash
Bommarillu - Lalitha Spoorthi
LRMB - Shravan
Bommarillu - Anirudh
LRMB - Srinivas
LRMB - Darsakudu
LRMB - S Sridhar
Bommarillu - Shridevi
Bommarillu - Vasudev
Bommarillu - Roopa
Sriram - Godavari
Sarath - Bangaram
Bala - Pokiri
Srinadh - Allari Pidugu
Sudheer Allari Pidugu
Anu - Athadu
Shyam Krishna - Iqbal
Purnesh - Grahanam
Sudhindra - Super
Vijay - Aparichitudu
Madhav - Aparichitudu
Hazaraon Kwaishein Aisi
Swades
Shyam - Black
Sai - Anand
Rohit - Anand & Veer Zaara
Jaya Prakash - 7GBC
Raj - Anand
Purnesh - Anand
Purnesh - The Village
Sriram - Gudumba Shankar
Purnesh - Gharshana
Purnesh - Lakshya
Purnesh - Yuva
Leenesh - Yuva
Kis - Lakshmi Narasimha
Indian Pride - Tagore
Raj - Boys
Phani - Gangotri
Phani - Khadgam
Vikram - CKR
BKR - Indra (Singapore)
Ram - Indra (Dubai)
Ranjeet - Idiot
Rahul - Indra
King Koduri - Indra
Srilakshmi Katragadda - Mitr: My Friend