24 March 2010
My Movie – Prasthanam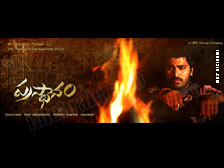 Before I start writing anything about the movie, please be aware that this piece is not a review but just my take on the movie. Reviews are for experts and I am definitely no match to them.
Ok, so what do intelligent and learned filmmakers do differently when they make films? They add some common sense to the screenplay, stick to their themes, create some soulful and unforgettable characters and last but not the least – they break the rules of conventional cinema and mesmerize the audience with some brilliant stuff on silver screen. Well, Dev Katta (Vennela fame) does the same for his masterpiece, Prasthanam (Journey, English).
Having experienced movies from a rather conservative film industry I always wondered how much we miss the opportunity of watching intelligent cinema in our own language. The directors were rather struck in an age old format of filmmaking and the audiences were long used to the stereotypes. The former doesn't allow you to change and the latter never gets an opportunity to experience changeJ. Coming back to the film, the theme mainly rotates around the classification of human deeds - good and bad, and the way humans justify themselves for their deeds. An intense political drama coupled with some super sensible emotions, a conflict tale between two step brothers, brilliant portrayal of the ultimate characteristic of human beings - selfishness and a philosophical dressing to the screenplay all help the movie present itself better and rather fresh. What amazed me is the way the director portrays characters and their complex emotions with such ease. Sai kumar once again proves his mettle as an actor while Sarvanand continues to do his good work. The surprise find of the whole lot is Sundeep Kishan who dons the role of a spoilt sibling in a realistic manner.
All said, the movie is a bit lengthy and takes its time to establish the characters and to unfold the twists and turns. But then who wouldn't love to watch lengthy epic tales? I would strongly recommend serious film lovers to watch the movie. If not, you have always have atleast 1 formulaic tale getting released at your local theaters daily :). "
Amarnath Yadlapati
amarnath.yadlapati at gmail dot com
More My Movie experiences:
Prasthanam by Krishna Chaitanya
Prasthanam by Che
Prasthanam by Purnesh
Prasthanam by Kumar
YMC by Kumar
YMC by Mallik
YMC by Satya
YMC by Anurag Reddy
YMC by Ramskott
YMC by Dellcom
YMC by Ashok
YMC by Ramya
YMC by Sudheer
YMC by Laya
YMC by Survi
YMC by Rajeev
YMC by Pavan
YMC by Rohit
Inkosaari by Avanthi
Inkosaari by Sneha
YMC by Praveen
YMC by Rajani
YMC by Sujith
Inkosaari by Ganesh
Leader by Sreekanth D
Maya Bazar by Gopal
Mahatma by Kishore
Baanam by Stanley
Josh by Nathan
Magadheera by Ashok
Magadheera by Wannabe Director
Magadheera by Shanti
Magadheera by Anitha
Magadheera by SS
Oy by Prathna
99 by Bala Thirumalasetty
Veedokkade by Srinivas
Delhi 6 by Vamsi
KIKK by Sweta
Luck by Chance by Srini
KIKK by Lalitha Spoorthi
Arundhati by Naveen
Arundhati by Srini
Arundhati by Bharat
Sasirekha Parinayam by Santhi Venkat
Sasirekha Parinayam by Vamshi Muthapu
Sasirekha Parinayam by Niharika Reddy
Nachavule by Vamsi Krishna
Neninthe by movie lover
Avakai Biryani by Vamsi Krishna
Kotha Bangaru Lokam by Vamsi Krishna
Kotha Bangaru Lokam by S
Ashta Chemma by Deepthi
Ashta Chemma by Lalitha Spoorthi
Sarkar Raj by Pradeep
Jalsa by Lalitha Spoorthi
Gamyam by Sridhar
Gamyam by Sreekanth D
Gamyam by Sanjay
Halla Bol by Purnesh
Taare Zameen Par by Ashok Varma
Taare Zameen Par by Raja Simha
Happy Days by Krishna Sastry
Chirutha by Phani Kumar
Chak De India by Ravi
Yamadonga by Lalitha
Chak De India by Shyam
AMAV by Darsakudu
5 in March by Sashidhar
Okkadunnadu by Anand
Black Friday by Ratnakar
Desamuduru by Krishna Prasad
Guru by It's opinion
Dhoom 2 by Lalitha Spoorthi
Dhoom 2 by ASK
Don - Syam
Boss - Anand
Boss - Hrithik
Stalin - Bala
Bommarillu - Nandini
Bommarillu - Darsakudu
Bommarillu - Vasu
Bommarillu - Harsha Prakash
Bommarillu - Lalitha Spoorthi
LRMB - Shravan
Bommarillu - Anirudh
LRMB - Srinivas
LRMB - Darsakudu
LRMB - S Sridhar
Bommarillu - Shridevi
Bommarillu - Vasudev
Bommarillu - Roopa
Sriram - Godavari
Sarath - Bangaram
Bala - Pokiri
Srinadh - Allari Pidugu
Sudheer Allari Pidugu
Anu - Athadu
Shyam Krishna - Iqbal
Purnesh - Grahanam
Sudhindra - Super
Vijay - Aparichitudu
Madhav - Aparichitudu
Hazaraon Kwaishein Aisi
Swades
Shyam - Black
Sai - Anand
Rohit - Anand & Veer Zaara
Jaya Prakash - 7GBC
Raj - Anand
Purnesh - Anand
Purnesh - The Village
Sriram - Gudumba Shankar
Purnesh - Gharshana
Purnesh - Lakshya
Purnesh - Yuva
Leenesh - Yuva
Kis - Lakshmi Narasimha
Indian Pride - Tagore
Raj - Boys
Phani - Gangotri
Phani - Khadgam
Vikram - CKR
BKR - Indra (Singapore)
Ram - Indra (Dubai)
Ranjeet - Idiot
Rahul - Indra
King Koduri - Indra
Srilakshmi Katragadda - Mitr: My Friend