8 June 2010
My Movie – Vedam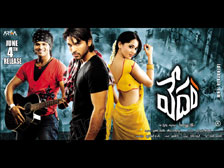 Let me try to remember the last time I came out of a cinema and said "Man, what a movie"......well, it was for the movie hangover. It was about an year ago and i still reminisce some moments from the movie.
Let me attempt to memorize the previous time the characters of a movie traveled back with me from the silver screen. 3 idiots may fit the bill if i compromise.
Let me try to recall the last time I loved a telugu film sooo very much that i felt sorry to leave the theater. My memory rockets back to bommarillu, lingers there for a second and crashes without an answer.
Without wasting anymore time, i should tell you that Vedam will be my answer to any such dilemna for years to come.
Vedam is a roller coaster made out of human emotions. One can see arrogance in manoj, greed and humor in AA, absolute surrender and helplessness in ramulu, insecurity in manoj bajpai and color in anushka. But there's one thing they all have in common - goodness..the movie is all about how situations bring about the best out of people who are stereotyped into certain categories.
Every scene has a meaning and a calculated purpose..pick any scene in the first half and it has an ironical manifestation in the second half....including manoj's "one day I'll be famous" and bunny's "basti lo pothe ghanta lo lepali" dialogs.....not a single scene is wasted and the screenplay is extremely riveting..i have tens of favorite scenes in the movie..though I have an irresistible urge to share and relive some moments from the movie, it is best seen than said.
Allu arjun was FANTASTIC as cable raju...i was thinking allari naresh could have generated better humor till the classy shade of AA unfolded..he was just unreal as cable raju..Allu arjun and comedian rajesh's scenes were hilarious...manoj was good towards the end..ramulu and padma were very sympathetic..the police officer who tortures manoj bajpai was great towards the end.
Every person coming out of the theater had a tear in their eyes..and everyone clapped towards the end.
Personally, it is my THE favorite telugu cinema till date..for the love of OUR language i desperately yearned for a telugu cinema that compares to the experience of a well made world cinema.
With Vedam, telugu cinema is back....
Sarat Chandra
sarat124 at yahoo dot com
More My Movie experiences:
Vedam by Murthy
Vedam by Kumar
Vedam by Santosh
Vedam by Sreekanth D
Prasthanam by Ravi
Prasthanam by Suresh
Prasthanam by Amarnath
Prasthanam by Krishna Chaitanya
Prasthanam by Che
Prasthanam by Purnesh
Prasthanam by Kumar
YMC by Kumar
YMC by Mallik
YMC by Satya
YMC by Anurag Reddy
YMC by Ramskott
YMC by Dellcom
YMC by Ashok
YMC by Ramya
YMC by Sudheer
YMC by Laya
YMC by Survi
YMC by Rajeev
YMC by Pavan
YMC by Rohit
Inkosaari by Avanthi
Inkosaari by Sneha
YMC by Praveen
YMC by Rajani
YMC by Sujith
Inkosaari by Ganesh
Leader by Sreekanth D
Maya Bazar by Gopal
Mahatma by Kishore
Baanam by Stanley
Josh by Nathan
Magadheera by Ashok
Magadheera by Wannabe Director
Magadheera by Shanti
Magadheera by Anitha
Magadheera by SS
Oy by Prathna
99 by Bala Thirumalasetty
Veedokkade by Srinivas
Delhi 6 by Vamsi
KIKK by Sweta
Luck by Chance by Srini
KIKK by Lalitha Spoorthi
Arundhati by Naveen
Arundhati by Srini
Arundhati by Bharat
Sasirekha Parinayam by Santhi Venkat
Sasirekha Parinayam by Vamshi Muthapu
Sasirekha Parinayam by Niharika Reddy
Nachavule by Vamsi Krishna
Neninthe by movie lover
Avakai Biryani by Vamsi Krishna
Kotha Bangaru Lokam by Vamsi Krishna
Kotha Bangaru Lokam by S
Ashta Chemma by Deepthi
Ashta Chemma by Lalitha Spoorthi
Sarkar Raj by Pradeep
Jalsa by Lalitha Spoorthi
Gamyam by Sridhar
Gamyam by Sreekanth D
Gamyam by Sanjay
Halla Bol by Purnesh
Taare Zameen Par by Ashok Varma
Taare Zameen Par by Raja Simha
Happy Days by Krishna Sastry
Chirutha by Phani Kumar
Chak De India by Ravi
Yamadonga by Lalitha
Chak De India by Shyam
AMAV by Darsakudu
5 in March by Sashidhar
Okkadunnadu by Anand
Black Friday by Ratnakar
Desamuduru by Krishna Prasad
Guru by It's opinion
Dhoom 2 by Lalitha Spoorthi
Dhoom 2 by ASK
Don - Syam
Boss - Anand
Boss - Hrithik
Stalin - Bala
Bommarillu - Nandini
Bommarillu - Darsakudu
Bommarillu - Vasu
Bommarillu - Harsha Prakash
Bommarillu - Lalitha Spoorthi
LRMB - Shravan
Bommarillu - Anirudh
LRMB - Srinivas
LRMB - Darsakudu
LRMB - S Sridhar
Bommarillu - Shridevi
Bommarillu - Vasudev
Bommarillu - Roopa
Sriram - Godavari
Sarath - Bangaram
Bala - Pokiri
Srinadh - Allari Pidugu
Sudheer Allari Pidugu
Anu - Athadu
Shyam Krishna - Iqbal
Purnesh - Grahanam
Sudhindra - Super
Vijay - Aparichitudu
Madhav - Aparichitudu
Hazaraon Kwaishein Aisi
Swades
Shyam - Black
Sai - Anand
Rohit - Anand & Veer Zaara
Jaya Prakash - 7GBC
Raj - Anand
Purnesh - Anand
Purnesh - The Village
Sriram - Gudumba Shankar
Purnesh - Gharshana
Purnesh - Lakshya
Purnesh - Yuva
Leenesh - Yuva
Kis - Lakshmi Narasimha
Indian Pride - Tagore
Raj - Boys
Phani - Gangotri
Phani - Khadgam
Vikram - CKR
BKR - Indra (Singapore)
Ram - Indra (Dubai)
Ranjeet - Idiot
Rahul - Indra
King Koduri - Indra
Srilakshmi Katragadda - Mitr: My Friend