4 March 2010
My Movie – Ye Maya Chesave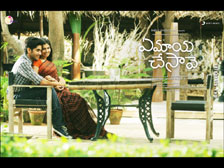 Quote me when I say that Saree will be totally in fashion after this movie.
Dont be surprised to see all the gals going around wearing a cotton saree.
You can truely envy the girl for her ethereal beauty. Having said that,
I think the movie is what every teenager will go gaga over and every adult would relate to if they were ever in love or atleast were madly attracted to someone.
You have to note the difference because at that age you really cannot tell the difference.
I have seen a lot of people who watched this movie complaining that Jessie's character is really very complicated and probably the director did not do her justice. Jessie is so unsettled and unsure of what she wants. For me, It made so much sense since early 20s is the time when a girl knows that her attractions cannot take over her responsibilities towards her family but that does not stop her from being madly fascinated about this new person in her life. There is so much to fight about internally. She tries to tell herself that he is not the right one for her, try to find reasons why this will not work. Same time, she will try to find ways to bring him into her life. Each day is a new story. Its a totally different story for boys, atleast for most of them. When they are in love, they kind of isolate the world, so it is very simple for them from that point.
All said and done, Most of us have been there, done that. Now, Lives dont seem so exciting anymore. Although we have other things to be excited about, It is just not the same. Gowtham Menon, Kodus to you for letting us live those moments all over again by making this beautiful movie.
Naga Chaithanya was good but I kind of had someone else in mind for this role. The girl was really perfect for that role. Background music was great, giving the right feel to the scene but at the same time not overwhelming it. Manjula should be commended for making this attempt. There are people who absolutely hate this movie probably because they just dont get it and they are us who cannot stop thinking about it after a week.
Laya
layamails at gmail dot com
More My Movie experiences:
YMC by Survi
YMC by Rajeev
YMC by Pavan
YMC by Rohit
Inkosaari by Avanthi
Inkosaari by Sneha
YMC by Praveen
YMC by Rajani
YMC by Sujith
Inkosaari by Ganesh
Leader by Sreekanth D
Maya Bazar by Gopal
Mahatma by Kishore
Baanam by Stanley
Josh by Nathan
Magadheera by Ashok
Magadheera by Wannabe Director
Magadheera by Shanti
Magadheera by Anitha
Magadheera by SS
Oy by Prathna
99 by Bala Thirumalasetty
Veedokkade by Srinivas
Delhi 6 by Vamsi
KIKK by Sweta
Luck by Chance by Srini
KIKK by Lalitha Spoorthi
Arundhati by Naveen
Arundhati by Srini
Arundhati by Bharat
Sasirekha Parinayam by Santhi Venkat
Sasirekha Parinayam by Vamshi Muthapu
Sasirekha Parinayam by Niharika Reddy
Nachavule by Vamsi Krishna
Neninthe by movie lover
Avakai Biryani by Vamsi Krishna
Kotha Bangaru Lokam by Vamsi Krishna
Kotha Bangaru Lokam by S
Ashta Chemma by Deepthi
Ashta Chemma by Lalitha Spoorthi
Sarkar Raj by Pradeep
Jalsa by Lalitha Spoorthi
Gamyam by Sridhar
Gamyam by Sreekanth D
Gamyam by Sanjay
Halla Bol by Purnesh
Taare Zameen Par by Ashok Varma
Taare Zameen Par by Raja Simha
Happy Days by Krishna Sastry
Chirutha by Phani Kumar
Chak De India by Ravi
Yamadonga by Lalitha
Chak De India by Shyam
AMAV by Darsakudu
5 in March by Sashidhar
Okkadunnadu by Anand
Black Friday by Ratnakar
Desamuduru by Krishna Prasad
Guru by It's opinion
Dhoom 2 by Lalitha Spoorthi
Dhoom 2 by ASK
Don - Syam
Boss - Anand
Boss - Hrithik
Stalin - Bala
Bommarillu - Nandini
Bommarillu - Darsakudu
Bommarillu - Vasu
Bommarillu - Harsha Prakash
Bommarillu - Lalitha Spoorthi
LRMB - Shravan
Bommarillu - Anirudh
LRMB - Srinivas
LRMB - Darsakudu
LRMB - S Sridhar
Bommarillu - Shridevi
Bommarillu - Vasudev
Bommarillu - Roopa
Sriram - Godavari
Sarath - Bangaram
Bala - Pokiri
Srinadh - Allari Pidugu
Sudheer Allari Pidugu
Anu - Athadu
Shyam Krishna - Iqbal
Purnesh - Grahanam
Sudhindra - Super
Vijay - Aparichitudu
Madhav - Aparichitudu
Hazaraon Kwaishein Aisi
Swades
Shyam - Black
Sai - Anand
Rohit - Anand & Veer Zaara
Jaya Prakash - 7GBC
Raj - Anand
Purnesh - Anand
Purnesh - The Village
Sriram - Gudumba Shankar
Purnesh - Gharshana
Purnesh - Lakshya
Purnesh - Yuva
Leenesh - Yuva
Kis - Lakshmi Narasimha
Indian Pride - Tagore
Raj - Boys
Phani - Gangotri
Phani - Khadgam
Vikram - CKR
BKR - Indra (Singapore)
Ram - Indra (Dubai)
Ranjeet - Idiot
Rahul - Indra
King Koduri - Indra
Srilakshmi Katragadda - Mitr: My Friend