5 March 2010
My Movie – Ye Maya Chesave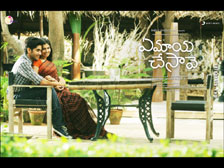 Being a teenager growing up in the united states, I haven't been exposed to too many Indian movies but when I came across Ye Maya Chesave, I knew it was one of those good movies. I'd be lying if I said I didn't have a huge crush on Naga Chaitanya but he did a great job. Samantha was a great female lead and I can't wait to see what she's doing next.
The music in this movie was so new! I really enjoyed it. AR Rahman has always been one of those composers who can tug on your heart strings. I loved Kundanappu Bomma! By adding in the malyalam bit, he gave the song that perfect touch. The wedding march and Telugu wedding song were perfectly meshed together in the song Manasa. The singers were perfect! The dubbing artist for Samantha did a great job. Her voice was perfect for this movie. I wish she had gotten more credit for her vital role in this movie
As far as artist performance goes, naga chaitanya was able to fill his role with ease and samantha is one of those actors that can speak with her eyes. Krishnudu was cute and his comedy was at the right times providing some good comedic releif.
The direction was impeccable. I've never seen any of Menon's movies but this movie makes me want to look back and see what he did in the past. Kundanapu Bomma was very well picturized although I did feel that he went a little overboard with the kisses. It kinda got a little awkward after awhile but he did a great job with conveying the chemistry between The hero and heroine. In the last song when the hero and heroine elope, I thought it was genius how he fused together two very different religions through love and marrige ( Kudos to Rahman for conveying this so beautifully through song)
Overall the movie was the perfect chick flick. I loved it and I agree with the rating that jeevi gave it. 4 seems right for the movie! YMC is one of my first Telugu movies and it will deffinatly one of those movies that will stick with me for awhile. Keep up the great work idlebrain! And I love you naga chaitanya ;)
-love,
Ramya
ramya170 at yahoo dot com
More My Movie experiences:
YMC by Sudheer
YMC by Laya
YMC by Survi
YMC by Rajeev
YMC by Pavan
YMC by Rohit
Inkosaari by Avanthi
Inkosaari by Sneha
YMC by Praveen
YMC by Rajani
YMC by Sujith
Inkosaari by Ganesh
Leader by Sreekanth D
Maya Bazar by Gopal
Mahatma by Kishore
Baanam by Stanley
Josh by Nathan
Magadheera by Ashok
Magadheera by Wannabe Director
Magadheera by Shanti
Magadheera by Anitha
Magadheera by SS
Oy by Prathna
99 by Bala Thirumalasetty
Veedokkade by Srinivas
Delhi 6 by Vamsi
KIKK by Sweta
Luck by Chance by Srini
KIKK by Lalitha Spoorthi
Arundhati by Naveen
Arundhati by Srini
Arundhati by Bharat
Sasirekha Parinayam by Santhi Venkat
Sasirekha Parinayam by Vamshi Muthapu
Sasirekha Parinayam by Niharika Reddy
Nachavule by Vamsi Krishna
Neninthe by movie lover
Avakai Biryani by Vamsi Krishna
Kotha Bangaru Lokam by Vamsi Krishna
Kotha Bangaru Lokam by S
Ashta Chemma by Deepthi
Ashta Chemma by Lalitha Spoorthi
Sarkar Raj by Pradeep
Jalsa by Lalitha Spoorthi
Gamyam by Sridhar
Gamyam by Sreekanth D
Gamyam by Sanjay
Halla Bol by Purnesh
Taare Zameen Par by Ashok Varma
Taare Zameen Par by Raja Simha
Happy Days by Krishna Sastry
Chirutha by Phani Kumar
Chak De India by Ravi
Yamadonga by Lalitha
Chak De India by Shyam
AMAV by Darsakudu
5 in March by Sashidhar
Okkadunnadu by Anand
Black Friday by Ratnakar
Desamuduru by Krishna Prasad
Guru by It's opinion
Dhoom 2 by Lalitha Spoorthi
Dhoom 2 by ASK
Don - Syam
Boss - Anand
Boss - Hrithik
Stalin - Bala
Bommarillu - Nandini
Bommarillu - Darsakudu
Bommarillu - Vasu
Bommarillu - Harsha Prakash
Bommarillu - Lalitha Spoorthi
LRMB - Shravan
Bommarillu - Anirudh
LRMB - Srinivas
LRMB - Darsakudu
LRMB - S Sridhar
Bommarillu - Shridevi
Bommarillu - Vasudev
Bommarillu - Roopa
Sriram - Godavari
Sarath - Bangaram
Bala - Pokiri
Srinadh - Allari Pidugu
Sudheer Allari Pidugu
Anu - Athadu
Shyam Krishna - Iqbal
Purnesh - Grahanam
Sudhindra - Super
Vijay - Aparichitudu
Madhav - Aparichitudu
Hazaraon Kwaishein Aisi
Swades
Shyam - Black
Sai - Anand
Rohit - Anand & Veer Zaara
Jaya Prakash - 7GBC
Raj - Anand
Purnesh - Anand
Purnesh - The Village
Sriram - Gudumba Shankar
Purnesh - Gharshana
Purnesh - Lakshya
Purnesh - Yuva
Leenesh - Yuva
Kis - Lakshmi Narasimha
Indian Pride - Tagore
Raj - Boys
Phani - Gangotri
Phani - Khadgam
Vikram - CKR
BKR - Indra (Singapore)
Ram - Indra (Dubai)
Ranjeet - Idiot
Rahul - Indra
King Koduri - Indra
Srilakshmi Katragadda - Mitr: My Friend