Open letter to Allu Arjun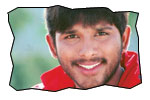 Hi Arjun,
I am a big fan of chiru from childhood and if it is gangothri which made me like you, it is Arya which made me a big fan of you. The first time when I saw that dance bit in 'Daddy' movie, I did not know that it is you, but still that one dance bit made me think who this guy is. Later when I came to know that it is you, I was eagerly waiting for your first movie.
Though I immensely liked the movie gangothri, it didn't satisfy me as I didn't see 'you' in the movie. By 'you', I mean the Arjun in full blown performance which Arya has amply displayed. Unlike gangothri, in Arya it is only 'you' and 'you' that i saw. Your dances are a rage among the masses. People and fans were just going wild for your dances (you just have to come and see the theaters in AP to believe for yourself). The same ease in the body movement naturally came to your fights which were just mind blowing.
What can i speak about your performance in ARYA. 'Mind blowing' will just be a simple phrase and wouldn't do justice to what i want to say. There are many scenes in the movie for example the marriage scene in climax where you try to express yourself before the heroine, the way you answer the group of girls in the first half, your performance in the interval scene etc....countless of them.
After seeing your dances, fights and body language, I strongly feel that you can be a great MASS hero. The way 10,000 fans appeared for the opening day of Arya in rayalaseema itself shows the craze you enjoy among the masses. If gangothri has shown your ease of action, ARYA has established you as a CLASS actor. But as fans we want you to see as a MASS star. Please give preference to scripts that establish you as a mass star. I hope the BADRINATH project of chinnikrishna will be a good launch pad for this.
WE WANT TO SEE YOU AS NEXT CHIRU
One final request for you is to take proper care of your fans. I have seen you in few public appearances earlier and felt that you have good oratory skills and a way of addressing fans. Your mavayya Chiranjeevi will be a good example for you in this matter. Please follow him.
Also please dont allow any stampedes like this to happen.
http://www.idlebrain.com/news/2000march20/news248.html

Wishing you all success in your race to the next/future number one position,
Surendra
[email protected]

Other Open Letters
-> from Vineeth to Allu Arjun
-> from Ramesh on Naani film
-> from MD to YSR
-> On Telugu heroines from Anil
-> From Swetha to Anoop
-> From Raja to Chiranjeevi
-> From Supriya to Nagarjuna
-> From Vijay N to Nagarjuna
-> From Ravi S Banda to Uday Kiran
-> From Ram Narayan to NTR
-> From Kishore to Shyam Prasad Reddy
-> From Malladi KS Pathy to VV Vinayak
-> From PC to Telugu film industry
-> From Archana to Sirivennela
-> From Giri to Chiranjeevi
-> From Suresh to Bala Krishna
-> From Vijay to Shankar
-> From Thodakottu to Hari Krishna
-> From Mahesh to Vamsy
-> From Raghava to Bala Krishna
-> From Rocky to Chiranjeevi
-> From Bhanu Prakash to Nagarjuna
-> From Srikanth to Chiranjeevi
-> From Vijay to the team of KMG
-> From Megapowerstar to Pawan Kalyan
-> From Saradhi to Telugu film industry
-> From Sneha to Telugu film writers and lyricists
-> From Coolphani to Uday Kiran
-> From Prabhakar on Telugu cinema
-> From Raj to director Vikraman
-> From Hardhik about SP Balu's liveshow at NJ
-> From Yathiraja to Chiranjeevi
-> From Mouna Laya to TV Channels
-> From Kiran to Chiranjeevi
-> From Srilekha to Mahesh Babu
-> From Kanak to Nagarjuna
-> From Ashok about Nijam
-> From Srinadh to Chiranjeevi
-> From Simha to Pawan Kalyan
-> From Venkat to Venky and Chiru
-> From Prathima & Sujatha to Nijam
-> From Shaik Abdul to Bala Krishna
-> From Sudheer to Pawan Kalyan
-> From NBK fan to Balayya
-> From Bobby to Teja
-> From Bhargavi Chowdary to Venky
-> From Ram to Teja
-> From Nikhila to RP Patnaik
-> From Vinu regarding Johnny
-> From Murai regarding Johnny
-> From Sreeni regarding Johnny
-> From Krishna regarding Johnny
-> From Raj regarding Johnny
-> From Balu regarding Johnny
-> From Sreedhar regarding Johnny
-> From Nagender on PK-DC Issue
-> From Ranga on PK-DC Issue
-> From Gowtam to Johnny distributors
-> From Srikanth to Guna Sekhar
-> Responses to openletter to Chiranjeevi from DPS
-> To Chiranjeevi from DPS
-> To Pawan Kalyan from LP Harsha
-> To RP Patnaik from Raj
-> To film Industry from Naresh (Jamaica)
-> From Vijay to Krishna Vamsi
-> From Sharjah NRIs to Teja
-> From Rani to Venkatesh
-> From Harish to Devi Sri Prasad
-> From JKV Sharma to Mani Sharma
-> From Malladi to Guna Sekhar
-> From Satish to Allu Arjun
-> From Jhansi to Chiranjeevi
-> From Ravindranath to Okkadu team
-> VJ to Okkadu team
-> From Hemanth to Jr. NTR
-> From Rajesh to Guna Sekhar
-> From Srinivas to Bala Krishna
-> From Shrinivas to K Vijaya Bhaskar
-> From VJ to Krishna Vamsi
-> From Kiran to Khaled
-> From Khaled to Phani
-> From Sankar to Nagarjuna
-> Chakri Response to Anil
-> Phani response to Anil
-> From a fan to Nagarjuna
-> From Anil to Indian
-> From Gowtam to Aswini Dutt
-> To MAA from Soma
-> To Venky from Shailaja
-> To Trivikram Srinivas from Raja
-> To Krishna Vamsi from Hasan
-> To Ravi Teja from Somy Ali
-> Do we know our mother?
-> To Mahesh Babu from Soma
-> To Mahesh Babu from Superstar Fan
-> To K Raghavendra Rao from Hasan
-> To Chiru fans from Prince
-> Think a while by SMD
-> An open letter to IB DB participants by Venkat
-> An open letter to IB DB participants by Kiran
-> An open letter on plight of Telugu movie lovers in Malaysia
-> An open letter regarding Video Piracy
-> From Anupama to Pawan Kalyan
-> From Prince to Nagarjuna fans
-> From Ravi to Sirivennela
-> to editor from Ramana Reddy
-> To Chiranjeevi from Buzz
-> To Teja from Kumar Kuppam
-> From Vikram Aditya to Gemini Kiran and Ramoji Rao
-> Plight of Telugu films by Murthy
-> from a Chiru fan from Bellari to idlebrain visitors
-> to Allu Arvind from Aditya
-> To Nagarjuna from Krishna
-> To Teja from a Telugu fan
-> To Chiranjeevi from a fan
-> From Raja to Teja
-> From Anupama Prasad to Indra Unit
-> From Prakash to idlebrain.com visitors
-> From Venu to Bala Krishna
-> From Rajesh Sonti to Late Rao Gopal Rao
-> From Venkat to Usha
-> From Srinivas to EVV Satya Narayana
-> From Balaji to Pawan Kalyan
-> From Naga Kalyan to Pawan Kalyan
-> From Pavan Karthik to Ram Gopal Varma
-> From Pradeep to Teja
-> From Hrudaya to Pawan Kalyan
-> From BKR to Chiranjeevi
-> From Amit Patel to Chiranjeevi
-> From Anupama Prasad to Chiranjeevi
-> Nagarjuna meets idlebrain openletter writer Raju
-> From Ajay Kumar Reddy to Chiranjeevi
-> From Chandrika to idlebrain community
-> From Raju to Nagarjuna
-> From Bharat to Chiranjeevi
-> From Srinivas Josyula to Chiranjeevi