Open letter to NTR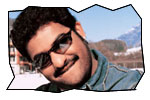 My HERO NTR (Taarak)
Firstly let me wish my HERO NTR known as Taarak in his close circles a very WARM BIRTHDAY WISHES on his 23 rd Birthday and GRAND SUCCESS on the eve of much awaited and talked film NARSHIMUDU.
Started his career as an unknown face and in a very low profile in the year 2001, went onto become a force reckoning in the industry within no time in his second year and became Darling of MASSES in the span of only Five years.
With Ten films to his Credit in five years, delivering at least one SUCCESS film out of two films every year, He has been a consistent performer of the BOX OFFICE and earned a Name as a PRODUCER'S HERO in his generation. Five out of his Ten films Aadi, Naaga, Simhadri, Allari Ramudu and Saamba's 50 days run in more than 100 centers speaks his BOX Office potential he enjoys with Masses. Moreover his 5 films Aadi, Simhadri, Student numbers 1, Allari Ramudu and Saamba has a unique distinction of also collecting more than 15+ crores in their run.
ROAD TO SUCCESS
If you take any Successful person in any Field, you can hear an INSPIRING tale of their HARDWORK behind their Successful Life. NTR is no exception. When no one was there to lend their support in his BIG Family, he purely made his own path with dedication and Passion with the help of some well wishers. I used to wonder how he got that maturity of thinking whenever I read his Interviews or hear his words in public functions. Well those are not just tear drops or nor the lines picked up from Reading Books. Those are the real life experiences of a young lad who had acquired and understood this meaning of life in his lonely times
HELPING HAND
NTR is amongst the select few actors who have proved their acting skill and also have a social conscious. He has been a Helping Hand to many aspiring students. When a girl was looking for sponsorships to study he was the first to donate an amount of five lakhs for her studies. . He is the one and only actor who has done a film for free for a producer who was suffering from losses and also played a major role in fulfilling the political aspirations of his one time mentor by making a film free and going against the family circles in helping him in everyway he can. He was the only one in his lot who liberally donated 10 lakhs when needed for TSUNAMI victims.
MEDIA - RUMOURS -GOSSIPS
NTR is the only one I guess who had been maligned mostly by these rumors created and circulated in these media. He needs to be watchful of his PRO and people who just want to mint money on his movies. I am glad that he realized this and distanced himself from those SYCOPHANTS who were creating troubles in his life for the last couple of years
Though he might not get PAT on his shoulder on his road to Success from every one in his inner circles, I am sure he won the HEARTS of every movie lover and they would be his INNER STRENGH to lead his Destination in the future.
I thank Idlebrain for giving this opportunity to say few words about my HERO NTR.
-JAI
[email protected]

Other Open Letters
-> to Pawan Kalyan from Vinay
-> to Krishna Vamsi on Chakram film
-> by Ravi on Indian Cricket Team
-> to lyricist Chandrabose
-> from Sunil about filmfare awards
-> from Sabita about filmfare awards
-> from Pournami to MS Raju
-> from Deepti Raj to Devi Sri Prasad
-> from Sivaram to Telugu film industry
-> from Ravi to Ram Gopal Varma
-> from Rohit to Pawan Kalyan
-> from Saradhi to Krishna Vamsi
-> from Srikanth on Arjun piracy
-> from Raj to USA Distributors
-> from Srikanth on Remakes
-> from Ravi Kiran to Krishna
-> from Aparna to Chiranjeevi
-> from Balayya fans to political parties
-> from Abhilasha to Venky
-> from Ravi on dubbing artists
-> from Anil on Fans and stars
-> from Rain to Telugu film industry
-> from Venu and Kishore to Bala Krishna
-> from Nandamuri (IBDB) to Bala Krishna
-> from NBK fans to Bala Krishna
-> from Anil to Telugu film heroes
-> from Surendra to Allu Arjun
-> from Vineeth to Allu Arjun
-> from Ramesh on Naani film
-> from MD to YSR
-> On Telugu heroines from Anil
-> From Swetha to Anoop
-> From Raja to Chiranjeevi
-> From Supriya to Nagarjuna
-> From Vijay N to Nagarjuna
-> From Ravi S Banda to Uday Kiran
-> From Ram Narayan to NTR
-> From Kishore to Shyam Prasad Reddy
-> From Malladi KS Pathy to VV Vinayak
-> From PC to Telugu film industry
-> From Archana to Sirivennela
-> From Giri to Chiranjeevi
-> From Suresh to Bala Krishna
-> From Vijay to Shankar
-> From Thodakottu to Hari Krishna
-> From Mahesh to Vamsy
-> From Raghava to Bala Krishna
-> From Rocky to Chiranjeevi
-> From Bhanu Prakash to Nagarjuna
-> From Srikanth to Chiranjeevi
-> From Vijay to the team of KMG
-> From Megapowerstar to Pawan Kalyan
-> From Saradhi to Telugu film industry
-> From Sneha to Telugu film writers and lyricists
-> From Coolphani to Uday Kiran
-> From Prabhakar on Telugu cinema
-> From Raj to director Vikraman
-> From Hardhik about SP Balu's liveshow at NJ
-> From Yathiraja to Chiranjeevi
-> From Mouna Laya to TV Channels
-> From Kiran to Chiranjeevi
-> From Srilekha to Mahesh Babu
-> From Kanak to Nagarjuna
-> From Ashok about Nijam
-> From Srinadh to Chiranjeevi
-> From Simha to Pawan Kalyan
-> From Venkat to Venky and Chiru
-> From Prathima & Sujatha to Nijam
-> From Shaik Abdul to Bala Krishna
-> From Sudheer to Pawan Kalyan
-> From NBK fan to Balayya
-> From Bobby to Teja
-> From Bhargavi Chowdary to Venky
-> From Ram to Teja
-> From Nikhila to RP Patnaik
-> From Vinu regarding Johnny
-> From Murai regarding Johnny
-> From Sreeni regarding Johnny
-> From Krishna regarding Johnny
-> From Raj regarding Johnny
-> From Balu regarding Johnny
-> From Sreedhar regarding Johnny
-> From Nagender on PK-DC Issue
-> From Ranga on PK-DC Issue
-> From Gowtam to Johnny distributors
-> From Srikanth to Guna Sekhar
-> Responses to openletter to Chiranjeevi from DPS
-> To Chiranjeevi from DPS
-> To Pawan Kalyan from LP Harsha
-> To RP Patnaik from Raj
-> To film Industry from Naresh (Jamaica)
-> From Vijay to Krishna Vamsi
-> From Sharjah NRIs to Teja
-> From Rani to Venkatesh
-> From Harish to Devi Sri Prasad
-> From JKV Sharma to Mani Sharma
-> From Malladi to Guna Sekhar
-> From Satish to Allu Arjun
-> From Jhansi to Chiranjeevi
-> From Ravindranath to Okkadu team
-> VJ to Okkadu team
-> From Hemanth to Jr. NTR
-> From Rajesh to Guna Sekhar
-> From Srinivas to Bala Krishna
-> From Shrinivas to K Vijaya Bhaskar
-> From VJ to Krishna Vamsi
-> From Kiran to Khaled
-> From Khaled to Phani
-> From Sankar to Nagarjuna
-> Chakri Response to Anil
-> Phani response to Anil
-> From a fan to Nagarjuna
-> From Anil to Indian
-> From Gowtam to Aswini Dutt
-> To MAA from Soma
-> To Venky from Shailaja
-> To Trivikram Srinivas from Raja
-> To Krishna Vamsi from Hasan
-> To Ravi Teja from Somy Ali
-> Do we know our mother?
-> To Mahesh Babu from Soma
-> To Mahesh Babu from Superstar Fan
-> To K Raghavendra Rao from Hasan
-> To Chiru fans from Prince
-> Think a while by SMD
-> An open letter to IB DB participants by Venkat
-> An open letter to IB DB participants by Kiran
-> An open letter on plight of Telugu movie lovers in Malaysia
-> An open letter regarding Video Piracy
-> From Anupama to Pawan Kalyan
-> From Prince to Nagarjuna fans
-> From Ravi to Sirivennela
-> to editor from Ramana Reddy
-> To Chiranjeevi from Buzz
-> To Teja from Kumar Kuppam
-> From Vikram Aditya to Gemini Kiran and Ramoji Rao
-> Plight of Telugu films by Murthy
-> from a Chiru fan from Bellari to idlebrain visitors
-> to Allu Arvind from Aditya
-> To Nagarjuna from Krishna
-> To Teja from a Telugu fan
-> To Chiranjeevi from a fan
-> From Raja to Teja
-> From Anupama Prasad to Indra Unit
-> From Prakash to idlebrain.com visitors
-> From Venu to Bala Krishna
-> From Rajesh Sonti to Late Rao Gopal Rao
-> From Venkat to Usha
-> From Srinivas to EVV Satya Narayana
-> From Balaji to Pawan Kalyan
-> From Naga Kalyan to Pawan Kalyan
-> From Pavan Karthik to Ram Gopal Varma
-> From Pradeep to Teja
-> From Hrudaya to Pawan Kalyan
-> From BKR to Chiranjeevi
-> From Amit Patel to Chiranjeevi
-> From Anupama Prasad to Chiranjeevi
-> Nagarjuna meets idlebrain openletter writer Raju
-> From Ajay Kumar Reddy to Chiranjeevi
-> From Chandrika to idlebrain community
-> From Raju to Nagarjuna
-> From Bharat to Chiranjeevi
-> From Srinivas Josyula to Chiranjeevi