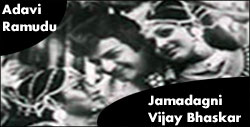 Release date: April 28th, 1977
Banner: Satya Chithra
Cast: Dr. N.T.Rama Rao, Jayapradha, Jayasudha, Satyanarayana, Nagabhushanam, Rajababu, Pandaribai, Jaggayya, Kavitha, Gummadi, Sridhar, Maadaa, Ramaaprabha, Anand Mohan, Jaggaarao, Chalapathi Rao and others.
Music: K.V.Mahadevan
Songs: Veturi Sundararama Murthy.
Direction: K.Raghavendra Rao (B.A.)
Producers: Satyanarayana and Suryanarayana.

In an interview to Bhavana Sowmaya, the chief editor of G magazine, a leading music director blamed Amithab Bacchan's Deewar for sabotaging the quality of music in Hindi cinema till the late 80's.
He had a point because the super success of Deewar and Zanjeer made Amithab a "super hero" since his presence itself was enough to guarantee a film's commercial success, all other aspects of film making took a back seat and scripts started accommodating his larger than life image. While Bollywood was going through this transformation, one movie brought about similar changes in our industry, and it is none other than "Adavi Ramudu."
Adavi Ramudu was a watershed since it popularized the concept of "escapist cinema" - movies that are beyond the realms of reality but which make audience forget their mundane affairs. Released in 1977, this film created box-office wonders and completed its 100 days run in more than 35 centers (direct). By doing so, it bettered the earlier record set by Devudu Chesina Manushulu (27).
Main beneficiaries:
1. Many people benefited from the phenomenal success of this film, the first being its director K.Raghavendra Rao. Though he got noticed with his first movie (Babu, 1975) itself, it was this film that catapulted him into the league of super directors. With a single thread- a forest officer on a cover to curtail poaching in a forest- KRR offered one hundred and eighty "blockbusting minutes" of entertainment to viewers. In fact, his commercial recipe became so popular that soon his own school of film making-carried successfully by his associates like A. Kodanda Rami Reddy, B.Gopal etc- emerged in the field.


2. 1977 was a dream come true for NTR. With two sensational hits- Yamagola being the other- in just six months, he became the primus inter pares (first among equals) of Telugu cinema.

3. Adavi Ramudu was also a huge break for Jandhyala - "charithra adakku, cheppidhi vinu", "PAKOKU-Paakekki Kodilaa Koosthaa", "Raamaa anna boothugaa vinapaduthundhi" etc., became popular then; Veturi Sundara Ram Murthy- "Krushi Unte Manushulu", "Ennallakennallakennallaku", "Kokilamma Pelliki". Though K.V.Mahadevan did not gain anything new with this movie, it consolidated his status as the number one music director in business then.

4. Both the female leads - Jayapradha and Jayasudha got a huge break with this movie and from then on they went on to become top stars ending the two way domination of Vanishree and Manjula.
Highlights:
1. Songs, certainly were the main paying points for this film. While "Aaaresukoboyi" shook the masses (never before a song created such a sensation as this song created in 1977). "Kokilamma Pelliki" will forever remain a connoisseur's delight for its audio visual extravaganza. "Ennallakennalakennaalaku" is an ageless theme song and "Krushi untee" will rank as one of the best solo songs.

2. Animal stunts (in the film) went a long way in making the producers hit the ball out of the park. The many people who could not afford a circus ticket then, got a chance to watch Elephants a) do Shiva pooja, b) help the hero take his shower, c) rescue him several times from the villains etc. To cap it, the movie also has the hero fighting with a lion.


3. NTR's mass appeal, of course, was the rai·son d'ê·tre behind the super success. Be it in fights (the rope fight in night effect is a classic act), songs (the step where NTR joins both his hands in the air and bends slightly in "Aaresukoboyi"), or in comedy scenes with Sulamiya get up, NTR was at his majestic best.
In a nut shell, this is a quintessential commercial film, which continues to allure even the current audience.
Useful facts:
1. Adavi Ramudu is a free make of Dr. Raja Kumar's super hit Kannada film Gandhada Gudi.

2. Film Fare adjudged Adavi Ramudu as the best Telugu film for the year 1977.

3. Adavi Ramudu is the third movie produced by Satya Chithra (not the first movie in this banner as widely perceived by many people). They had earlier produced two movies with Natabhushana Sobhan Babu- Tahsildaaru Gaari Ammaayi (November 12, 1971) and Premabandham (March 12, 1976).

4. Adavi Ramudu is the first movie to complete its direct 100 days run

a) in 6 centers in Nizam

b) in 5 centers in West Godavari territory.

5. It is also the first film to run for 100 days and 175 days in 30 centers (direct) and 16 centers (direct and shifts) respectively.
Box-office records:
As listing out all the records of this movie would be beyond the scope of this article, we are listing only the most noteworthy of them.
1. Adavi Ramudu is the first film to collect 80 lakh (83 lakhs) rupees within its 50 days run. It is also the first film to touch the one crore collection mark within first 10 weeks run (67 days).

2. Adavi Ramudu created a sensational record at Kanaka Mahal, Nellore. At times when it was very difficult for movies to get 4 screenings a day from their second or third week's run, Adavi Ramudu got 5 screenings every day till its 102 days run-(A record that existed till Nandamuri Natasimham Balakrishna surpassed its record with Seetharama kalyanam (1986) in two centers (Tirupathi and Anantapur). . More importantly, all 5 shows were full there for the first 35 days and from its 35th day to its 50th day, 4 shows were full with D.C.R. Between its 50th day and its 85th day, the matinee, first show and second shows were full. Thus, out of the 253 shows screened till its 85th day, 232 shows were full.

3. It is also the first movie to complete its 365 days run in 4 centers:

a) Adavi Ramudu ran for 100 days in Kurnool at its main theater Anand. Never before and never after this movie, has a film got an additional 105 days run in its first shift theater (Variety), which is very proximal to the main theater-(the distance between Anand and Variety is barely 200 feet). Even after this, the craze for this movie did not subside and it ran for another 161 days in its second shift theater (RadhaKrishna) and completed its 365 run in the city.
b) Visakhapatnam -Alankar (302 days) + Lakshmi (6 days) +Mahalakshmi (28 days) + SVLN Talkies (25 days) + Sri Rama Picture Palace (8 days) = 369 days.
c) Vijayawada - Apsara a/c (176 days) + Rajakumari (up to 250 days) +other shift theaters = 365 days.
d) Hyderabad - Venkatesa 70 mm (176 days) + Noble (33)+[2 days gap (210th and 211th day)]+ Apsara (21 days) + Amar (12 days) + Jagath (26 days) + Vijayalakshmi (29 days) + Noormahal (10 days) + Swamy (12 days +) + Sagar (up to 365 days).

4. Adavi Ramudu was shown for 254 days in Kakinada---Devi 70mm a/c 134 days+ Lakshmi 120 days.

5. Adavi Ramudu was houseful for 47 days at Venkatesa 70mm, the then biggest theater in A.P. Its gross collection of 13,56,000 was twice the amount of the previous single theater record collection.

6. Adavi Ramudu completed its 200 days run in 3 more centers:
a) Rajamundry- Kumari (218 days) b) Ananthapur- Shanthi (107 days) + Venkateswara (103 days) and c) Secundrabad- Sangeeth 15 days + Ajantha 161 days + shift run 28 days.

7. Adavi Ramudu still holds the record for maximum days run with regular shows in Secundrabad-161 days @ Ajantha.
Run details in other centers are provided in the following table
| | | | | | |
| --- | --- | --- | --- | --- | --- |
| S. No. | Center | Main theater | Run details | Side theaters | Shifts |
| 1 | Hyderabad | Venkatesa70 | 176 | Kamal, Meera, Sobhana | - |
| 2 | Secunderabad | Sangeet | 15 | - | Ajantha (161 days) |
| 3 | Warangal | Naveen | 107 | - | - |
| 4 | Khammam | Raghavamahal | 107 | - | - |
| 5 | Nizamabad | Vijaya | 107 | - | - |
| 6 | Karimnagar | Venkateswara | 100 | - | - |
| 7 | Tirupati | Jyothi | 176 | - | - |
| 8 | Chittoor | Srinivasa | 100* | - | - |
| 9 | Madanapally | Jyothi | 175 | Pancharatna | - |
| 10 | Kurnool | Anand | 100 | - | - |
| 11 | Nandyala | raj | 100* | - | - |
| 12 | Cudappah | Saibaba | 100* | - | - |
| 13 | Ananthapur | Santhi | 107 | Gowri | Santhi(103 days) |
| 14 | Bellary | Radhika | 53* | - | Mubarak(57 days) |
| 15 | Nellore | Kanakamahal | 176 | Anitha | - |
| 16 | Guntur | Krishna Mahal | 176 | Alankar | - |
| 17 | Ongole | Srinivasa | 100* | Sridevi | - |
| 18 | Narsaraopet | Venkateswara | 100* | - | - |
| 19 | Cheerala | Prasad | 100* | - | - |
| 20 | Repalle | Lakshmi | 100* | - | - |
| 21 | Vijayawada | Apsara | 176 | Venkateswara | - |
| 22 | Machilipatnam | Ramakrishna | 176 | - | - |
| 23 | Gudiwada | Balaji | 107 | - | - |
| 24 | Eluru | Rama Mahal | 115 | Venkateswara | - |
| 25 | Bhimavaram | Nataraj | 100* | Srinivasa | - |
| 26 | Tanuku | Narendra Chitra Mandir | 100* | Royal | - |
| 27 | Tadepalligudem | Venkatrama | 100* | - | - |
| 28 | Palakollu | Annapurna | 100* | - | - |
| 29 | Rajahmundry | Kumar | 218 | Urvasi | - |
| 30 | Kakinada | Devi70 | 134* | - | Lakshmi(120 days) |
| 31 | Amalapuram | Rama Deluxe | 100* | Sairam | - |
| 32 | Visakhapatnam | Alankar | 302 | Srirama PP | - |
| 33 | Vijayanagaram | Minerva | 100* | - | - |
| 34 | Srikakulam | Suryamahal | 100* | - | - |
| 35 | Proddutur(late) | Venkateswara | 100* | - | - |
| 36 | Guntakal(late) | Regal | 100 | - | - |
*indicates that the movie ran for more than 100 days
Gross collections in some prominent centers
| | | |
| --- | --- | --- |
| S. No. | Center | Amount |
| 1 | Visakapatnam | 13,94,429.5 (366 days) |
| 2 | Eluru | 2,74,000 (115 days) |
| 3 | Kakinada | 7,00,000 (total run) |
| 4 | Rajahmundry | 6,84,663 |
| 5 | Tirupati | 3,35,513.10 (100 days) |
| 6 | Kurnool | 3,02,058.10 (Anand only) |
| 7 | Srikakulam | 2,00,000 |
| 8 | Hyderabad | 13,56,000 (Venkatesa70mm) |
Also Read Deja Vu articles on
Devadasu (Krishna)
Soggadu (Sobhan Babu)
You can reach authors [email protected] & [email protected]