Story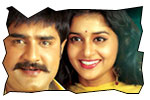 Chandram (Srikanth) is a cab driver and a honest man. His wife is Kalyani (Meera Jasmine). They are a childless couple. When Kalyani gets tested positive for pregnancy, the doc tells him that she needs to be operated to avoid complications. The operation would cost around 8 lacs. Being a middle class man, Chandram doesn't have that much money. That is when he comes across an accident on railway track where the body of an unidentified woman is found. He also finds a bag with lots of money beside the corpse. his friend advise him to tell the cops that the dead woman is his wife. He gets the postmortem done and manages the cops and doctor. He finds out that the dead girl is Ramya (Sada). Parents of Ramya come to know about it and ask chandram to do the final rites as they thought that he is her husband (she elopes from house with her boyfriend). The story takes turn when Ramya returns at the time of last rites. The rest of the story is about the mystery behind Ramya and how Chandram manages with two wives at a time.
Artists Performance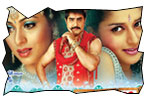 Srikanth is at his best as always in this movie. Meera Jasmine put on a bit of weight, but is good in acting department. Sada did a glamorous role in this movie and she is adequate. Telangana Sakuntala is good. Krishna Bhagawan provides some relief. Raghubabu is not good in this movie as his characterization is irritating. Apoorva did a vamp character who is more interested in cleavage show. The comedy thread between Brahmanandam and kovai Sarala is hackneyed. Sunil is wasted in a role of investigating officer. MS Narayana is okay. Ali's character is also uninteresting.
Technical departments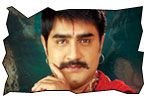 Screenplay - directon: This film belongs to typical Priyadarshan comedy genre that is linked to a crime element. The director tried to mix comedy and sentiment in this movie. The taking and treatment of the movie is mainly targeted at the masses of B and C centers. Hence there is over-dramatized sentiment and over-the-top vulgarity in comedy. Screenplay of the movie runs on predictable lines. Direction is best suited for the hardcore masses.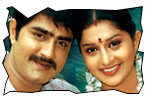 Other departments: Music composed by MM Sreelekha has followed the style of S Raj Kumar. Dialogues are adequate. Cinematography by Vijay C Kumar is average. Dialogues are fair. Editing should have been crisp.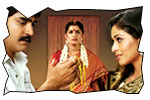 Analysis: Director Srinivasa Reddy who made a name for himself in comedy department by churning out comedy films on low budget seem to have got carried away with this movie. This film has age-old formula, completely predictable screenplay and inane direction. A aa e ee is mainly aimed towards the masses in B and C centers and it caters to their sensibilities. It is a disappointing movie for others.
A aa e ee Links:
• Music launch
• Photo gallery
• Wallpapers
• Video songs
• Abroad: USA
Jeevi reviews of previous 5 films
• Village lo Vinayakudu
• Ek Niranjan
• Jayeebhava
• Bendu Appa Rao
• Mahatma
• Ninnu Kalisaka
• Ganesh
• Eenadu
• Banam
• Sankham
• Josh
• Mallanna
• Anjaneyulu
• Snehituda
• Magadheera
• Kalavaramaye Madilo
• Gopi Gopika Godavari
• Oy!
• Evaraina Epudaina
• Current
• Raju Maharaju
• Boni
• Kavya's Diary
• Ride
• Aa Okkadu
• Diary
• Pista
• Prayanam
• Kick
• Veedokkade
• Mitrudu
• Circus Circus
• Adhineta
• Punnam Naagu
• Ananda Tandavam
• Billa
• Bheebatsam
• Manorama
• Aakasamantha
• Sontha Vooru
• Malli Malli
• Mesthri
• Naa girlfriend baga rich
• Drona
• 16 Days
• Satyameva Jayathe
• Siddham
• Nenu Devudni
• Konchem Istam Konchem Kastam
• Shh...
• Arundhati

More Reviews