Story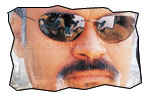 KK (Nagababu) is a business magnate and a widower. Usha (Ankita) is the daughter of KK. KK is obsessed with his newly-appointed sexy secretary Naveena (Kiran Rathod). Naveena wants to seduce KK and there by marry him so that she could become a millionaire.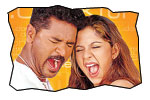 KK and Naveena plan for a holiday trip to Swiss so that they could find some privacy. Usha comes to know about it and wants to foil their trip. She calls her father up with a false voice and tells him that his daughter is kidnapped and he needs to bring Rs. 10 lakhs to a park as ransom.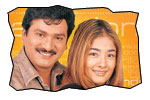 Meanwhile there is gang of 7 (Brahmanandam, Rajendra Prasad, Prabhudeva, Krishna Bhagawan, Mallikharjuna Rao, Raghubabu & Jyothi) that steals cars and sells them off to wealthy guys. And that gang happens to be there in that park in this context. Bangarraju (Rajendra Prasad) observes the deal and steals the suitcase with the money. KK is told by the kidnapper that his daughter is locked up in her car. When KK is about to reach the car, Bujji (Prabhudeva) steals it. When Bujji gets the car to his garage, he realizes that Usha is hiding in the car's dickey.
The rest of the story is all about how the kidnap drama and the subsequent chases culminate into a happy ending.
Artists Performance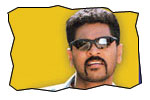 Prabhudeva: Prabhu Deva gets a lion's share in this film in terms of footage and comedy portrayal. He has done extremely well with his typical mannerisms and impeccable comedy timing. Hero Sivaji dubbed the voice of Prabhu Deva.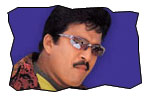 Rajendra Prasad is good in his own way. But has less footage for himself as the main story revolves between the lead pair Ankita and Prabhudeva. Ankita is the cynosure of all eyes. She did well in both histrionics and exposing aspects. Kiran Rathod is simply sexy in those revealing attire.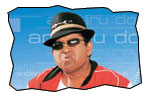 Nagababu is apt for the role of a lecherous widower and a caring father. Brahmanandam is good as 'Seeko', the leader of car thieves. After a long gap, actor Surya has got a really comic role. His performance in the police lock-up is hilarious. Ali's role that explains how boozing helps in thinking wise is enjoyable. MS Narayana has got an interesting role as well. But it is Kovai Sarala who created tremors with her performance in the beginning and end of the film as an aged bride.
Technical Departments: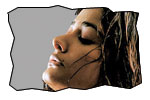 Story: The basic storyline is heavily inspired by Alicia Silverstone's 1997's Hollywood blockbuster 'Excess Baggage'. But they should have taken into consideration that the concept of stealing cars and selling them in illegal market is not really native for us.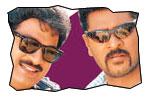 Screenplay - direction: It's a pretty heavy task to make such a small storyline into a 15-reel film. The director has partly succeeded in making this film as a comedy fare. However, there are quite a few loose ends and boring moments, especially the jungle episodes and chases towards the climax. The songs are a let down as they are not required in a thriller. Director Prasad seems to be improving in his moviemaking skills from film to film.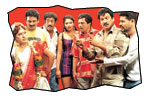 Dialogues: Dialogues by Chintapally Ramana are a definite plus for the film. Here is one comedy dialogue
Nagababu to Surya: Nenu ninnu shoot chestaanu. Nuvvu chastav.
Surya: Nenu chavanu
Nagababu: Enduku?
Surya: Nuvvu kaaliste naaku bullets tagalavu kada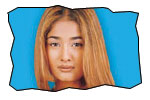 Other departments: Music by Chakri is a let down. The background music is also mediocre. Camerawork by Sarat is OK. Fights by Ram Lakshman are interesting. Editing by Shankar is fair. The NRI producer Harsha Reddy seems to have spent lots of money in making this film and it shows up on the screen.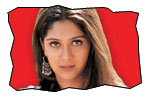 Analysis: This film is typical kidnap/crime comedy in the lines of Kshanakshanam and Money. First half of the film is OK. Second half is also OK. The jungle episode where love is generated between Prabhudeva and Ankita seems to be bit dragged. The most hilarious comedy scene in the film is the one where MS Narayana replaces Rs. 500/- currency bundles with pebbles in the climax of the film. The comedy film lovers can watch it once. With an aggressive promotion/publicity, this film has the chances of becoming a money earner.
ADD links:
Photo Gallery
Trailers
Wall Papers.