Story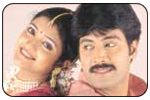 Kiran is an orphan who is working as an engineer in ONGC. He happens to visit a location of ONGC, which is situated in a village. On his way to that village, he meets a cute girl Bhuvana (Renuka Menon) in the train. He gets impressed with her. She also holds a very good opinion on him.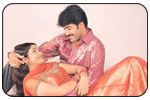 Bhuvana is the part of a big joint family. And her father is a kind-hearted guy, who is also a big landlord. Bhuvana's father asks Kiran if he is willing to marry his daughter Bhuvana. Kiran happily accepts the proposal. It turns out to be the mistake of identities. Bhuvana's father apologizes for the mistake and informs Kiran that marriage is not going to happen.
It is also learnt that the elder daughter (Preeti Jingania) in the family dies because of the negligence by her husband (JD Chakravarthy). The entire family hates him. Kiran comes to know about it. He unites the family and in turns wins the hearts of everybody.
Artists Performance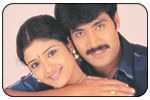 Akash: Akash donned his career best role in this film. He suited his character to the tee. Probably Seenu Vytla knows how to use Akash better than any other director. Akash is completely at home playing this character. He wins the sympathies of everybody with his cool attitude and too-good-to-believe portrayal.
JD Chakravarthy: He is Ok for his role. He seems to have shed lots of weight. He is terrific in the scene where he starts telling his flashback.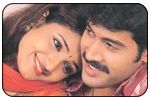 Heroines: Renuka Menon looks very homely. And her characterization also suits her looks. She is treated very delicately. She has tender face and it adds innocence to her looks. Preeti Jingania looks extremely good in this film. Her mannerisms and expressions are of top class.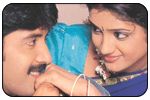 Others: This film has heavy casting because of the joint family. Devan is fair as family head. Venu Madhav has got a full-length role and he created lots of comedy. The comedy scene where he is taken to jathara is hilarious. The comedy scenes involving Sunil and the cute kid ('naa heart lo torra' kid from Panchatantram) are extremely good. MS Narayana as theater owner with a dialogue - '14 villages, 60 thousand people, single theater, only owner' - is too good. Kondavalasa as bar shop owner makes his presence felt. Sudhakar is Ok in his comedy role. Dharmavarapu Subramanyam mannerisms resemble that of drag queens.
Technical Departments: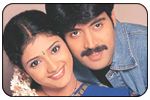 Story: Story of the film throngs on 'feel-good' factor. The mistaken identity concept seems to have got inspired by 'Main Prem Ki Deewani Hoon' which in turn is a remake of golden oldie 'Chitchor'. The thread of father-in-law having misunderstanding with son-in-law over daughter's death is similar to that of Santosham film.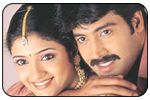 Screenplay - direction: The main asset of Seenu Vytla is his clear understanding of how comedy works. Wherever there is a comedy scene in the film, he made sure that it clicked. His portrayal of emotions and human relations is also praiseworthy. The screenplay of the film is Ok and direction is good. But he failed in narrating two important things in the film. 1st point is lack of individualism to heroine character. She behaves like a remote controlled device instead of following her heart. The second point is ineffective narration of the flashback. The scene, which led to the death of Preeti, is not convincing enough to justify the rivalry between the family and JD.
Other departments: Dialogues by Diwakar Babu are perfect with nice humor and sentiment sprinkled into it. Photography by Ajay Vincent is good. He exploited greenery a lot. Music is the weak point of the film. None of the songs by Koti in the film are exciting enough except for title track. Production values are rich.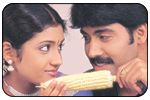 Analysis: This film is a typical feel-good movie. The strength of the film is comedy and weakness is the music. The flashback is not convincing enough. Over all it's not a bad film. You can watch it once at your leisure. If the producer promotes it well, Anandamanandamaye has all chances to become a profitable venture.
links:
Photo Gallery