Story


The Aatmalingam is situated in Himalayas that posses enormous divine powers. Once every 72 years, Akasa Ganga from sky flows into the Aatmalingam. The ones who can drink holy water of Akasa Ganga that flows through Atmalingam at that moment would become younger and remain eternal with supernatural powers.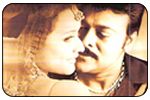 In 1932, a youngster called Bhatia (Bhupinder Singh) attempts to get hold of Atmalingam and drink Akasa Ganga. But one of the powerful tools of God truncates his right arm. He grows up and Bhatia's (Tinu Anand) age is 99. Bhatia searches for the traces of Aatma Lingam, but in vain. The Akasaganga is slated to flow to earth for Atmalingam in 2004 again.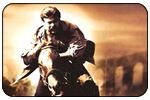 A professor who made a lifetime research on Aatmalingam and Akasaganga possesses vital information in a red diary and he couriers it to his student Swapna (Namrata Sirodkar) who is in USA. Swapna is forced to come back to India in search of her professor in forest areas near Uravakonda. There she realizes that her professor is killed. She takes help of Anji (Chiranjeevi). Anji (Chiranjeevi) is a good Samaritan in Uravakonda forest area. He serves the most revered Sivanna (Nagababu)- an ayurvedic specialist - and raises 4 orphans.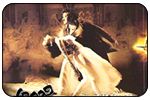 Bhatia's men start their hunt for Swapna During this period, Anji accidentally stumbles on 'Atmalingam' and gets it into his possession. After coming to know about it, Bhatia and his men are after Anji and Swapna. And the D Day of Akasa Ganga is fast approaching. Sivanna advises Anji that the Atmalingam should be sent back to where it belongs. Would Anji be able to send Atmalingam where it belongs? Would Bhatia succeed in remaining eternal? Watch the film to know yourself!
Artists Performance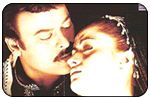 Chiranjeevi: The screen presence of Chiranjeevi resembles the way he looked in films like 'Annayya', 'Mrigaraju' and 'Choodalani Vundi'. He excelled in every department of histrionics. He is breath-taking in the horse riding scene. He is excellent in dances, as usual.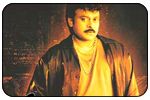 Others: Namrata is fair as a research student on a mission who gets caught in the jungles. Savita Reddy dubbed her voice. Rajya Lakshmi is sensuous. Reema Sen, Ramya Krishna & Alphonsa add to the mass elements of the film. Nagababu is good in an elderly role of a mentor to Chiranjeevi. Nobody would recognize Rami Reddy in this film because of his get up. Tinu Anand is good as villain. His makeup suited the age of character. Surya dubbed his voice. Bhupinder Singh played the role of younger version of Tinu Anand and he is unrecognizable. MS Narayana is so so.
Technical Departments:
Story: Story of Anji is like a fairy tale with an element of Divinity in it. If we see villains try to appease evil gods to gain powers in typical divine-backdrop films, here we have our villain trying to become immortal by drinking Akasaganga. To get an access to it, he tries to use the people who come on the way and when they do not co-operate, he eliminates them.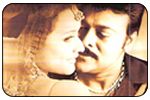 Screenplay - direction: Screenplay by MS Arts is not up to the mark in the first half. However, it is comparatively better in second half. Direction by Kodi Rama Krishna is archaic. Narrative is pretty slow. The director should have blended more entertainment while narrating the film.
Songs::
1. Chikbuk Pori: This song is picturised on Chiranjeevi, kids, Ramya Krishna, and Alphonsa in Golkonda Fort. It has got fast-paced Lawrence kind of steps. But the song on screen is little different from the song we listen on audiocassette. Sri sang this song on screen where as Shankar Mahadevan performed the same song in audio cassette.
2. Abbo Neeyamma: This song is a melody based slow song picturized on Chiranjeevi and Namrata Sirodkar. Entire song was canned in indoor sets.
3. Om Santhi Om: Taking of this song is little different. Graphics were used as background for certain places in this song. However, this song pops up without any lead scene. Chiranjeevi looks pretty good in that red T shirt and light beard.
4. Manava Manava: It's a fantasy song generated when kids try their hand on Aatmalingam. This song sports Chiranjeevi & Rajya Lakshmi. Rayla lakshmi looks pretty sensual and it has class appeal to it.
5. Mirapakaya Bajji: Visuals of this song are excellent with mass steps by Chiranjeevi and Reema Sen. Audio has very good foot tapping music. But the catch is that the visuals and audio does not match. So the lip synchronization and dance movements does not have any coherence to the beat and lyrics of audio. This song has excellent mass steps. Hopefully, the makers should rectify technical defect as soon as possible.. This item song exhiliarates crowds and is a real treat for fans. (this comment is added after watching the film again it for the 2nd time after DTS rework)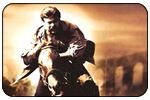 Visual effects : The main asset of Anji are extraordinary visual effects. The Akasa Ganga episode and formation of lord Shiva would match the heights of Hollywood's stature. The graphics are so good that they alone would give the value for money you spend on movie ticket. However, they have over used graphics for scenes involving MS Narayana to create humor.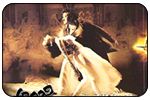 Other departments: Artwork by Ashok is excellent. The climax lead set is exceptionally good. Rerecording of the film is not up to the mark. Photography by Chota K Naidu is good. Background music by Mani Sharma is very good. The songs are good. Dialogues by Satyanand are mediocre. Editing is not crisp. Makeup work is so good that you would not recognize Nagababu, Rami Reddy and Bhupinder Singh in the first look.
Production: Though taken six years to make, Shyam Prasad Reddy should be commended for getting visual effects to Telugu cinema, which are of Hollywood standards. We do admire him for the passion he has for making films.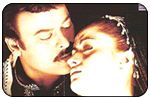 Analysis: The movie opened with an excellent flashback. The later part of first half is incoherent. The second half catches up with some pace. The climax episode - studded with stunning visual effects - blows your mind away. Graphics completely dominated the film to such an extent that even Chiranjeevi's character and his heroism was underplayed. The storyline of the film has typical Hollywood feel. And making such a film in Telugu for a 3 hour of duration is cumbersome. The producer should have concentrated more on the script of the film than the graphics. After watching the film again with right DTS mix, the 1st, 12th and 13th reels, the climax and lead scenes to it appears cool. It makes climax so good that it would over-shadow the events that took place before 12th reel. The audience come out of the theater mesmerized by the climax.
Precautions to be taken before watching "Anji":
1. When you watch the film, do not go to the film with high expectations you have for Chiranjeevi films in general, because graphics dominated Chiranjeevi. And also Lord Shiva kills the villain at end rather than Chiranjeevi in a typical filmy style.
2. There is mismatch between the sound and visuals in the penultimate reel. This defect is expected to be rectified very soon. This problem is taken care of now.
Disclaimer: This addendum is here because I watched Anji in Sudarshan 70mm on morning show of 15th January and the sound synchronization was out of order for 12th and 13th reels. Since, it is not fair to review a film after watching a show that was wrongly projected by an exhibitor - I took it as special case and rereviewed the relevant comments. I consider it as a special case and it would never be repeated for any film.
Anji stuff:
Special News
Photo Gallery
Wall Papers
Audio function
Mega Posters
Release Centers
USA