Story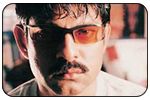 Prakash Rao (Prakash Raj) is the owner of 'Good Luck Co-operative Bank', which collected deposits worth hundreds of crores. In the peak time, he announces that Bank is bankrupt due to the financial mismanagement of the general manager (Suman). Prakash Rao kills that general manager and establishes it to the public as suicide. Then public believes that the general manager is the cause for entire mismanagement.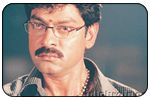 Chanti (Jagapati Babu) - brother of general manager - who is in Germany comes to know about this mishap. He returns back and plots to take revenge on Prakash Rao in a stealth format. The rest of the story is all about how he recovers the entire amount from Prakash Rao to distribute it to the depositors and how he makes Prakash Rao confess about his misdeeds.
Artists Performance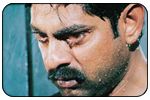 Jagapati Babu slimmed a bit for this film. He looks dignified with his spectacles and red tilakam. Heroine Neha looks like a kid and the pair of Jagapati Babu and Neha looks little odd (especially in romantic scenes). Both of them did well with in their limitations. Suman is apt as honest man. Prakahs Raj is cool, but he is hyperactive in comedy scenes that projects the foolishness. Siva Reddy, Ali, Brahmanandam and MS Narayana are used as comedy gang to generate humor. MS Narayana's yaksha prasna 'Evaru Nuvvu' evokes laughter at beginning and that character vanishes without any trace in the second half. Debutant soft villain Bharat is a replica of his brother Ravi Teja in voice, mannerisms and expressions. Sradda Nigam is ok as vamp. Jeeva is first rate with his comedy. Raja Sridhar is OK in the guest role.
Technical Departments: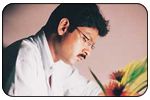 Story: The basic storyline of the film is a revenge plot with a social responsibility. We do find these kinds of storylines from popular novelists like Yandamuri, Malladi (Rakshasa Samharam) and Suryadevara Rammohan Rao in late 80's. There are quite a few intelligent moves by lead character to eliminate hurdles from baddies.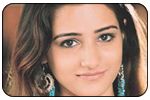 Screenplay - direction: The forte of SV Krishna Reddy is comedy and family drama. He should better stick to what he is better at than trying his hand at things which he can't handle. That is directing action films. In the past too, he could not succeed delivering action films like Top Hero and Vajram. After a gap of almost a decade, he tried another action film in the form of 'Athade Oka Sainyam'. Instead of making it an out and out action film, he tried to do it a strategy film where hero uses more of his brain than brawn. SV Krishna Reddy succeeded in evoking laughter in comedy scenes, but failed in narrating action story. He could not narrate the love track between lead pair interestingly in the flashback. Here are a few loopholes in the film's narration
1. Jagapati Babu hires three people to help him out in his undercover operation. These three members are a mimicry artist (Siva Reddy), a magician (Ali) and a computer wizard (Srinivasa Reddy). One fails to understand why hero employed Ali, because his magic skills were never used in the film.

2. Prakash Raj is shown as a ruthless killer in the flashback episode. Later on, he is portrayed as a soft villain who dances to the tunes of hero's stealth operations.

3. Why did Prakash Raj put the money-loaded tires in his bedroom in stead of an unsuspecting place like garage.

4. The funniest part is that the computer wizard Srinivasa Reddy uses a MS word document and hacks the Swiss account of villain and transfer the entire money to his Indian account. All this using a word document on which 'accepted', 'rejected' etc are typed in huge fonts.

5. In the entire second half, Prakash Raj offers no resistance to the plans hatched by hero. He meekly surrenders to hero's ploys.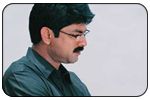 Other departments: Dialogues by Diwakar Babu are good in patches. Music by SV Krishna Reddy is soft and melodious. The rapid background music given to enhance heroism sounds too heavy for eardrums. 'Naa Paata Theta Telugu Paata' is quite good. Choreography by Suchitra Chandrabose is impressive. Lyrics by Chandra Bose are amusing. But the saddest part is that all the songs in first half are stuffed in 20 minute episode of the film. Its like one song, two scenes and another song! The fast-cut editing used in vital scenes of the film harms the mood of film than elevating the tempo.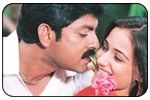 Analysis: The film starts on an impressive note. The way how the protagonist arrives at Hyderabad is shown similar to that JD's entrance in Mumbai during the titles of Varma's flick 'Satya'. The initial reels of the film are interesting, till the story reaches flashback point. The flashback of the film is uninteresting, especially the love track between the lead pair. The entire second half is narrated in a lighter vein style. If you look in parts, the second half looks cool. But if you look at holistic perspective, the entertainment-oriented narration makes a big dent on the script and seriousness of hero's mission. The title of the film is 'Athade Oka Sainyam' (one man army). But, what is the use of army to fight any enemy that has neither ammunition nor brains? We have to wait and see if SV Krishna Reddy's AOS withstand the competition from three Sankranthi biggies!
AOS stuff:
Muhurat
Photo Gallery
Trailers