Story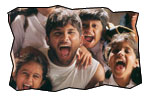 Ajay (Siva) is a spoilt brat and is the son of local MP Avataram (Rajan P Dev). He likes Geeta (Anuradha Mehta) and proposes her. When she refuses, he threatens that he would jump from the college top. Being a meek girl, Geeta accepts the proposal and starts dating him.
Arya (Allu Arjun) is a carefree guy with positive attitude. He falls in love with Geeta at the first sight. He proposes her in front of her boyfriend. She bluntly refuses. The rest of the film is all about how he wins Geeta with his attitude and positive outlook.
Artists Performance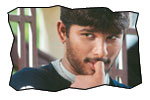 Allu Arjun: If you attribute the success of Gangotri to K Raghavendra Rao and write off Allu Arjun as a hero, you are in a soup. With his exceptionally great performance in 'Arya', hero Allu Arjun announces that he is here to stay and to leave a mark of his own. All those guys who admire Chiranjeevi's dancing skills would end up thinking like how great it would have been if Chiranjeevi ever get someone compose dances like Allu Arjun has done in 'Takadhinatom' song. Allu Arjun is simply awesome in dances. He is natural in his histrionics. He is amazing in stunt sequences. However, he looks like imitating Pawan Kalyan (of Kushi) in few college scenes. He also needs to get his dialogues modulated in the right way. He has a cool dressing sense.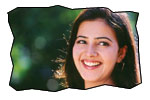 Anuradha Mehta: Anuradha Mehta is OK. She looks good in half sarees towards the climax of the film. She did well with in her limits. She has a broader frame and has certain similarities to Katrina Kaif. Savita's dubbing has become monotonous these days. They should have tried a fresh dubbing artist for Anuradha.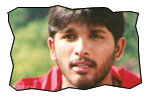 Others: Siva is good as adamant, at times confused, lover. He generated comedy in few scenes where he shows his frustration. Subbaraju is terrific as henchman to villain. Vidya is natural and lovable as the friend of heroine. Venu Madhav and Devi Charan got good footage and generated neat comedy. Babloo did the roll of hero's buddy. Sunil did a guest role of a TT called 'Punch Falaknama'. The kids in the film also have done well.
Technical Departments:
Story - Screenplay - dialogues - direction: Story of the film is wafer-thin. It is absolutely impossible to direct a flick with such a frail story line. But the debutant Sukumar handled this film with terrific characterizations and an extraordinary screenplay. The director Sukumar has exhibited great sensibility while executing few shots in the film. He fails you to guess the next scene most of the times. I do often wonder while looking at a few Tamil films that why our Telugu directors cannot execute such creative shots. Here is an answer in the form of Sukumar. Dialogues by Sukumar are apt and are sprinkled with sensible humor. Simple and effective like 'Repu morning - Arya ki warning'! Here are few scenes that leave a lasting impression -
1. The heroine asks Arya in the beginning of the film: 'Enduku extralu chestunnav'
The same heroine says to Arya in the climax: Kasepu nenu Arya laga, nuvvu nenu laaga anukundama?' That is the beauty of Arya's characterization. In the beginning of the film, you end up thinking why hero is doing extras. And as the film progresses, you fall in love with that character.

2. The love letter written by Arya. The following scene of girls reading it out in a classical song mode. The subsequent hate letter to the heroine's friend.

3. The scene in which Arya cracks his whip up on surroundings of baddies instead of attacking them in order to show what he is capable of doing.

4. The birthday gift Arya gives to Geeta.

5. The driving scene where Arya shows variation in the pitch of his voice as per the visibility of Geeta in the mirror.

6. The scene in which Arya leads Siva and Geeta to railway station and coolly says - 'vallu vaste appudu parigette badulu. Mundu parigetti vallaku chikkakunda vundadam manchidi kada'.

7. The entire thread of Arya trying to score goal by putting a stone into a cup placed at a distance.

8. The scene in which they do the role play and she proposes to Arya that she loves him. And the subsequent scene where Geeta leaves crying. (Actually the director has shown it effectively how other people get hurt when you refuse the proposal).

9. The scene in which the kids come up with a farewell gift to Geeta.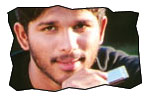 Music: Music by Devi Sri Prasad is extraordinary. Be it songs or background score. Devi Sri Prasad has exhibited his command over all departments of music and came up with a complete musical. It is nice to see Devi Sri Prasad reaching great heights at a young age. His music is full of energy and verve. Here is the description of six songs as per the order in the film
1. Takadhimithom: It is the introduction song for hero. Allu Arjun proves that he is the best among the youth heroes when it comes to dancing. He has got grace. He is at home as he makes the most difficult steps appear casually done on the screen. Choreographer Harish Pai came up with some awesome stuff.

2. Feel My Love: It is a melody song picturized on hero about how much he loves heroine. It is a montage song. Nixon choreographed this song. There is so much of rhythm in the body language of Allu Arjun. He improvised few steps of Michael Jackson and performed with a great élan. Chandra Bose's lyrics for this song depict the exact state of mind of Arya.

3. You Rock My World: This is the song before interval. It's a pub song where Allu Arjun breaks into song to entertain crowds. Raju Sundaram has done a fantastic job for this song. It's a hip and happening song.

4. Oh My brotheru: It's an entertaining situational song where hero expresses the luxuries and comforts of being a one-sided lover. There is so much of philosophical (with simple words) meaning in the lyrics of Sirivennela. Ashok choreographed for this cool song.

5. Aa ante Amalapuram: This is the fifth song in the film. It's a complete mass item number picturized atop of a moving train (like Chayya Chayya of Dil Se film) on Allu Arjun and Abhinaya Sri. Shankar choreographed it. It falls little short of what we expect after listening to the song in audio player.

6. Nuvvante: This is the best song in the film as far as the content is concerned. It's situational song which provides some privacy to Arya and Geeta so that they can explore the feelings of each other.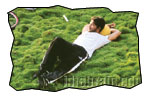 Photography: The photography by Ratnavelu is amazing. The first shot of the film itself shows the class of this new cinematographer. You find the visual richness that can only be found in the films that are directed by Mani Ratnam. Ratnavelu is extremely creative, immensely talented and has got a great future ahead.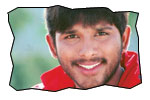 Other departments: Stunts by Ram Lakshman are very powerful. The fights are measured ones, efficient and are very believable. Editing by Marthand K Venkatesh is crisp. I liked the editing cuts during the titles part a lot. Art work is trendy. Locations chosen are rare and they ooze freshness. Production values of this film are lavish. Producer Raju should be commended for selecting such a sensible storyline and employing the perfect cast and crew.
Inspirations: Here are certain inspirations we notice in this film
1. The crucial dialogue of Nuvvu Kavali (Naaku vaadikanna mundu I Love You enduku cheppaledu) is re-used in this film for a vital scene as it is.

2. The climax of the film is a typical Trivikramish one. Hero - being a too good to believe guy - doing arrangements at the heroines marriage ala Nuvvu Naaku Nachav.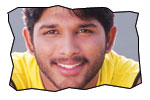 Analysis: First half of the film is full of fun. The second half is good. The last half an hour of the film (especially after the last song) is great. You feel like you are watching a Mani Rathnam film. Thanks to majestic visuals (Rathnevelu - cinematographer), splendid music (Devi Sri Prasad - music director) and marvelous framing (Sukumar - director)! There is a soul in the film and you end up having a thin layer of tears in your eyes while leaving the theater. This film announces the arrival of Sukumar - director - a class apart. 'Arya' is a must watch film for all Telugu film lovers. Don't miss it!!
Trade Talk: This film has generated unanimous super hit talk all over. This film was bought for 42 lakhs for Krishna territory. If we add the cost of print and publicity it would go up to 50 lakhs. This film is expected to amass a share of 80 lakhs to 1 crores in long run in Krishna territory. The range of success of 'Arya' would depend on how other films fare relatively in this summer season. This film has got typical urban look. Hence it may find less success in B and C centers.