Story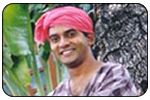 Vijay (Vijay Sai) is a spoilt brat in a rich family at Rajahmundry. Vexed by his state of mind, his parents decides to get him married. Angered by the parents decision, Vijay leaves his home and goes to Hyderabad. Durga Prasad (Suman) steals a diamond worth a crore from a diamond shop at Rajahmundry and police are in search of him. To avoid problems, Durga Prasad drops the diamond in back pocket of Vijay so that he could pick it up later. But later, Vijay turns out to be a tough nut for Durga Prasad. Vijay falls in love with a famous pop singer Madhuri (Sony Raj) at first sight. The rest of the story is all about how Durga Prasad tried in procuring his diamond back and how Vijay and Madhuri fall in love with each other.
Artists Performance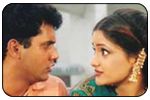 Vijay Sai is apt for the role of hyper active character. He over-acted, but suited the role. This guy is pretty good at dances. But his height is a big obstacle for him to become a widely acceptable hero. Sony Raj is OK, but she should to amend her acting abilities. Suman is perfect fit for his role. Lavanya acted as Suman's girlfriend.
Technical Departments:
Story - Screenplay - direction: The basic story of the film is pretty interesting. But it needs brilliant screenplay to narrate the story convincing without any slackness. Screenplay of the film is pretty slow and direction leaves a lot to be desired. Direction of 'backpocket' resembles that of Telugu TV serials. In addition to it, you find that most of the actors in 'Backpocket' are from small screen. This story has a few illogical things like -
1. You do not get diamond worth a crore of rupees in jewelry shops in Rajahmundry.
2. One does not understand why Vinod Bala character keep on observing Suman and arrests him only in climax.
3. Lavanya convinces Sony Raj and mental doctor that Vijay is her husband without showing any proofs like marriage photo.
4. The characterization of hero is very confusing. In the beginning of the film, he is shown as a guy with rebel ideas. And later he is shown in the light of stupid.

Other departments: Music by Jupudi is mediocre. One melody song is good in second half. The re-recording is noty up to the mark. Photography is ok. Dialogues are situational based. Editing is not crisp. This film is made on a small budget.
Analysis: This film is boring till Suman character enters. But after hero reaches Hyderabad, this movie again goes into uninteresting mode. Hero Vijay Sai succeeded in creating some humor. The promos of 'backpocket' are innovative. But this movie does not have any content that attracts crowds to cinema halls.