Story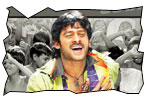 Bujji (Prabhas) and Chitti (Trisha) are best buddies during their childhood. At the age of 11, Chitti develops some differences with Bujji and says that she will not meet him for the next 12 years. Bujji packs his bags and runaways to Chennai. He returns to AP after 12 years in search of Chitti. The rest of the story is all about how they meet each other.
Artists Performance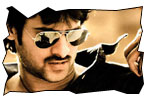 Prabhas: Prabhas is excellent in the role of Bujjigadu. The complete credit of Prabhas should go to Puri Jagan for weaving around his character to suit the strengths of Prabhas. Prabhas was little weak of his dialogue delivery in his earlier films. Puri Jagan used Godavari districts slang to write his dialogues for Prabhas and he uttered in an entertaining way. He also developed six-pack and looks stunning on the screen. The Bujjigadu character elevates the mass qualities of Prabhas and makes him go closer to the masses with this film.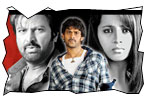 Others: Mohan Babu is very good in the role of heroine's brother. But a man of his stature need not do such supporting roles as his role in this film does not have much weight. Trisha is cute and she looks very beautiful. Sanjana is alright as the sister of heroine. Sunil scores high in the comedy department. MS Narayana entertains in the drunkard role. The separate comedy thread written for Ali is not up to the mark. Kota is good as villain. Subbaraju is impressive though he keeps repeating such roles. Jayaprakash Reddy, Brahmaji and Raja Ravindra are adequate. The artists who did the role of kids in the beginning of the film are pretty good. Mumaith Khan did an item song.
Technical Departments: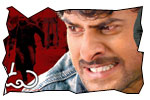 Story - screenplay - direction: The story of the film is simple. The screenplay is adequate though there are dragging moments in the second half. The heroine will not come to know that Prabhas is her Bujjigadu till the end of film. It is difficult to write screenplay for such scripts. Puri Jagan gets lots of credits for his writing in this film. The characterization of Prabhas is excellent and dialogues written to him are witty. Though it is a love story, the director has given the look of action film to it. Hence, people may find it little shocking to see Prabhas and Mohan Babu becoming friends instead of waging a war. Puri Jagan simplified certain things like hero escaping from a jail.
Other departments: Puri Jagan steals the show as a dialogue writer. His punches and one-liners written for Prabhas are worth commending. Cinematography by Shyam K Naidu is an asset. Music by Sandeep Chowta appears good on the screen. The picturization of the songs are good. The ways he edited the second song with split screens is very impressive. The style of showing various animals in a song of second half is also creative. There are some glitches in editing of scenes as some scenes end abruptly. Fights are pretty good. Making standards by Creative Commercials are excellent.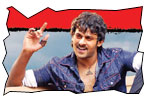 Analysis: First half of the film is good and entertaining. The second half tempo is little down. The plus points of the film are Prabhas characterization and Puri Jagan's writing. The negative points are excessive fights, extended climax fight and a few silly scenes (reason behind kids not talking for 12 years and escape from jail). Prabhas's characterization stands out in the film. This film is definitely worth a look for Prabhas's characterization.
Bujjigadu links
• Music launch
• Disc function
• Music review
• Photo gallery
• Working stills
• Wallpapers
• Trailers
Abroad showtimes
USA | Aus | Europe | Singapore
Jeevi reviews of previous 5 films
• Kantri
• Parugu
• Bhale Dongalu
• Jalsa
• Gamyam
• Ontari
• Mr. Medhavi
• Swagatam
More Reviews