Story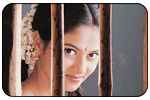 Chantigadu (Baladitya) is a teenager who roams around in the village with his gang of friends (Rambabu, Pavan, Jagadish and Phani). He is the son of a widower (Saranya) who serves as a cook at Lord Rama's temple of that village. Seetamaha Lakshmi (Suhasini) is daughter of a landlord Reddappa (Ahuti Prasad). Reddappa is known as a very cruel guy.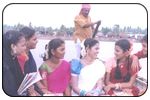 Chantigadu and Suhasini pass their 10th class examinations. They join a college in a near by town and everyday they have to go to that town by a boat. Suhasini falls in love with Chantigadu and Chantigaru also likes her. But the temple priest in that village tells Chantigadu that whoever marries Seetamahalakshmi, that person's mother expires after marriage. Now Chantigadu decides that his mother's life is more important than his love for Seetamaha Lakshmi.
When Chantigadu is trying to avoid Seetamahalakshmi, fate decides otherwise. They are found in a lonely boat during one night and father of Seetamahalakshmi comes to know about it. The rest of the story is all about how the teen couple get acceptance from parents.
Artists Performance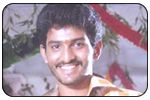 Baladitya: The child artist who is popularly known to us as 'stamp gadu' (Edurinti Mogudu Pakkinti Pellam) made his debut as full fledged hero through this film. He is very spontaneous and extremely talented. He got good histrionic capabilities. He also has a fluid body that has lots of flexibilities for dances. Acting wise he is terrific. If he becomes more glamorous and puts on little bit of weight, he can make a place for himself in Tollywood.
Suhasini: Nellore girl Suhasini made her debut as an actress with this film. She is good looking and sports bubbly attitude. She looks great in half sarees. She tried her hand at seducing audiences with her oomph in 'lovely' song.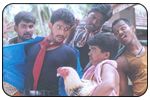 Others: Ahuti Prasad donned a full length villain role after a long gap. He followed the Nagur Babu's voice modulation in Kamal Hassan's 'Sati Leelavati' film. That added freshness to the characterization of villain. Saranya (the lady love of Kamal Hassan in Nayakudu film) did well as mother of hero. Rajiv Kanakala is good as a Psycho. Rambabu turned out to be a pretty good entertainer with this film. He would be an actor to look out for dialogue-based and appearance-based comedy in the mould of Suman Setty. This film sports lots of fresh faces.
Technical Departments: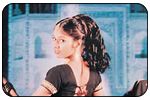 Story: It's a typical story of love between rich and poor. The entire story is set in the backdrop of a village Sakhinetipally in Godavari district. Hence, you get to see lots of greenery and water in the locations of this film. The entire first half is dealt with tender love that develops between the rich girl and poor boy. Poor boy tries to stay away from rich girl when he comes to know that his mother would be in danger if he gets married to rich girl. When rich girl's father starts searching his missing daughter along with poor boy, he is faced with another enemy from with in. That is his son-in-law who threatens to ruin his daughter and finances. By the time, he sorts issues out with his son-in-law, he forgets the original rivalry with poor boy and accepts the alliance .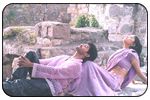 Screenplay - direction: Jaya - a journalist and storywriter - made her debut with 'Chantigadu'. For a debutant she has done a commendable job. She injected lots of freshness in the film by casting new faces, choosing new locations, trying out new music tunes. Her direction orientation is very sensible. Screenplay of the first half is very good. She handled the comedy scenes well. She also added divine angle to the love track of the film. She also made sure that there is no vulgarity in 'Chantigadu'. She is definitely a lady director to watch out!
Music: Music by Vandemataram Srinivas is very refreshing. Introduction song 'Kokkoroko' is very peppy. The best 'mood' song of film is 'Chigurakula'. Okkasari Pilichavante is very melodious. Love me song has Suhasini doing seduction dance.
Other departments: Photography by Puri is excellent. He has chosen very good locations. Dialogues by Marudhuri Raja are different and fresh. Production values of the film are decent.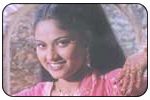 Analysis: First half of the film is entertaining. Second half is OK. This film comes as a whiff of fresh air when we find every Telugu film that is releasing in recent times failing to appeal to the audiences. It's a good effort by BA Raju as producer and a successful debut by Jaya. Now its upto BA Raju - the media Moghul - to promote the film heavily to reach the entire spectrum of audiences and make it a good hit.
Chantigadu links:
Photo Gallery
Muhurat
Special Coverage
Audio Function