Story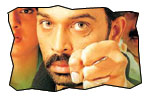 Kaasi (JD Chakravarthy) is a black-ticket-seller at Sandhya Theater in RTC Crossroads. He is also a small-time ruffian. One day he happens to observe that an industrialist GK (Devan) is offering 25 lakhs to the lover of his elder daughter for leaving her alone. Kaasi realizes that there is so much of money in the game of loving the daughter of any crorepati. GK has another unmarried daughter called Anjali (Keerti Chawla).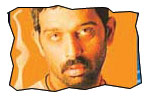 Kaasi plots a scheme to attract Anjali into the love game. Anjali falls in love with Kaasi. They decide to elope. While eloping Kaasi gives an anonymous call to GK that his daughter is at Nampally Railway station and is eloping with a ruffian. As the situation has it, Kaasi and Anjali are forced to go to Kolkata. During the journey, Kaasi finds out that Anjali carries a cash of Rs. 3 lakhs along with her. Now, Kaasi changes his plans to steal Rs. 3 lakhs and dump Anjali in the midway. But, unfortunately they reach Kolkota and rent a small flat. They deposit money into a bank account. Would Kaasi be able to confiscate that money and run away by leaving Anjali in lurch? Or, would he realize the power of love and falls in love with Anjali? Watch this film to know it yourself!
Artists Performance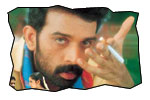 JD Chakravarthy: JD Chakravarthy did a typical Telangana Tapori role. His Tapori language like 'Diethadi' etc is cool. He acted as a street-smart brat for the first 75% of the film and turns spiritual later. His histrionics towards the latter part of second half are excellent. He tonsured his head for this film.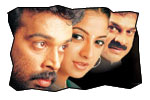 Others: Keerthi Chawla acted with almost-no-makeup. She put on a little weight compared to Aadi film. She is average as the prey to the hero in this film. Devan is OK as father of heroine. Uttej, Siva Reddy and Venu Madhav provided some entertainment in the form of comedy.
Technical Departments:
Story: Story is little different from the regular commercial films that are releasing these days. It is about a ruffian falling to love with a girl who he wanted to cheat for money. It has certain spiritual angle to it as well.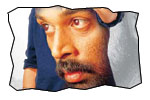 Screenplay - direction: Screenplay and direction is good in patches. There are certain scenes in the film for which the lead scenes are very good and the main scene made less impact compared to lead scenes. The best example is the introduction scene of heroine. The lead scenes are pretty good and when the heroine is shown, it an anticlimax. However, the director succeeded in creating the much needed feel for the film in the second half.
Music: Music by Sri is good. 'Ye Bandham Kalipindo' is very good. This melody song comes 3-4 times in this film. Background music is also impressive.
Other departments: Dialogues in this film are OK. Photography by Suresh is good. Editing is ok. Action sequences by Horseman Babu are impressive. Production values of the film are decent.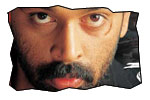 Analysis: First half of the film has nothing to offer. The second half has got good feel towards the climax. The scenes in which Chakri acts as devotee at Kaasi and the scene in which he visits a prostitute in Kolkota are heart touching. Over all, the film falls little short of the threshold value and may not click at box office. But, you may watch it at your leisure.
Kaasi Links:
Photo Gallery
Wallpapers