Story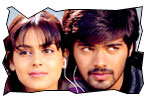 Chitra (Genelia) is a loner and she comes to Araku seeking employment as a teacher in a kids school. Krishna (Arun) is an aspiring director. He comes to Araku to do trail shoot and complete script for his debut film. Local Circle Inspector (Prakash Raj) is a friendly cop. Chitra has an uncomfortable history as she spent a year in a mental asylum. Chitra and Krishna become good friends. While peeping through her binoculars, Chitra notices a murder where she could clearly see the victim girl. She reports it to the police and they find no evidence of murder. With a history at mental problem, Chitra doubts that her past mental condition is catching up again. The rest of the story is all about whether the murder she saw was real or just a hallucination?
Artists Performance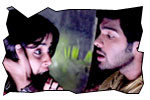 This movie belongs to Genelia and she does well. Tamil boy Arun did the role of male lead in this movie and he is adequate. Sharwanand seems to have dubbed the voice of Arun. Prakash Raj is very good. Shafi is nice though he seems to have gone overboard during latter part of the movie. Raghu Babu is the only actor in this movie who provides popular (routine) comedy. The guys who did the roles of buddies of hero are good.
Technical departments
Story - screenplay - direction: The title cards of the movie start with the photo of Alfred Hitchcock (the master of suspense movies). And the story of the movie belongs to the Alfred Hitchcock genre of the movies (closest one being 'Rear Windown'). Heroine who has a history of hallucinations witnesses at a murder. She thinks that it is real and others think that it is a hallucination. The entire story is all about if its real or katha (imagination). Debutant director Srinivas Raga comes up with an interesting story idea, but falters in screenplay department. Direction is adequate. One of the routine concepts we see in all thrillers is that the protagonist stays in a huge house and most of the vital scenes taking place during night time with lights off. Katha film is no exception in taking the routine route. Katha is also a story of 'who dunnit'. Hence director tries to turn the needle or suspicion towards innocent characters to divert our attention. .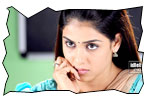 Other departments: Dialogues by Gangaraju Gunnam are excellent. I liked the way heroine innocently asks hero if he failed 10th class after he declared that he is going to direct movies. I also liked the title cards sequence and how it is linked with the character of hero later. Music by SK Balachandran is adequate. Cinematography by Andrew is fine.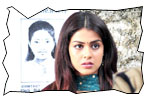 Analysis: First half of the movie is quite nice. I loved the way all characters are introduced it the movie and how the entire scheme of the story is set up in the first half. Second half of the movie is a little let-down with slow narration and redundant sequences. Whenever I watch any thriller, I ask myself a basic question. Why can't the protagonist stay in a small room and mingle with people. Plus points of the movie are Genelia and basic story idea. The negative points are second half and redundant scenes of projecting hallucination. We expect a better and intellectually stimulating movie from the banner of Just Yellow that produced films like Aithe and Anukokunda Oka Roju.
Katha Links:
• User reviews
• Music launch
• Press meet
• Photo gallery
• Wallpapers
• Trailers
• Abroad: USA
Jeevi reviews of previous 5 films
• Saleem
• Amaravathi
• Pravarakhyudu
• Arya 2
• Kurradu
• Village lo Vinayakudu
• Ek Niranjan
• Jayeebhava
• Bendu Appa Rao
• Mahatma
• Ninnu Kalisaka
• Ganesh
• Eenadu
• Banam
• Sankham
• Josh
• Mallanna
• Anjaneyulu
• Snehituda
• Magadheera
• Kalavaramaye Madilo
• Gopi Gopika Godavari
• Oy!
• Evaraina Epudaina
• Current
• Raju Maharaju
• Boni
• Kavya's Diary
• Ride
• Aa Okkadu
• Diary
• Pista
• Prayanam
• Kick
• Veedokkade
• Mitrudu
• Circus Circus
• Adhineta
• Punnam Naagu
• Ananda Tandavam
• Billa
• Bheebatsam
• Manorama
• Aakasamantha
• Sontha Vooru
• Malli Malli
• Mesthri
• Naa girlfriend baga rich
• Drona
• 16 Days
• Satyameva Jayathe
• Siddham
• Nenu Devudni
• Konchem Istam Konchem Kastam
• Shh...
• Arundhati

More Reviews