Story

Story of this film is so complicated that it cannot be written in brief. Any how here is an effort to condense it into few words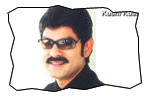 Surya Prakash (Jagapati Babu) is a chronic bachelor. He hates love and girls. He has a nemesis called Bhavani (Ramya Krishna). He wins a court case against Bhavani that entitles him of a fortune left by his deceased father. Bhavani vows to see the end of Surya Prakash.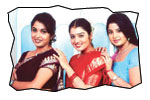 Surya Prakash's residence is adjacent to a Girls Hostel. Surya Prakash secretly sponsors a girl called Sandhya (Nikita), who is a step sister of Surya Prakash. But Sandhya is unaware of this fact. Sree Kumar (Venu), who is a brother-in-law of Surya Prakash, is a Casanova. He falls in love with Sandhya at the very first sight. Satya Bhama (Sangeeta) is also an inmate in the Girls Hostel. She falls in love with Surya Prakash. Later it is revealed that Satya Bhama is a younger sister of Bhavani.
The rest of the story deals with how all these relationships fall in place and lead to a logical conclusion.
Artists Performance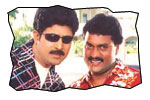 Jagapati Babu is OK as the protagonist, but not effective enough carry the entire film on his shoulders. Ramya Krishna got an important role though she did not have good footage. Her characterization has the shades of Nilambari character in Rajnikant's Narasimha film. Venu did another casual role. Nikita looks pretty homely wearing those spectacles. Sangeeta is good at dancing. Dharmavarapu Subramanyam generates some comedy. Devan is good as the villain. Bhanu Chandar did two roles in this film and he is OK. MS Narayana is good as naughty thief.
Technical Departments:
Story: The story is a complicated one with lots of relationships entangled in between the prime characters. This storyline is dominated by brother-sister relationship and misunderstanding that caused feud between two families.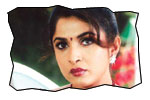 Screenplay - direction: Ram Prasad G who directed successful films like 'Chiru Navvuto' and 'Kalyana Ramudu' in the past could not repeat the magic as he could not capture soul of the original. He failed in narrating the story in a simple manner. Screenplay of the film is average. Direction of the film is so so.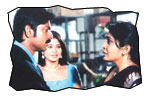 Other departments: The music in the film is not up to the mark. SA Raj Kumar has given insipid music. Dialogues are not impressive. Though this film is presented as a comedy flick, there is no humor or punch in dialogues. Cinematography is average. Production values are mediocre.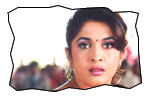 Analysis: First half of the film is mediocre. Second half is uncomfortable with too many twists like a TV serial. 'Kushikushigaa' is a remake of Malayalam blockbuster 'Chronic Bachelor' which was later become a blockbuster 'Engal Anna' in Tamil. The director could able to reestablish the characters, but failed in recreating the soul of the original. This film proves that it is not advisable to go after every hit in the other language and remake them just because they did well in other states. The state of mind of the people in this state definitely needs some fresh stories and sensible treatment.
Links:
Photo Gallery