Story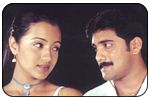 Boy (Tarun) meets a girl (Trisha) over a train journey to Hyderabad from Mumbai. They both like each other, but too shy to ask the name of the other person. They leave to their respective places. But the memories of the other person keeps haunting them. They search for each other for a while. After a grotesque incident they decide to listen to the words of their parents. The girl accepts an arranged marriage proposal by her parents. Boy goes to USA for his employment. As the fate decides it, they meet each other after 3 years in a train. But this time, the girl has a small baby and the boy has a beautiful damsel sitting beside him. To know what the climax is all about, watch the film!!
Artists Performance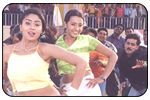 Tarun did well. But after acting in performance oriented films like 'Nuvve Nuvve' and 'Ela Cheppanu', working for this film is like a cakewalk to him. Trisha is lovable and cute. She looks cool in traditional appearance and meaningful scenes. And appear awkward in ultra modern dresses. Hotshot heroine Shriya is reduced to a meaningless role in this film. She acted as one of the pals of Tarun. And the angle of love is not there in between Tarun and Shirya. Interestingly Sunil has more footage than Shriya. Sunil is OK as comedian. Singer Nagurbabu gave a special appearance. Actress Reema Sen did a cameo in climax. Director Jothi Krishna also appeared in a couple of scenes. Tanikella Bharani is good as father of heroine. Archana Puran Singh's role as the beauty-conscious mother of heroine is miserable, as she seemed clownish in it.
Technical Departments:
Story: Story of the film is loosely based on Hollywood flick 'Serendipity', which deals about the concept of fate. The searching angle has close resemblance to the second half of 'Okariki Okaru' film.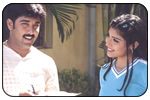 Screenplay - dialogues - direction: Jothi Krishna - son of the popular producer AM Rathnam - made his debut as director. He made his debut at a tender age. He shown flashes of brilliancy in conceiving a few scenes. But the screenplay of the film lacks clarity. If you chose such a classy subject as story, you need to narrate it so slickly that it holds the attention of viewers. But the narration of 1st half of the film meanders till it reaches interval point. Dialogues of the film are OK. But there is a liberal dosage of double entendres to such an extent that you find lots of scenes where audio is erased due to censor's objection. Sunil's dialogue about 'Pizza' is good.
Music: Music by AR Rehman is good. The best song in this film is 'Askava' song. The song 'Kalusukundama' is very poetic and possess lots of aesthetic value. 'Edo Edo' song which was shot in Venice and Rome King's playground.
Camera: Camerawork is first rate. The aerial shots in the song 'Kalusukundama' is very impressive for an Indian film. Probably Strada Crane might have been used for this. There is grandeur in the canning of scenes.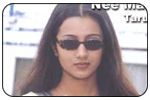 Analysis: First half of the film is very slow. Second half has some story. Climax of the film is satisfactory. The strengths of the film are technical values and grandeur. Weakness of the film are lack of clarity in screenplay and censored dialogues in first half. Youth (both girls and boys) are shown in bad light. This film's openings on 1st day are terrific. This film's success depends on how youth takes it!!
Title throttle: This film is titled as 'Nee Manasu Naaku Telusu'. But contrary to it, the lovers fail to read what is there in the other heart's when they meet each other for second time.
NMNT links:
Photo Gallery
Audio Function