Story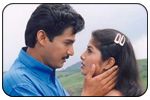 Rajesh (Rajesh) is an unemployed poor youth. He falls in love with Sangeeta (Sangeeta). When Sangeeta's father comes to know that his daughter is in love with a poor boy, he calls on Rajesh and puts a test. That is to carry a suitcase of one crore rupees and protect it for a month in his room. If he returns back with that amount after a month, he would give his daughter's hand in marriage to Rajesh. The rest of the story is all about how Rajesh emerges as a winner.
Artists Performance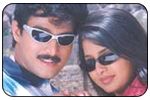 Rajesh: Singer Rajesh made his debut as hero with this film. He looks pretty average. And his face is not photogenic. He needs to improve a lot in terms of acting. His dancing skills are also amateurish. Being a singer himself, he could not dub his voice. Raghu Kunche lent his voice to Rajesh.
Others: Sangeeta is pretty good in this film. Her dances are really fluid. All the comedy artists of Telugu film industry acted in this film. And the only comedy that worked out well is the wife-beating comedy by Raghu Babu. Its sad to see that laughter is being generated by the heinous act of wife-beating by our directors since 'Kshemamga Velli Labhamgaa Randi' days. 'Gutthi Gurnadham' character by AVS is partly good.
Technical Departments:
Story: The basic point of testing the hero with 1crore rupees reminds you of a Tamil dubbed Rajni movie Arunachalam in which Rajnikanth is asked to spend a certain amount in certain period of time in order to inherit his father's legacy.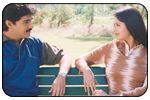 Screenplay - direction: The story of the film starts only around intermission. Till then the director tried to engage the audiences with the love track between the lead pair and comedy track among the colony crowds. Screenplay of the film is pretty bad. Direction is very amateurish. AVS failed to generate any comedy in the film because of the lack of timing and punch in the comedy scenes.
Other departments: Dialogues by Sankaramanchi Pardhasaradhi are average. Photography by Vasu is good. Music by Mani Sharma is impressive.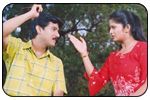 Analysis: First half of the film is very boring. Second half is slightly better. The positive points are music and photography. The negative points are hero, direction, comedy and lack of gripping narration. Though all the comedy artists of the industry are present in this film, the laughter they created is nil. AVS has earned very good reputation as a man of good timing and great sense of humor through his action as a comedy star and through his performance as anchor in film functions. By directing movies, he is only losing all the hard-earned good will. A sincere advice to AVS is to stick to what he is best at. Acting, that is!!
Other Links
Photo Gallery