Story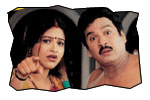 Harischandra (Rajendra Prasad) and Satya (Raasi) are middleclass couple with a kid. Satya's brother promises a bounty of Rs. 1 crore if this couple gives birth to a girl. Satya approaches a renowned Swamiji and seeks his blessings. Then swamiji advices her that they should start telling lies to everybody by making the old proverb 'abaddalu chebite aadapillalu pudataru' come true. As the situation had it, Harischandra lands up marrying Meena (Gurlin Chopra). He gets Meena to his house and introduces Satya as a servant maid. The rest of the film is all about how Harischandra realizes the bitterness of being husband of two wives.
Artists Performance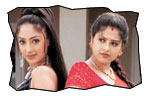 It's another cool performance from Rajendra Prasad. He did well in each and every department. Mrs. Raasi has become too obese to play the heroine role. The pair of Rajendra Prasad and Raasi is repeated for the 3rd time here after Sandade Sandadi and Srirama Chandrulu. Gurlin Chopra enters the film towards interval. She is very hot in the last but one song where she shed her cloths liberally. She resembles Manisha Koirala in few profiles. Venu Madhav role is good and provided good comedy. Jeeva's 'matchbox' comedy is partly good. The comedy by Sunil and Brahmanandam did not click in this film. Jayalalitha should stop dubbing her own voice. Her dubbing is very artificial. Rama Prabha and Surya are adequate. Krishna Bhagavan looked out of place in his character.
Technical Departments:
Story: As the title suggests, this story is about the perils of bigamy. It has certain resemblance to SV Krishna Reddy's Subhalagnam and EVV's Intlo Illalu Vantitlo Priyuralu. But the characterizations were altered as per the convenience.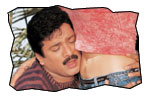 Screenplay - direction: Screenplay and direction by Kongarapi Venkata Ramana is mediocre. Though there are many scenes that provide room to elevate comedy, the director could not get the timing right. When a comedy film is made, the entire scenes should be dealt in lighter vein. But the director tried to insert sentimental scenes which dilute the comical aspect.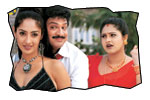 Other departments: Two songs (last two songs) scored by Vandemataram Srinivasa are good. Camerawork by Sarath is average. The lighting scheme is not proper. This film is made on a shoestring budget and it shows up screen in terms of locations, sets and camerawork. Dialogues by Marudhuri Raja are OK. There are couple of dialogues that targets SSR
Venu Madhav: Kantichooputho kaadu, molathaadutho champuta
Raasi: Kantichooputho kaadu, rokalibandatho champuta.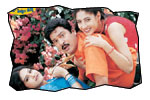 Analysis: First half of the film is average. Second half is disappointing. The climax is prolonged unnecessarily. The plus point of the film is Rajendra Prasad. The minus points are inept direction and inane screenplay. However there are couple of scenes that are hilarious (comedy episode by Venu Madhav, the episode where RP and co are subjected to electric shock). Over all, this film is a disappointment as it satisfies neither ladies (agony of two wives sharing a husband) nor comedy lovers (comedy is not good). We have to wait and see if the image of Rajendra Prasad attracts crowds to the theaters.
OPMRPV links:
Photo Gallery