Story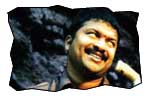 Seenu (RP Patnaik) is a blind man and a sole bread earner for a family consisting of five members. Vasanthi (Priya) is Seenu's sister and she is very close to him. Lakshmi (Navneet) is a dumb woman who is a close buddy to Seenu and Vasanthi since their childhood. Seenu and Lakshmi are in love and they want to get married as soon as possible.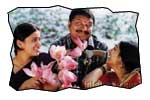 Appala Naidu (Prakash Raj) is a Good Samaritan in that village. He takes Seenu to an eye doctor. That doctor says that Seenu has all chances to see the world if a pair of eyes are donated to Seenu. Lakshmi comes forward to donate her eyes to Seenu. Meanwhile, a political acquaintance of Appala Naidu eyes these two girls Vasanthi and Lakshmi. One fine day, he rapes both of them and threatens that Seenu would be killed if they tell this fact to anybody. Would Seenu come to know about it? What is the plight of these two girls?? Watch it yourself to know the climax!!
Artists Performance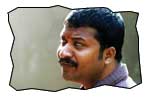 RP Patnaik: RP Patnaik is extraordinary in the role of a blind man. His performance is very genuine and is absolutely incredible. He seems to have studied blind men a lot. There is so much of purity and innocence in his dialogue delivery. RP Patnaik wins everybody hearts with his amazing histrionics.
Heroines: Priya is another dusky beauty on Telugu silver screen. Her histrionics are perfect. Sunitha dubbed her voice. For all those guys who wondered how come a beautiful girl like Navneet is pitted against RP Patnaik, here is an answer. She played the role of a dumb girl. She is apt for that role. Both these girls have shown great maturity in enacting certain heavy melodramatic scenes in the second half.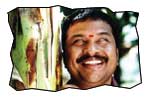 Others: Nutan Prasad did the role of a nagging father to hero. It is nice to see Nutan Prasad doing a negative role after a span of almost a decade. Prakash Raj looks fresh in this film. Thanks to his change of style in dialogue delivery! Sunil succeeded in providing some entertainment. Brahmanandam did a special role as music pundit. Giri Babu did a supporting character to RP. Rahul did the role of womanizer in this film with good poise. Performance of the actress who did RP's mother is excellent. Tammareddy Bharadwaja and Kulasekhar did special appearances in this film.
Technical Departments:
Story: It's a story of emotional struggle faced by 3 people (Seenu, Vasanthi and Lakshmi).
Screenplay - direction: E Srinivas has made a good debut as a director with this film. He is very talented. To narrate such an arty story in an interesting style for 2 and half hours is not an easy task. He made sure that the heart touching melodramatic scenes are not sounded clichéd. Screenplay of the film is neat and direction is first rate. He is extremely good at elevating human relationships.
Dialogues: Dialogues by veteran actor Tanikella Bharani are extraordinary. Few of the dialogues in the beginning of the film helped in establishing blind man character very strongly. Here are the few of the dialogues -
1. 'Aa demudu naaku chinnappude current peekesaadu' (when his family members were feeling irritated that power was gone for a few minutes)
2. 'Kallajodu Pettukunnanduku . Kallu Teripinchaaru'
3. 'Ee roju nenu chala andam gaa vunnanu kada' (blind hero looking himself in a mirror)
4. 'Nenu sangeetam sastram lo vundi anukune vaadini. Nuvvu sangeetam prakruthilo vundani niroopinchaavu' (Brahmanandam to RP)
5. 'Naa Sangeetaniki silalu kadulutayo ledo teleedu. Kaani nee sangeetamlo ee silani kariginchesaavu'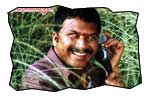 Music: Music by RP Patnaik is excellent. The picturization of songs is also very good. The film starts with the 'Kuku koo' song that establishes the hero character and it familiarizes audiences with the beautiful village. Paadana song goes in typical 'Naa Paata Panchamrutam' (Allari Mogudu) style. Vana Vana song is impressive as it portrays emotional struggle of two girls. Kodanda Ramudu song gives good basement for the climax. Godari Nammindi song is too good. RP music made this film a good musical.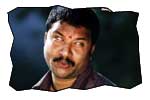 Other departments: Photography by KG Soman (Professor at Pune Film Institute) is excellent. He captured the beauty and essence of village in very artistic format. Lyrics by Kula Sekhar are very good. Artwork by DV Suresh Krishna is close to reality. Editing by Kotagiri Venkateswara Rao is good. The producer NM Suresh should be commended for coming forward to make a realistic flick.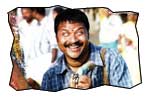 Analysis: First half of the film is very good. Second half is bit heavy. But the climax is excellent. The director succeeded in narrating film in a simple, yet effective way. The sentimental scenes and melodrama is a definite plus point of the film. You would get tears in your eyes for certain scenes in this film. RP succeeded in his twin job of providing histrionics and music. Dialogue work by Tanikella is another asset. All the movie lovers should watch this film. The common man has got a mental block against watching films of this genre. The crowds who watch this film would be satisfied. But the question here is if the crowds are willing to come to theater to watch the story of a blind man. The commercial success of the film would depend on this point!
SVL Links:
RP's interview
Audio Function
Poster Designs
Photo Gallery
Trailers