Story

Seshadri Naidu (Srihari) is an orphan who grows up by taking care of his blind younger sister. He runs a hotel in city which serves a meal for just one rupee. He sells meals for one rupee so that each and every poor man can afford it.
CM of AP (PJ Sharma) is an honest guy. There are four corrupt MLAs who want to get rid of the CM, because they were denied MLA tickets in the next assembly elections. In a bid to strip the CM off his post, they bomb a gathering at Seshadri's hotel. Seshadri chases the culprits and proves that these four MLAs are criminals. Sitting behind the bars, they hatch a plan to seek revenge on Seshadri.
Seshadri's blind sister falls in love with one of the MLA's sons. Seshadri marries them off after realizing the noble intentions of that guy. Later on, she is deceived by her man and she kills herself. The rest of the story is all about how Seshadri took revenge on the son of the MLA.
Artists Performance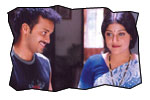 Srihari is good as usual. He tried a peculiar dialogue delivery during comedy scenes in this film. Heroine Nanditha is taut. Swathi is apt for the role of sister. Jayaram - brother of Srihari's wife Santhi - made his debut as a villain in this film. Being short and slim, he did not look competitive enough to face Srihari's screen presence. Ali played a comedy oriented role. Technicians like Posani Krishna Murali (writer) and Raju (fight master) donned the roles of cops.
Technical Departments:
Story: It is a typical sister sentiment story where the brother seeks revenge on his sister's death.
Screenplay - direction: Screenplay of the film is very shabby. Direction of the film lacks clarity. Lots of scenes in the film lack logic and common sense. The total work looks ad-hoc. The following points in the film appalls you
1. Hero runs a hotel in which they serve meals (roti + dal + buttermilk) for Rs. 1/-. The hero claims that he makes a profit of 10 paise on each meal. The seating capacity of the hotel is hardly 25-30. And there are around 20 staff members (cooks and servers - all in uniform). By running this hotel, hero is acclaimed as a great reformer and social worker in the state by the media. With his Rs. 1/- per meal scheme, he is even admired by the chief minister of the state. There are certain dialogues like late NTR could give one kg of rice for Rs. 2/- being a powerful CM. Then they compare the hero to NTR and try to generate a feeling that this hero - being an individual citizen - is greater than ex-chief minister NTR in implementing poor-oriented schemes. With very little seating capacity, how many people can he feed? And how can one compare with the populist schemes introduced statewide?

2. There seems to be absolutely no research done while conceiving the blind sister character. The prime characteristic for any blind person is to recognize/familiarize/memorize the other person by touching their face, hands etc and recognize. In this film, the blind girl has sex with four people (one at a time with different activities) thinking that she is having her first night with her husband. She comes to know about it only when her husband tells her after 3 nights are over.

3. When a gang of 100 people protest at the jail, the jailer releases four criminal MLAs without even any paperwork.

4. Hero beatas the 4 MLAs with chappals repeatedly when the top brass of the police and judiciary are around them. Then he asks the police to put these MLAs into jail and they obey it.

5. When the villain come to the hotel and asks for the whereabouts of the hero, the staff do not reveal the names. This thing goes to such an extent that the villain strips all the workers off their cloths. If the hero is so big and the villain is weak, why do they strip their cloths instead of giving the whereabouts of the hero?

6. Because the hero is serving a death sentence, the police declare that he is killed in a shootout. Later on they create another character called 'Venkatadri Naidu' who claims to be a twin brother working in Rajasthan.
Other departments: Dialogues by Posani Krishna Murali are mediocre. There are unnecessary references to the current political situation. Photography by Vijay Kumar is OK. Music by Lalith Suresh is average. However, the background music is good. Fights in the film are ok.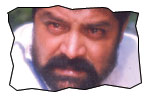 Analysis: This film is 70% sentiment and 30% action. First half of the film is mediocre. There is no interval bang or interval twist. Second half is bad. Masses cannot see a mass hero like Sri Hari crying. This film also suffers with heavy illogical scenes. In order to cater to both masses (action) and ladies (sentiment), the director could not do justice to either of the departments. Over all, 'Seshadri Naidu' disappoints you.