Story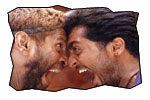 Siddardha (Vikram) takes birth in a crematorium and her mother dies immediately after his birth. Siddardha is raised by the crematorium's undertaker. After the death of the undertaker, Siddardha becomes orphan. He does not know anybody in the village and he was never been out of crematorium earlier. He visits village in search of food. The village people detest his presence and try to stone him away from the village. Kamala (Sangeeta) - a ganja seller by trade - rescues him and requests a mafia leader Rayudu (Ramaraju) to recruit Siddardha. Siddardha works for Rayudu in his ganja farms. One fine day, police nab Siddardha on the charges of peddling ganja from jungles to village.
Satya (Surya) is a village smart trickster who is put in jail for his misdeeds. Siddardha who never socialized with people and never observed the customs of the village had a tough time coping up with the challenges thrown by the new environment. Siddardha and Satya become close to each other in the jail. Satya gets released and then arranges a bail for Siddardha. Satya, Siddardha and Kamala start living together along with their friends.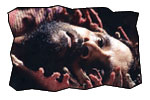 Rayudu asks Siddardha to cremate a dead body and Siddardha does it. The interrogation by police leads the suspicion towards Siddardha. Satya then reveals the details of ganja trade of Rayudu. Rayudu kills Satya in an act of retaliation. The rest of the film is all about how Siddardha takes revenge on Rayudu.
Artists Performance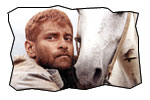 Vikram: Vikram steals the show with his terrific histrionics. His animalistic antics are a treat to watch. His make-up is ghastly and it suited the characterization. There are no dialogues for him this film. And he sustained the interest among the viewers using his histrionics alone (no support from dialogues). His body language is animal-like.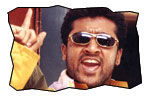 Surya: Surya is good as the street-smart guy who has a remarkable humanity in him. His character is shown as a trickster in the beginning and his humanity is projected as the second half goes by. Surya is equally romantic in love/teasing episodes with Laila.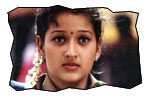 Laila: Laila is terrific in this film as a chirpy and bubbly girl. Her frolics and portrayal of character is very impressive. She is the only glamour aspect of the film. And she carried the entertainment value of this film solely on her shoulders with a great charm. Her character has innocence and mischief blended in equal proportions. Savita Reddy's dubbing is added attraction.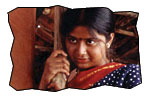 Others: Sangeeta did a deglamorized role in this film. She is quite a bit of revelation. She did the role of a drug peddler with a soft corner towards Siddardha. Ramaraju is appropriate for the role of villain. Simran did a special appearance by acting as her real self, which is not impressive enough.
Technical Departments:
Story: The basic story of the film is a commercial one. It is about protagonist taking revenge on a bad guy who killed his friend.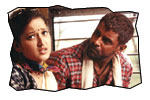 Screenplay - direction: The best part of Bala is the terrific characterization and appropriate casting. They way he introduced characters and established them is excellent. Direction of the film is compact. Screenplay is good most of the times. Pace of narration is slow. Director Bala has an artistic orientation in visualizing shots.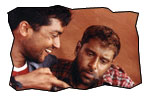 Music: Background score and re-recording by maestro Ilaya Raja is terrific. The opening song 'Okate Jananam Okate Maranam' is excellent. The second song (sung by RP Patnaik) is very melodious and acts as a breather in between heavy sequences.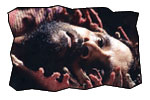 Other departments: Dialogues by Raja Sekhara Reddy are good. Cinematography by Balasubramanyam is excellent. Action sequences by Stun Siva are true to reality, believable and realistic. The fights are very effective as well. It is quite amusing to see that no character (police, goons and protagonist) ever use any knife and pistol in this film for fight sequences. Artwork by A Chella is fine. Editing by Muthyala Nani should have been more compact.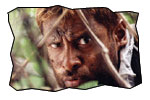 Analysis: Actor Vikram acted in a couple of insignificant direct Telugu films before establishing himself as superstar in Tamil. One he became a superstar, our Telugu film producers never gave us a chance to watch Vikram in a blockbuster film, as they remade all his blockbusters like Sethu (Seshu - Raja Sekhar), Dhil (Sreeram - Uday Kiran), Gemeni (Gemini - Venkatesh), Dhool (Veedu - Ravi Teja), Saami (Lakshmi Narasimha - Bala Krishna). Here is a chance for Telugu film lovers to watch the Telugu dubbed version of Vikram's Tamil blockbuster. Laila is another performer in this film who really rekindled the entertainment aspect of the film. First half of the film is compact. Second half is very slow and boring at times. The climax of the film is very effective. The Simran's special song would have been avoided in Telugu version as it's very ineffective. This film is a must watch for the art movie lovers. The commercial film lovers might have little uneasiness watching this film. I would not mind watching 'Siv Putrudu' for histrionics of Vikram and Laila and realistic direction of Bala.