Story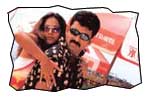 Raghu (Raghu) marries a girl (Lahari) he loved. She expires after delivering a baby. Raghu marries another girl Sarita (Ruthika) on persistence of his parents. But he could not forget his 1st wife. Though he lives with his new wife, he never touches her or entertains her. Raghu has four friends - who are also married - in this colony. All these friends try individually their best to woo Sarita to bed her. The rest of the film is all about whether they get succeeded in that mission or not.
Artists Performance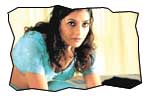 Raghu is the brother of latest star on the block - Ravi Teja. Raghu is very raw as an actor. He is not handsome either. His dances are awkward. Ruthika is good as the temptress in sarees. Lahiri is average. It is Jeeva who stole the show with his comic capers. Srinivasa Reddy, Krishna Bhagavan, Siva Reddy are alright. Comedy track of Kondavalasa is boring. Raghu Babu did a special appearance in this film.
Technical Departments:
Story: The basic storyline of the film is how four sex-maniacal friends try to seduce a neglected wife of a close friend.
Screenplay - direction - dialogues: Screenplay of the film is mediocre. The scenic order and presentation is so flat that you would not realize what a flashback is and what a dreaming scene is in this film. Direction is bad. Dialogues are OK.
Other departments: Music is average. Photography is fair. This film is made in a low budget.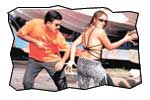 Analysis: 'Sorry Naaku Pellaindi' is a badly made movie that is aimed at attracting men to the cinema halls with its sleazy print, TV and poster publicity. Narration of the story is flat. After showing all obscene scenes, the director tried to give a message that eyeing on friend's wife is a bad deed. You can happily avoid watching this film.
SNP Links:
Photo Gallery