Story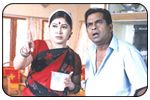 Sreeram (Rajendra Prasad), Chandu (Sivaji) and Ram Babu (Brahmanandam) are friends and also wayward husbands of three dutiful wives (Raasi, Sindhu menon & Kovai Sarala) who stay in the same colony. Their dialy schedule includes boozing and troubling their wives with their behavior. Once they get to save a beautiful girl (Rambha) from an accident. Then she asks them if they were bachelors. These guys pretends to her that they are unmarried. Then she says that she is willing to marry one of these three guys who impresses her the best. The rest of the story is about how these three guys try impressing the beautiful girl and how their dutiful wives teach them a lesson!
Artists Performance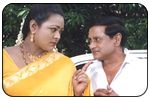 Rajendra Prasad, Brahmanandam and Sivaji excelled in their roles. The comedy by Brahmanandam in 1st half is impressive. Raasi, Sindhu Menon and Kovai Sarala did the roles of wives and they did their bit. Rambha is OK, but she made sure that heroes does not even touch her during the talkie of the film. Shakeela played the role of colony owner. Kodavalasa comedy bits with Shakeela are little vulgar.
Technical Departments: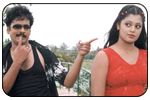 Story: Story of the film is an oft repeated one of 'three wayward husbands getting mended by their dutiful wives'. Stories of these kinds of films have come in the past like Kshemamga Velli Labhamga Raa (Srikanth, Rajendra Prasad, Brahmanandam), Sandade Sandadi (Jagapati Babu, Sivaji, Brahmanandam), Pellam Voorelithe (Srikanth, Venu, Sunil).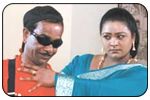 Screenplay - direction: Srikanth who won Nandi Award as best children film director in the year 2001 for the film 'Little Hearts' directed this film. His direction is average. And screenplay is pretty routine. However, he posses good skills at handling comedy scenes. But he failed at keeping the film tempo in second half.
Other departments: Music by Ghantadi Krishna is average. The presentation of songs on screen is unimpressive. Photography by Srinivas Paidala is fair. Dialogues by Janardhan Maharshi are OK.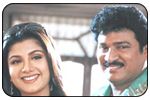 Analysis: First half of the film is average. Second half is boring. Having 3 heroes and 4 heroines and handling all of them without causing confusion and imbalance is a tough task. And the director could not handle the script well. We have to wait and see if the comedy by Rajendra Prasad and Brahmanandam helps this film or not!
SRC links:
Photo Gallery
Audio function