Story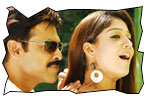 Tulasi (Venkatesh) is a lovable guy who falls in love with a co-tourist Vasundhara (Nayana Tara) in Europe. They like each other and get married. Then it is revealed that Tulasi comes from a family of factionists and he has an irresistible violent streak running in his blood. They bear a child and then Vasundhara keeps Tulasi away for his violent ways. The rest of the story is all about how he reasons out with his wife to get his family back.
Artists Performance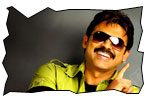 Venkatesh: Venkatesh is pretty good as Tulasi. His comedy timing and accent in the scene in which he imitates Jhansi is hilarious. The way he bites his tongue when is he is angry shows the typical angry expression of Palnadu area. He is very good in action sequences in the second half. However, it is appalling to see such a sensible actor like Venkatesh accepting to act in a climax scene that appears so inhumane (kidnapping a dieing kid).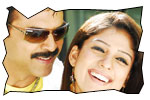 Others: Nayana Tara did a meaty role where she has scope to display both glamour and histrionics. The kid Atulit is pretty cute. Sivaji did the role of heroine's brother. Shriya did an item song. Jhansi's comedy as Kokapeta aunty is good. There are eight villains in the film, but the screen time spared for them is minimal. Asish Vidyardhi succeeded in portraying cruelty. Ramya Krishna did a doctor role. Ali's comedy is bland. Raghu Babu did a typical comedy sidekick role.
Technical Departments: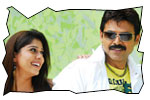 Story - screenplay - direction: The basic story of the film is clever amalgamation of various films like DDLJ (couples falling in love during transit trip in Europe), Daddy (wife separating from husband due to his weakness (kindness to friend in daddy and violence in Tulasi)), Anthahpuram (wife does not knowing about the violent past of husband), Yuvaraju (father - son relationship) etc. The director could not establish love feelings in the story, but succeeded in creating high voltage action drama in the flashback episode shot in Seema. The director chose to show the softer side in the first half and violent angle in the second half.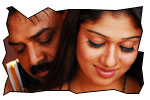 Other departments: The songs of the film are good though each one of them is a rehashed version of Devi Sri Prasad's own music. Background score in action sequences ('we will rock you' bgm coupled with Chatrapati and Stalin kind of hero background music) is good. Cinematography is alright. Dialogues are adequate. The are couple of scenes in this film that appear abrupt due to inadequate editing. Action sequences are well choreographed. The makers tried to blast various vehicles in flashback episode to excite masses.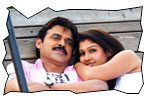 Analysis: First half of the film is mediocre. Second half is better. But the climax of the film is inhumane. The plus points of the film are Venkatesh and the seema flashback episode. The negative points of the film are excessive violence in second half and inconsistency in the story narration. The commercial success of the film depends on how masses embrace this film.
Tulasi links
• Venky Interview
• Tulasi info
• Music launch
• Photo Gallery
• Working stills
• Wallpapers
• Trailers
Abroad: USA | Australia | UK
Jeevi reviews of previous 5 films
• Bhayya
• Chirutha
• Happy Days
• Chandamama
• Raghavan
• Yamadonga
• SDZ
More Reviews