Story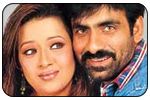 Yedu Kondalu (Ravi Teja) is a responsible citizen of Bobbarlanka, a place where everything is in place but for the polluted water that is coming from the factory. Everybody in the village complained, but of no use. Then the village head forms a team of three comprising of Yedu Kondalu (Ravi Teja), Manga Tayaru (Arti Agarwal) and her grandmother (Telangana Sakuntala) and sends them to Hyderabad so that they could meet the minister and express the village's problem to him.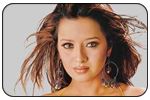 They come to Chudi Bazaar in Hyderabad and stay in the house of Sunny (Ali). It's an area ruled by a lady don Swarnakka (Nalini) who has a nexus with an evil-minded politician cum state minister Naidu (Sayaji Shinde). In the process Yedu Kondalu opposes the atrocities committed by the goons of Swarnakka. He is also cheated by the minister Naidu. The rest of the story is all about how Yedu Kondalu fights Swarnakka and corrupted minister and gets the orders for the closure of polluted factory in their village.
Artists Performance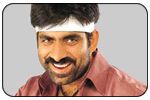 Ravi Teja: First things first! His get-up in this film is superb. Light beard, rough yet stylish costumes!! And he did extremely well as an out-and-out mass hero. His mannerisms (especially the one which he gave it in interval by twisting his tongue and biting it) are good. It's a perfect role for Ravi Teja.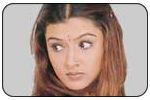 Heroines: There is one dialogue from Ali to Ravi Teja referring to Arti in this film - 'Evaru ee bajji?'. Probably that analogy suits her body structure. She is very fat. The costumer and cameraman tried their best to hide her waistline. She performed well. But she should strictly take care of excessive fat asap. Reema Sen is hot as a girl who is head over heels for Ravi Teja is in this film.
Others: Sayaji Shinde and Nalini are good as villains. The way they were killed in this film is very smooth. Ali offered some comedy in this film. Telangana Sakuntala is good. Shakeela's episode in this film is a great relief. Dharmavarapu Subramanyam is good as the PA to Sayaji.
Technical Departments:
Story: This film is a remake of Tamil blockbuster 'Dhool' starring Vikram. The basic storyline is very simple. Its all about how an innocent man is cheated by the man whom he voted to the power and how this man reacts and takes revenge to help his village.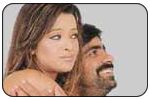 Screenplay - direction: Ravi Raja Pinisetty who has not had a decent hit for years has directed this film. Ravi Raja - a proven specialist in remakes (Chanti, Peddaruyudu etc) - has done a decent job in this film. Its pretty hard to remake a film without losing the soul. This film has got all elements comedy, action, sentiment, revenge, spice etc. The screenplay of the film decent. Most of the scenes in the film are narrated in a different style by cutting shots of 2-3 different scenes that are happening at the same time in different places, and then they were joined sequentially.
Dialogues: Dialogues by Kota Venkat are good. The dialogue for hero in this film is 'Nenu voorike edi cheyyanu. Voorikosam chestaanu' - represents the basic character of the hero. There are quite a few double meaning dialogues between Ravi Teja, Ali and Reema Sen in this film.
Music: Music by Chakri is OK. All the songs in the film are mass songs except for one. His background music good, but very loud at times. This music is basically aimed at masses.
Thrills: Fights by Ram Lakshman are impressive. The special effects people have created the images of skeletons of goons when they get beaten up by hero so that the visual impact of hero crushing the bones of goons could be projected more effectively.
Other departments: Camerawork by Ramesh (who worked for Vasu in the past) is good. Editing by Marthand K Venkatesh is OK. Art by Anand Sai is fair.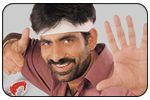 Analysis: The first half of the film is OK. The interval block is good. Second half is average. Unlike other mass heroes, this hero takes his revenge on villain with strategic thinking in the second half. Its like hide-and-attack-at-the-right-time game. The episode of Shakeela clicked in a big way. Telangana Shakuntala's song in climax comes as a speed-breaker to the narration. It would be smoother if that song is trimmed in the film.
The Telugu remakes of Tamil Vikram films (Seshu, Sreeram & Gemini) have not done well in the past. But Veede is a well made movie compared to them. We have to wait and see if Ravi Teja breaks that Vikram jinx in Telugu in the weeks to comes. As it's a mass film, it has good chances of doing well in B and C centers.
Veede links:
Photo Gallery
Wall Papers
Muhurat function