Story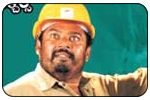 There is a sugar factory in a village. The entire village depends on that sugar factory for living. The local political leader wants to earn millions of dollars by selling that government factory to a multinational company. The political leader makes that factory a sick unit and then auctions it. In the process, a farmer leader (Murali Mohan) and a labor union leader (R Narayana Murthy) give a tough opposition. The rest of the film is all about how these leaders become martyrs laying down their lives for their fellow village men.
Artists Performance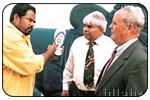 R Narayana Murthy had a lesser role in this film compared to his films that came in recent years. He did well with his typical style. Actress Prabha had an important role in this film. R Narayana Murthy always keeps a prominent lady character in all his films and this is no exception. Murali Mohan played the role of farmer leader and he is extremely good. LB Sriram got a role that has frankness laced with comic outlook. He is good. Devdas Kanakala did the role of a corrupted IAS officer.
Technical Departments: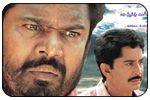 Story - screenplay - direction - music - production: The story of the film is aimed at discouraging India's efforts of globalization. This film tells how World Bank is remotely controlling the economy of India and how it directly affects the life of farmers and labors in India. It also tells us in a primitive way how the politicians in conjunction with the government officials convert a profit making organization into a sick unit so that they could privatize it. R Narayana Murthy has a typical style of directing the film and he followed the same. The screenplay of the film is not consistent. Music is mediocre except for the song that is attributed to explain 'child labor'. R Narayana Murthy tried incorporating vital incidents in the film in the form of songs. Dialogues are OK.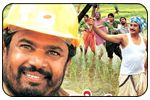 Analysis: 'Veguchukkalu' explains the effects of India having agreements with WTO and how World Bank controls the policies of Indian government. This film also showcases the problems of farmers and labor. Though R Narayana Murthy selected an appreciable storyline, he should have used some entertaining elements while executing this point. The audience always likes a sugarcoated tablet than the bitter truth. Cinema is a media of entertainment. The movie appears more like a documentary. The target audience might appreciate this film.
Veguchukkalu stuff:
Poster deisgns