Story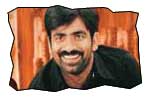 Venkateswarlu (Ravi Teja) is a wayward youth in Vizag who roams around with friends all the time. One day he - along with his three buddies - accidentally gets selected in police selections. Venky and his friends embark on a journey from Vizag to Hyderabad to join police academy for the training. He falls in love with a co-passenger Sravani (Sneha) aboard the train. Srvani refuses the instant proposal of Venky. He also picks up a row in a state of inebriation with Sravani's father and another girl and threatens them that he would kill them. And surprisingly, Sravani's father and other girl found dead on their berths on the next day morning. After realizing that they would be blamed for a murder committed by somebody else, Venky and his gang slips off from the train and join the police training academy.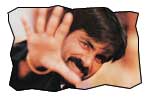 There they realize that their boss Yogendra Sharma (Ashutosh Rana) is responsible for the murders in the train. Why does Yogendra want to kill Sravani and her father is the mysterious question that would be solved by Venky. Rest of the story is all about how Venky protects Sravani and how he brings Yogendra Sharma to the book.
Artists Performance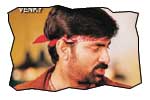 Ravi Teja: Ravi Teja is in his elements as long as he played the role of mischievous brat. His comedy is very good in the first half. His antics with Siddanthi and the way he curses himself in front of the mirror is hilarious. His dances are mass oriented in this film and the movements are little awkward at times.
Sneha: Sneha is cute and homely in heroine's role. But she did not have much active role to play in the film. Her mass steps in songs are artificial (especially steps in last song composed by Ashok Raj).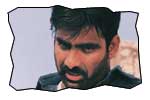 Others: Ashutosh Rana is fair as the villain. Chitram Seenu and Srinivasa Reddy are OK. Mallikharjuna Rao as Siddanti Jagadamba Chowdary is good. Dharmavarapu Subramanyam provided some entertainment. Brahmanandam and Venu Madhav provided good train comedy. Tanikella Bharani and Delhi Rajeswari played parents of hero. Raasi did an item song. Ravi Teja's brother Bharat played a vital role.
Technical Departments:
Story: This story is relatively new for the formula ridden Telugu films that are being churned out these days. This kind of storyline needs to be told in a very crisp manner so that it keeps the audiences guessing all the time.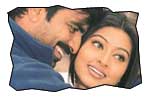 Screenplay - direction: Screenplay of the film is OK. Direction is good in parts. The narration of the film is very slow. The first half does not have any story till the interval point. The suspense in second half is broken too early. However, the ability of Seenu Vytla to create hilarious comedy is in tact.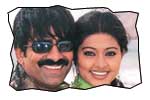 Music: Music by Devi Sri Prasad is good. But the placement of songs and the lead scenes are not good enough to pump in the right mood into the minds of audience. Choreography is OK. First song (Silakemo Seetapuram) and the last song (Gongura Thota kaada) have similar steps. Camera keeps on vibrating for the song 'o manasa'.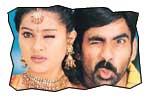 Other departments: Dialogues by Kona Venkat are good in first half where there is impressive comedy punch. Cinematography by Prasad Murella is impressive. Artwork by Narayana Reddy is OK. Fights by A Vijay are good. Production values by Atluri Purnacahndra Rao are also good.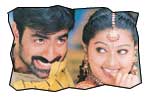 Analysis: First half of the film has entertainment though there is no story. And second half has crime element. The movie falls flat in the second half as the suspense point is revealed too soon. Seek and hide game in latter part of second half is not interesting. The climax fight is picturized in front of Raj Bhavan (Residence of AP Governor) and no policeman is seen at the gate to stop the nuisance. And one wonders why Ravi Teja is wearing light beard even during the time of police training. The main strengths of the film are Ravi Teja and entertainment in 1st half. We have to wait and see if Ravi Teja can pull enough crowds with his image and reputation to make this film a hit.
Tailpiece: The train-love seems to be catching up Telugu film industry these days. This is the fourth film where hero and heroine meet and fall in love in a train. The earlier 3 films were Okariki Okaru, Nee Manasu Naaku Telusu and Varsham.
Venky Links:
Wall Papers
Photo Gallery
Working Stills