Story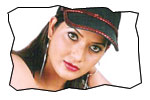 Nani (Santosh Pawan) is a wayward youth studying in a college. Mythili (Ruthika Singh) joins in Nani's college as Physical Director. Nani falls in love with Mythili and proposes to her. When she refuses, he threatens to suicide. Then she accepts the love with a condition that they should stay together for a month to test the compatibility. They go to a village and start living in the house of a friend of Mythili. The rest of the story is all about how Nani realizes his mistake and leave to her lover Prem (Naveen).
Artists Performance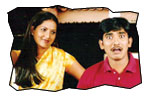 Santosh Pawan - who acted as a sidekick to hero in films like 6 Teens and Girl Friend - made his debut as full-fledged hero through this film. He has got ease and ability to perform. Ruthika Singh is really hot and liveed up to her reputation as the Tollywood's latest sex symbol. Naveen has short role and he did well. On the comedy front, Suman Shetty, Kondavala Lakshmana Rao, Krishna Bhagawan and Brahmanandam entertain the crowds with their (cheap) comedy.
Technical Departments: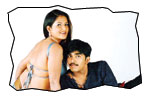 Story: This film preaches about the effects of lovers who have psychological disorders, who tend to either kill others or commit suicide if the other person refuses their love proposal. This story is a perfect example of films with 95% adulterated stuff followed by 5% moral preaching.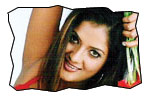 Screenplay - direction: Director Veeru K definitely knows what he wants and how a cheap adult film work out. And he stuffed the entire film with what sexually frustrated men seek from a film - cheap double-meaning dialogues, skin show and dances that give recording dances a run for its money. However, he failed in narrating the basic story in a clear way.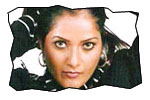 Music: Music by Bapu Ramana is heavily inspired by the works of other music directors ranging from Pink Floyd to Ilayaraja. Most of the songs in this film have the flavor of tunes from Ilayaraja-Vamsy combination films. There are three Telugu remix songs (Vangamaku, Le Le Le Naaraja & Masaka Masaka) as well. Bits from popular English tunes were used in the background music.
Other departments: Dialogues by MVS Haranadha Rao are adequate though there are many double entendres. Photography by Madhu A Naidu is fair. Production values of the film are mediocre. Artwork is Nagi Reddy is average.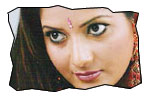 Analysis: This is an out-and-out adult film which is strictly recommended for desperate men who want to have fun in ogling at skin show and recording dances by Ruthika Singh and hearing double meaning (sometimes straight meaning) dialogues. This film was opened with housefuls everywhere and it would definitely fetch good money to the moviemakers.
Xtra links:
Photo Gallery
Trailers