Story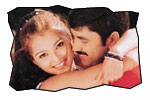 Ravindra (Suresh) & Gowry Shankar (Satya Prakash) are factionists from Rayalaseema. Ravindra puts Gowry Shankar into jail. He also kills the brother of Gowry Shankar. Gowry Shankar seeks a revenge on Ravindra by planning to kidnap Preeti (Sonali Joshi), sister of Ravindra. Preeti studies in a college at Hyderabad. She falls in love with her classmate Abhi (Kamalakar). Ravindra is after Abhi to kill him for eyeing on his sister. Gowry Shankar people are after Preeti to kidnap her. The rest of the film is all about how Abhi rescues Preeti from the goons and wins appreciation from Ravindra.
Artists Performance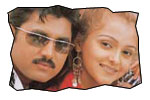 Kamalakar: Kamalakar made his debut as youth hero through this film. He is very raw and has average screen presence. He needs to put more efforts in histrionics/expressions department. He also needs to modulate his voice better while doing dubbing. His dancing skills are pretty mediocre.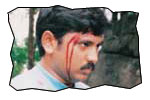 Others: Sonali has improved a lot compared to her debut film 'Subbu'. She is spontaneous in dances. Suresh seems to have changes his status from hero to character artist. He put on more weight. He also dubbed his voice. His 'emo' mannerism is good in the beginning parts of the film. Satya Prakash is ok. The comedy track by MS Narayana as Vastu expert 'Daivansa Sharma' is inane. LB Sriram is utilized in an ineffective character.
Technical Departments:
Story - Screenplay - direction: It's a love story with a faction backdrop. This story is very routine and predictable. Screenplay of the film is OK in the first half and gone haywire in the second half. The director started off the film in an interesting note. But he failed to get the feel in love story of the film which forms the basic ingredient. Direction of the film is mediocre.
Music: The biggest plus of the film is music by Devi Sri Prasad. The hero introduction song 'Vangatotha kaada' featuring Teja Sri (debut) is very impressive with its pulse-racing music and raunchy steps by Teja Sri. The two other songs in first half are good. Re-recording and background music is also impressive.
Other departments: Dialogues by Marudhuri Raja are average. Photography by K Dutt is good. Editing by KV Krishna Reddy is good. Artwork by Gangaraju is fair. Fights by Ram - Lakshman are OK. Production values of this film are good.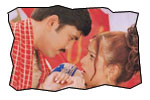 Analysis: The film starts off with interesting episode. First half of the film is average. Second half is boring. Major asset of the film is music by Devi Sri Prasad. This film suffers with routine script and uninteresting direction. 'Yours Abhi' belongs the plethora of youth love stories that are flooding market. This film is rich on production values and poor on content.
Yours Abhi Links:
Photo Gallery