Story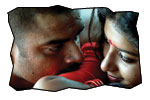 Samba (Madhavan) is an individualistic henchman of a wily don who works for a state minister (Bharati Raja). Michael (Surya) is a statewide popular student union leader whose aim is to usher fresh breeze into politics that are rotten with corrupt men. Arjun (Siddardha) is a playboy whose aim is to get a US Visa, land up with a plush job and then cuddle with the white babes in USA.
The massive student movement led by Michael puts the state minister into a tight spot. The state minister summons Samba to kill Michael. Michael - shot by Samba - is rescued by Arjun. The rest of the film is about how all ends well.
Artists Performance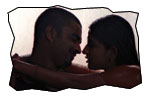 Madhavan: If you are not aware of that fact that Madhavan acting in this film, you might end up watching this film without recognizing Madhavan. If you have seen a cute lover boy Madhavan in earlier films, you are in for a rude shock in this film for his tonsured head and rough demeanor. Madhavan did extremely well.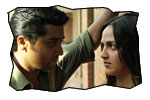 Surya: For the starters who are not familiar with latest Tamil superstar, Surya appears like a younger version of Prakash Raj in his 'Michael' character. He is the protagonist of this film. He is sure to get a good mileage in terms of exposure to Telugu movie lovers through 'Yuva'.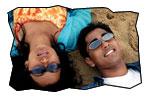 Siddardh: This character would be loved by youth. Siddardh appeared at ease while doing this playboy character. The attitude of this character represents that of the current day's youth. This 'Boys' leading man is sure to increase his fan base through this film.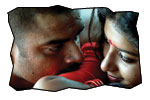 Heroines: Meera Jasmine is very raw and unglamorous. She played the wife of a street-side goon, whom she wants to be changed as a good man. She gave a tremendous performance in this realistic character. Isha Deol is lovable in the character of Surya's lover. Trisha is absolutely beautiful as 'Meera'. She is the glamour doll of the flick.
Others: Bharati Raja is excellent as the state minister. Narra Venkateswara Rao dubbed the voice of Bharati Raja and it matched to the tee. Sriman is good as the side kick of Madhavan.
Technical Departments:
Story: The story of three people is inspired by Amores Perros (Love's A Bitch). But the inspiration ends there. Mani Rathnam has indianized the characters.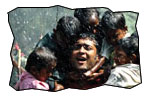 Screenplay - direction: Mani Rathnam followed Quentin Tarantino's style of narration and screenplay for Yuva. Those people who watched Pulp Fiction and Reservoir Dogs (both by Quentin Tarantino) would immediately identify it. The film starts with the most important scene of the film. And you wonder what the characters are talking about. It appears too abrupt at the start. Then the flashback opens up from each character's point of view (just like the flashbacks of Orange, Blonde, Pink etc in The Reservoir Dogs) and all these flashback chapters culminates at the point which is shown at the start of the film. The direction of the film is of top class. The screenplay appears slipping out of hand at times when certain scenes (Madhavan - Meera jasmine episode) appear elaborated beyond the necessary proportion. Mani Rathnam did not infuse the right kind of commercial elements to appeal to the 'popular cinema' lovers. Mani Rathnam made sure that he chose each one of the episodes from each segment of social strata - Lower class (Madhavan, Middleclass (Surya) and Upper class (Siddardha).
Music: Music is a definite plus point in this film. Song numbers and background music are great. Very typical of Mani Rathnam!
1. Sankurathri: This is the first song of the film. This song pops up when Madhavan gets back his wife Meera Jasmine who goes to her friends place after a showdown with him. Too many close-up shots on the faces of Madhavan and Meera Jasmine and intimate bedroom scenes make you feel little uncomfortable.
2. BG Music beat: This comes for the montage where song Madhavan is given partnership in gas agency by state minister. This song shows the change of social status and fortunes of Madhavan.
3. Yuva: This title track is pictured on the student union leader Surya as he leads hoards of students in a mission to put stop to corrupt politicians.
4. Aalochinchu: This song is pictured on Surya and Isha Deol. This song is the most romantic song of the film. The entire song is pictured on Isha Deol's walk and bike-driving-Surya. Mani Rathnam's greatness lies in showing tender and sensitive feeling through simple things.
5. Deham Idi: This is a discotheque song pictured on Trisha and Siddardha when they meet for the first time. Just like his earlier songs, Mani Rathnam inserted a few dialogues between the lead pair amidst the song.
6. Hey Good Bye Priya: The most melodious and sensuous song of the film pictured on an abandoned beach in the night on Siddardha and Trisha.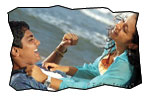 Dialogues: Dialogues by Rama Krishna are sensible most of the times and are raw at times. The dialogues written between Surya and Bharati Raja at their first encounter draw good applause from the crowds. There are quite a few one-liners written on Siddardh like

'A stranger in queue: Nenemanna vedhavalaa kanipistunnana?
Siddardha: Meetho naaku antha parichayam ledandi'

Siddardha to Trisha: Ninnu choostunte naaku Madras kooda chala clean gaa vunnatlu kanipistundi'
Other departments: Photography by Ravi K Chandran is of top class. Choreography by Brinda is sensible. Artwork by Sabu Cyril is inspiring. Action sequences by Vikram Dharma are excellent. Production values are very rich. DTS mixing by Sridhar is extraordinary.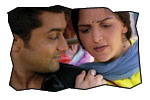 Analysis: First half of the film is good. The second half of the film appears too slow. The climax of the film might appear very abrupt. The raw-level narration of 'Madhavan-Meera Jasmine' chapter might not go well with the viewers. The 'Surya-Isha Deol' chapter is inspiring. The 'Siddardh-Trisha' chapter appeals to the youth. The plus points of the film are direction (Mani Rathnam), music (AR Rehman), characterizations (of Surya, Siddardha, Bharati Raja, Trisha and Isha deol). The negative points are unglamorous and stretched part of interludes between Madhavan and Meera Jasmine, lack of popular elements, Madras backdrop and Tamil lead actors. This film has the chances of doing well in A centers. The run in B and C centers is doubtful. 'Yuva' is a must watch film for all Mani Rathnam's movie lovers.
Yuva links:
Photo Gallery
Audio Function
Wall Papers