19 August, 2012
Hyderabad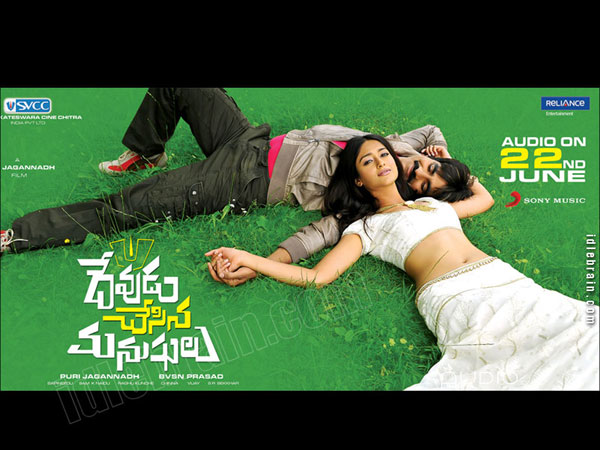 Devudu Chesina Manushulu Fashion Review
Costumes : lokesh
Designers: swetha and Same era
Mass maharaja Raviteja is back with director Puri Jaganath. A different humorous movie from the serious director Puri has come. The usual seriousness in the movie through dialogues of puri have changed into humorous dialogues with orphan sentiment. Goa beauty Ileana not only with her glamour but also with performance has impressed the audience. Ali, appears as a normal person or to be precise a devotee, who prays to god for wealth. The fashion perspective of the movie is here for the readers.

Raviteja :
Raviteja in his introduction scene appears in a black shirt with ash colour t-shirt inside which is known as tint combination in fashion terminology ( using dark shade outside with lighter shade inside). In the rest of movie he uses shirts on t-shirts with contrast colours. He wears pepe torn jeans in various shades in most of the scenes. In some scenes, hoodies replace shirts on the t-shirts which gave him mass heroism. Coming to his grooming, brown colour touch up to his hair can be observed. He uses ear studs on his ears. He wears goggles, black shaded and also used many chained accessories. This complete look gave him not only massy hero look but also the trend of Bangkok style ( Korean look). Coming to songs, in first song, emi sethura linga, torn jeans with red patch under green shirt with tint combination is worn. In third song, nuvvante chala istam, he appears in hooded shirts in both tinted and contrast shades along with shaded goggles , wrist bands with canvas shoes. In subbalakshmi song, Raviteja can be seen in 3 variation, one is cowboy look, second is lover boy look with t-shirt over a shirt in contrast colours of red tee on a blue shirt and third is hooded check shirt over a blue t shirt. And he uses various shades of denim pants in this song. In nuvvele song, he looks in plain colour formal suits and blazers. In the last song, devuda devuda song, total mass look is given without any compromise. He brought mass look in primary coloured costumes such as orange pants, red shirt on a yellow tee. Totally, with all looks, mass maharaja entertained to the core as he always did.

Ileana :
In the introduction shot, Ileana looks hot in check shirt on a hot pant with leather boots. Ileana, as she is well known for her liking on boots, has tried many boots in this movie also. She majorly appears on three fourth denims, balloon and harem pants. All kinds of Korean tops and tee shirts are used on those pants. Various jackets, shirts and blazers are also added to depict the roughness of the character in the movie. Her personal grooming in this movie is new and different apart from her all movies till date. Bobbed layer hairstyle with brown touch up can be seen, which is perhaps the new look to Ileana. She uses black colour aviators also. She experimented many skin tight torn denims which makes her look like Thai girl. In first song, she carried look with three fourth denim pant with blue colour printed top. In third song, she used different variations of skirts and different tops with checks patterns, plain colour skirts with lovely boots and slippers. In fourth song, 3 variations, one ramp walk look in pink frock with black boots and black hat, second cowgirl look with black hat and third floral print long skirt and long top which gave her Korean princess look. An appreciating aspect is with same hat different looks are achieved on her. In nuvvele song, she used 3 gowns, white, orange and purple coloured to bring the romantic feel of the song. Last song, she appeared in 3 fashions. One is western north look with bandhani prints with jeans and boots. Second is folk dress with green and orange combination. Third is Saree with south Indian massy look. All variations of fashions are covered and at the same timekeeping the glamour high made Ileana special in this movie.

Ali (Goli) :
He uses crape and satin fabric dresses. He uses shirts according to the theme of the scene. Dollars, cars kind of printed themes can be observed in his costumes. Same colour head bands are used according to his shirts. His grooming, long punky hairstyle with brown touch up hair strites and ear studs made him look funny according to his character and the grooming makes him look like funny Thai guy.
Special Aspect :
In the item song, disturb chestunnade, 3 types of fashion looks are experimented. Gothic look, Lambadi look and semi tribal look that really suited the voice of singer and moments of dancer. This is the first movie in tollywood with gothic look and the idea should be appreciated as it totally appeals the audience.

Conclusion :
The green shades and combinations are used mostly. As the movie is shot in Bangkok, the Korean style is maintained on all casting. The emotion of orphans has been carried out in a humorous way to reach audience. Puri once again proved himself as experimental director by presenting a message oriented movie in a humorous ways. Bright colours are used to increase the look of the styles and fashions used.

Other Fashion reviews:
• Andala Rakshasi
• Julayi
• UKUP
• Eega
• Endukante Premanta
• Gabbar Singh
• Dhammu
• Racha