16 April, 2012
Hyderabad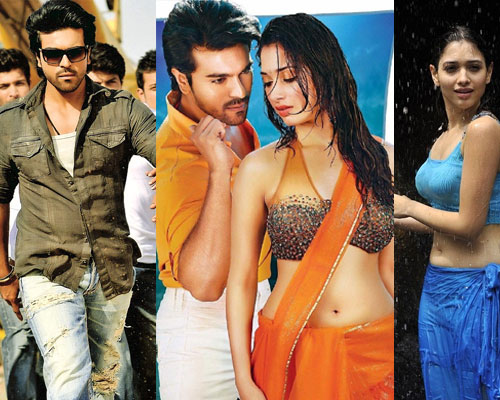 Racha - Fashion Review
Racha is a mix of commercial elements and mass entertainment with class appeal. The range of characters varies right from a rudimentary mass character in the form of Ram Charan to the classy Tamannah. On a traditional note, there is also the presence of the villain Mukesh Rishi who was seen sporting the authentic Khaddar Kurtha with Dhoti. A sense of fashion prevails over Ajmal who had the privilege of wearing some well knitted designer wear and though his presence was brief, he did have enough opportunities to flaunt his wardrobe.
Ram Charan Tej
Appears completely cool and casual with street wear, in the first few scenes he sports the checker shirts with open buttons and a T-shirt inside and also a scarf wrapped around his hand. The narrow fit jeans with low waist made his frame look tall in front of the camera. As the film progressed, he got into more trendy appearance with T-shirts, Pullovers, Tank Tops. There were few arm fit T-shirts which hugged his biceps in the right way and slim-fit shirts only displayed his well maintained physique. This has given him an apt macho hero look and feel. The best costumes were seen in the second song. The designs were more fusion oriented with interesting prince like patterns and good color combinations. An outfit with white and gold tone and black top with Indian styled waistcoat worked perfect for Charan. Nevertheless, the torn jeans and denims were also there for the youth to make note. The trendy wear specially the grey shirt combination in Racha title song gave a charging appeal to the viewers. The most buzzing song 'Vaana Vaana' had Charan revealing his perfect body fit shirt and toned frame. This is the only sequence where he was seen in formal wear and the classy Black and white combo along with wet look made the song exotic.
Tamannah
Call her the fairy Barbie or envy her for the complexion and vital stats of her figure. In 'Racha' she maintains a very trendy high class college girl image. She looks adorable especially in purple color, multi color dresses. Her well toned body and curvaceous figure makes her the hot choice for any form of costumes be it glamorous or traditional. During the first few scenes, Tamannah is seen in Tracks and Shorts which display a rather urban flavour. She also gets into the more traditional frame as the film progresses and is seen in sarees. Her ultimate appeal is seen in "Vaana vaana.." where she has a sensuous Orange sari and a European green gown. And sometime it said that a color can beat up the look but here with Tammu she fits into any color and matches it perfectly! Not to forget her frocks, multicolor shorts and boldness in sarees it's a complete perfect call. This is the second good reason to watch Racha!
Analysis
Not much effort was spent on Mukesh Rishi's wardrobe as he had to sport only a single colour outfit throughout the film. Overall, the film spoke of chic designs for both Charan and Tamannah and it was well balanced with urban and contemporary wear. However, there are times when few outfits didn't find relevance to the scenes but given the tempo and the momentum, such things went unnoticed. There is also a sequence wherein Charan and Tamannah enter into the forest with one outfit but are seen in a different outfit when they come out. Anyways, the color combination, the choice of casual, formal and ethnic wear has been justified and it fitted the image and role that the lead pair was essaying.