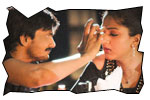 Genre: Love/Action
Type: Straight
Banner: Vaishno Academy
Cast: Sairam Shankar, Sheila, Vijaya Chandar, Sunil, Chandra Mohan, Bhanu Chandar, MS Narayana, Ali, Dharmavarapu, Sudha, Bhuvaneswari & Sana

Crew:
Dialogues: Jaya Simha
Music: Chakri
Cinematography: Bharani
Lyrics: Kandikonda
Editing: Marthand K Venkatesh
Story - screenplay - direction: Raja Kumar
Presents: Dil Raju
Producer: Puri Jagan
Release Date: 14 September 2007


Arvind (Sairam Shankar) comes to Hyderabad to join in a telecommunication company as an executive. He falls in love with Nandini (Sheila) who anchors a program titled 'Hello Premistara' in a Telugu channel. Nandini also loves Arvind, but later it is revealed that Arvind's stepbrother Arjun exactly looks like him. Both brothers nurse grudge and Arjun too loves Nandini with the same vigor. The rest of the story is all about what happens when both these look-alikes try for the same woman.

1. Story: The story of this film is different from the routine stories we watch these days. However, we can't rule out the resemblances of the twins vying for the same girl thread in SJ Surya's Vaali film.

2. Music: Music by Chakri is an asset. Ninna Monna song is a highlight. The picturization of songs is also good.

1. The screenplay in second half: The director could not do justice in the second half both in terms of direction and screenplay. With the single thread of both the guys fighting out to outwit each other, it is extremely important to narrate the second half in an interesting way.

2. The dubbing of hero: Sairam Shankar needs to seriously consider getting his voice dubbed by somebody else. There is no modulation in his dialogues. He needs to improve his diction and show variation between lighter scenes and heavy ones.

1. The scene in which hero takes out the glasses from the wallpaper in City Center.


This kind of story line works well for Tamil films featuring competent actors, but it may not work out in Telugu.
Hello Premistara links:
• Music launch
• Press Meet
• Photo gallery
• Working stills
• Wallpapers
• Trailers


The views/opinions expressed by the author are his own and idlebrain.com does not subscribe to these views. The bouquets/brickbats welcome at [email protected]