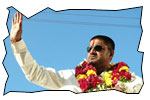 Genre: Social
Type: Straight
Banner: Aman International Movies
Cast: Srikanth, Kalyani, Mumaith Khan, Chalapati Rao, Paruchuri Gopala Krishna, Nagababu, Krishna Bhagawan, Brahmanandam, Dharmavaparu, Narra, Prabhakar, Venu Madhav, etc
Crew:
Music: Mani Sharma
Cinematography: Raja
Stunts: Vijay
Editing: Gowtam Raju
Story, dislogues, screenplay & direction: Posani Krishna Murali
Producer: Aman International Movies
Release Date: 31 May 2007


Mahesh (Srikanth) is a sincere and honest police officer. He loses his kids and his wife gets paralyzed as few politicians who don't like his sincerity harm his family. Mahesh changes his appearance and name to join the gang to politicians to become one. The rest of the story is all about how he makes people realize that there is some fault in the system.

1. Srikanth: Srikanth gave out his career best performance in Operation Duryodhana. Generally heroes do not get an opportunity to play these kinds of roles in Telugu films. He has shown nice variations in these two characters.
2. Political satires: The scenes involving political satires in the film are really good.
3. First half of the film

1. The last 45 minutes of the film.
2. Too much of simplifying the political and police system for screenplay convenience. The film which exposes the political, police and voting system does not bother to follow the logic.

1. The entire police in AP resigning on the behest of a police officer.
2.. People believing the politician promise of getting sea port to Hyderabad


Here are a few of good scenes in the film:
1. The scene in which Srikanth gives ferocious dialogues about Muslims.
2. The comedy scenes that talk about separate Telangana and Andhra.
3. Nagababu making inefficient cops dance to latest film tunes in women attire.
4. Scenes involving Paruchuri Gopala Krishna.


Posani Krishna Murali's work is far better compared to his earlier film Sravanamasam, but not good enough.
Veduka links:
• Press Meet
• Photos
• Trailers


The views/opinions expressed by the author are his own and idlebrain.com does not subscribe to these views. The bouquets/brickbats welcome at [email protected]