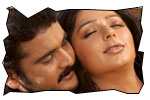 Genre: Comedy
Type: Not-so-Straight (based on 50 first dates)
Banner: Lucky Media
Cast: Sivaji, Bhumika Chawla, Nimisha, Chandra Mohan, Brahmanandam, Sunil, MS Narayana, Raghubabu, Dr. Siva Prasad, Melkote, Devi Charan, Chitram Seenu, Babloo, Allari Subhashini, Apoorva and Krishna (special appearance)

Crew:
Music: Chakri
Dialogues: Nivas
Lyrics: Bhaskarabhatla
Action: Ramana
Art: Nagendra Prasad
Editing: Nagireddy
Story, screenplay & direction: Srihari Nanu
Producer: Bekkam venu Gopal & Mamidisetti Srinivas
Release Date: 6th July 2007


Krishna (Sivaji) is a sand sculptor in Goa. He meets Satyabhama (Bhumika Chawla), a tourist at a coffee shop and falls in love with her at the first sight. They become friendly in no time. But, when he meets her again the next day, she treats him as a stranger. Then he realizes that she is suffering from Short Term Memory Loss and her short term memory gets refreshed every day. She remembers only things that happened prior to 22 August, 2006 when she met with an accident. The rest of the story is all about how Krishna makes Satyabhama fall in love with him again and again on daily basis.


The storyline of the film is borrowed from Hollywood flick '50 First Dates' as it is. The scenes are borrowed and dialogues are truly-translated. Some of the dialogues like 'You actually fell for that' and 'Last first kiss' were borrowed without even translation. The '10-seconds-Tom' character is translated as 'padi-secondla-padmanabham' (played by MS Narayana).
The changes done for the original are
1. Profession and family background of the hero.
2. family size for heroine increased.
3. Added another thread of hero and heroine meeting in their childhood. Director used the same thread to unite the couple in climax.
4. Added another girl for Sivaji to create dramatic interval block.

1. Main leads: Bhumika Chawla and Sivaji did very well in their lead roles.
2. Comedy: Some of the comedy scenes borrowed from the original and conceived at home are good.

1.. True translation of scenes and dialogues from original (they did not even bother to change the dialogues and scenes to suit the tastes of Telugu audience)
2. The hair style of Sivaji
3. Songs come as speed breakers to the film as the story does not require any songs. The music by Chakri is adequate even though most of the tunes were borrowed from the old flicks.

1. Dormitory scenes.

1. The events happen for a day when it is revealed to audience that her memory refreshes everyday.
2. The events happen when doctor visits the house of heroine.
3. The usage of 'Manam okka roju mundu kaliste bagundu' repeated (it was used only twice in the original).


It disappoints the people who already watched '50 First Dates'. But it may offer some variety for those people who have not watched '50 First Dates' yet.
Satyabhama links:
• Press Meet
• Audio launch
• Photo gallery
• Wallpapers
• Trailers
• US release


The views/opinions expressed by the author are his own and idlebrain.com does not subscribe to these views. The bouquets/brickbats welcome at [email protected]