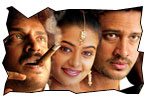 Genre: Action
Type: Straight
Banner: Dev Film Dreams
Cast: Upendra, Raja, Priyamani, Kamna Jetmalani, Suman, Vinod Kumar, Krishna Bhagawan, Supreet, Ramya, Sudha, Abhinaya Sri, Ali, Jeeva & Venu Madhav

Crew:
Dialogues: Sampat Nandi
Music: Mani Sharma
Story - screenplay - editing - dialogues: Priyadarshini Ram
Producer: Dev Amar
Release Date: 14th July 2007


Parsuram (Raja) is a self-employed youth with a difference. He does justice to the wrongdoers by charging SET (Self Employment Tax). Neelakanta (Upendra) is an anti-social element who is very fond of his blind sister Naina (Priyamani). They share a dark past. Nayak (Suman), the local police chief appoints Parsuram as undercover cop to recover 10 crore money stolen by Neelakanta. Parsuram gets hold of Neelakanta's blind sister and makes her fall in love with him. The rest of the story is all about the conflict between Parsuram and Neelakanta.

1. Upendra: Upendra is perfect in the role of an anti-social guy who loves his sister very dearly. The dubbing voice rendered to him by the director Priya Darsini Ram is perfect.

1. Excessive dialogues: They say that Indian film media is a dialogue media. Even if you listen to a movie dialogues in an audio cassette, you would understand the entire film perfectly. We Telugu film media is slowly progressing from dialogue media to visual media, but it is very sad to see our directors depending heavily on dialogues. Though some dialogues are good, they don't stand out because the entire film is verbose.

2. Fights: Fights are executed in a shabby style.

3. Excessive cg work: Visual effects and graphics work should be used to enhance the basic content of the film. But it alone should not be the content. The excessive cg work mars the effect of the viewing pleasure.

1. The concept of Neelakanta surviving after consuming poison and then making his sister blind by offering his blood. And a vamp accompanying the baddie. Are we in 2007?


We expect a sensible and meaningful film when an adman directs a film, but what we get from Toss is exactly opposite.
Toss links:
• Priyadarshini Ram interview
• Audio launch
• Photo gallery
• Wallpapers
• Trailers
• US release


The views/opinions expressed by the author are his own and idlebrain.com does not subscribe to these views. The bouquets/brickbats welcome at [email protected]